By Pat Harty
IOWA CITY, Iowa – With Kirk Ferentz nearing the end of his 24th season as the Iowa football coach, he faces an offseason in which there will be serious doubts about whether he can fix his ailing offense.
The biggest concern in the wake of Friday's deflating and costly 24-17 loss to Nebraska on Senior Day at Kinnick Stadium is that Kirk Ferentz has a mess on offense that he can't clean up.
That has been an ongoing concern throughout this season, although, it was sort of put on the back burner during Iowa's recent four-game winning streak.
While many fans are screaming for Brian Ferentz to be fired as the Iowa offensive coordinator, a job he has held under his father since 2017, the problems on offense go far beyond Brian Ferentz's perceived weaknesses, and the awkwardness from him being the head coach's son.
Because remember, some fans also wanted Ken O'Keefe and Greg Davis fired as the Iowa offensive coordinator when their offenses were struggling.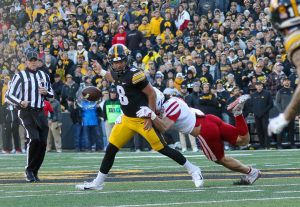 The problems on offense have festered during much of Kirk Ferentz's time as head coach, and it seems to only be getting worse based on this season in which Iowa has been ranked at or near the bottom nationally in total offense.
The one common theme under the three different offensive coordinators is that the offense has almost always been a slow work in progress, and it often has been criticized for being too predictable, too conservative and too stuck in the past.
Kirk Ferentz believes in establishing the run first and foremost and he doesn't seem to believe that a spread offense is sustainable at the Power Five level.
He has said as much before.
And while there might be some truth to that about spread offenses, Iowa wouldn't have to shift to a spread offense to inject some life into what can be described as a stale, listless and unimaginative offense right now.
Iowa plays on offense as if being creative and aggressive is a sign of weakness, or just asking for trouble.
But that safe approach still didn't stop Iowa from committing three turnovers on offense against Nebraska, and four turnovers overall.
Iowa plays with very little sense of urgency on offense, and that was never more obvious than during the third quarter against Nebraska when Iowa trailed by three scores, and yet, still huddled between plays and sometimes snapped the ball with less than 15 seconds on the play clock.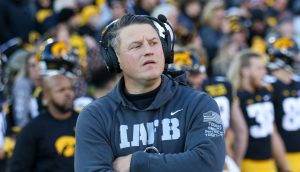 It had to be maddening for Hawkeye fans to watch the time tick off the clock in the third quarter and early in the fourth quarter.
If you didn't know better, you would've wondered if the Iowa coaches thought the game would last five quarters instead of four.
Kirk Ferentz was asked after Friday's loss if the injury in the first quarter to starting quarterback Spencer Petras had an impact on the tempo Iowa played with late in the game?
"A little bit, but once we got the touchdown, we felt we had it pretty well measured up," Kirk Ferentz said. "Same thing with the onside kick, do you or don't you, those decisions. We thought we had the game in good grips. I don't think it ended up being a big determining factor, but we were tracking all that stuff."
The offense finally came to life in the fourth quarter behind backup quarterback Alex Padilla, but it was too little and too late as Nebraska hung on to beat the Hawkeyes for the first time in eight games dating back to the 2014 season.
Friday's game marked one of the few times this season when the Iowa rushing attack was clicking early as Kaleb Johnson an Leshon Williams rushed for 34 and 32 yards, respectively, in the first quarter, averaging 5.7 and 6.2 yards per carry, respectively.
But then Johnson only had two carries for five yards in the second quarter, while Williams rushed just once for five yards in the second quarter, which ended with Iowa trailing 17-0, and with Nebraska riding a wave of momentum.
There have been times this season when it seemed painfully obvious that Iowa couldn't sustain a ground attack, but still kept trying.
But then Iowa showed early against Nebraska that it could gain yards on the ground, and yet for some reason, Brian Ferentz didn't try to exploit that advantage when the score still was close.
The struggles on the offensive line this season probably shouldn't come as a surprise because the Iowa offensive line, despite it being Kirk Ferentz's area of expertise, and despite a long and distinguished tradition of sending offensive linemen to the NFL is usually ordinary at best as a unit.
That sobering fact is one of the strangest things about Kirk Ferentz's reign as head coach.
Iowa finished the regular season with records of 7-5 overall and 5-4 in conference play, which isn't horrible.
But Iowa also has one of the top defenses and special teams in the country.
Two of the three phases of the game are solid right now under Kirk Ferentz, and have been solid for an extended period of time.
The offense, however, is keeping Iowa from having any chance of being elite.
And while Brian Ferentz and Petras have been the focus of fan rage, disgust and ridicule, the buck stops with Kirk Ferentz because it's his offense.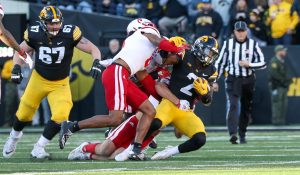 His son just happens to run it.
It's silly to think that Kirk Ferentz at the age of 67 would just suddenly make significant changes with his approach to offense, because for one, Iowa doesn't have the right personnel to switch to a spread offense, and two, Kirk Ferentz still believes his approach is the right approach in the long run.
But it's not silly to think that Kirk Ferentz should put more emphasis on recruiting mobile quarterbacks because the game has changed over the past two to three decades as defenses have become more aggressive and more athletic.
Kirk Ferentz will have a difficult challenge from a public relations standpoint if he sticks with his son as offensive coordinator.
But on the other hand, imagine how difficult it would be to fire your son.
Kirk Ferentz took a chance when he hooked his coaching saddle to his son, and right now, that decision has backfired and put him in a difficult situation.
But regardless if Brian Ferentz stays or goes, the offense needs a serious upgrade in philosophy, approach, mindset, and talent.
Kirk Ferentz used to bask in the we're-not-sexy spotlight because it sort of fit the humble, hard-working, team-first mentality that some call the Iowa way.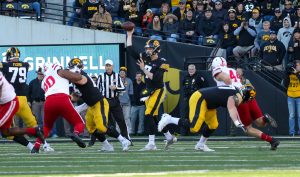 Unfortunately, for Hawkeye fans, the Iowa way on offense has become a national laughingstock and punchline.
All that's left now to the 2022 seaason is a bowl game since Purdue finally won the West Division on Saturday almost by default.
You can certainly hope for some changes on offense during the offseason, but you also should be realistic because there is only so much that could change in six or seven months.
There is talk that Iowa will hit the transfer portal hard in search of an etablished quarterback, and at least one or two receivers.
And should that happen, that would signify a major change in Kirk Ferentz's approach, or some might say an act desperation.
The other thing about the transfer portal is that it could also work against Iowa and be the cause of some players leaving.
There is just so much uncertainty at this point on offense.
But one thing is abundantly clear; Kirk Ferentz's approach to offense isn't working and the team is suffering from it.