By Pat Harty
IOWA CITY, Iowa – Six games into his freshman season with the Iowa men's basketball team and guard Dasonte Bowen likes where his game is at this point.
"I think I was in a pretty good place coming into it, so, I think just adjusting to the style," Bowen said. "But I think, me personally, I was in a good place preparing to get to this level of play.
"So, I think I'm doing good, and I think I'll continue to improve."
Bowen's performance in the Emerald Coast Classic this past weekend in Niceville, Florida was one of the bright spots for Iowa, which defeated Clemson 74-71 in the second round before losing to Texas Christian University 79-66 in the championship game last Saturday.
Bowen played just under 12 minutes against Clemson and made all three of his field-goal attempts, including his only attempt from 3-point range, while finishing with a season-high nine points.
He then played a season-high 20.33 minutes against TCU and scored with eight points.
"I think as I continue to adjust to the college level style my game will continue to improve, as I think it has been," Bowen said.
Bowen's next test will come on Tuesday when Iowa (5-1) faces Georgia Tech (4-2) at Carver-Hawkeye Arena in the final Big Ten/ACC Challenge.
"When my number gets called, I have to be ready to play," said the 6-foot-2 Bowen, who is from Boston, Massachusetts. "I got called on a lot in Florida and I was ready to perform. And I think as the season goes on, and as I get a bigger role, I will continue to increase my play as well."
Bowen was considered a major get for Iowa on the recruiting trail as he had multiple Power Five scholarship offers from schools that included Georgetown, Seton Hall, Boston College, Maryland, Rutgers and the University of Southern California among others.
Iowa had a built-in advantage with Bowen in that assistant coach Courtney Eldridge is also from Boston and is close with Bowen's family.
Bowen's father, Ray, is a Boston police officer and Eldridge played for him in the Boston Police Athletic League growing up. Eldridge also played for Fran McCaffery at North Carolina-Greensboro.
So, Eldridge helped open the relationship with Dasonte Bowen in the recruiting process and then Fran McCaffery took it from there.
The chance to play in McCaffery's up tempo offense, and to play in the Big Ten were also factors in Bowen's decision to be a Hawkeye.
"He's a really good player," Fran McCaffery said Monday. "I'm giving him a pretty good amount of playing time and would like to play him even more. I just think he's terrific, and it's great to watch him grow. He's still learning, but he plays with an aggressive mindset, which is exactly what we want from him."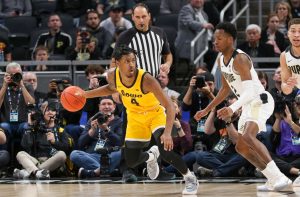 Bowen is part of a deep backcourt that also includes sixth-year senior Connor McCaffery, who is Fran McCaffery's son, juniors Tony Perkins and Ahron Ulis, sophomore Payton Sandfort and true freshman Josh Dix.
Tony Perkins has started at point guard so far when healthy, but he also can play shooting guard, which is the position he mostly played last season.
"I'll play whatever," Perkins said. "I just want to be on the floor, one through five, if I've got to play it, then I'll play it."
Ulis also played well in Florida, including shooting the ball well, and he gives Iowa another reliable option at point guard. Especially when he is making jump shots.
"I feel like with me and also with a lot of players it just gives me a boost of confidence when most of your shots fall," Ulis said. "That just reflects on the defensive end, the offensive end, it just gives you a boost of confidence."
Ulis had surgery on his wrist last spring, and he is now fully recovered and shooting with more confidence as he showed by making 7-of-8 field goal attempts in the loss to TCU.
"I've said this, we saw that last year in him, and then when he got hurt, he was just having trouble with his pull-up and his finishing, and it wasn't his fault," said Iowa coach Fran McCaffery. "He had that wrist injury, and he couldn't finish. He was doing that for the better part of last year, as well, so now you're seeing that continue. He's playing with great confidence. I'm very happy with him."
As for Georgia Tech, it has three players that average in double figures in scoring: Dallan Coleman (11.3), Miles Kelly
(11.2), and Deivon Smith (10.8).
Josh Pastner is in his seventh season as the Georgia Tech head coach. Pastner led the Yellow Jackets to the ACC Championship in 2021.
"I like their team," said Fran McCaffery "They've got a lot of different players in the sort of 6'4″ to 6'7″ range that can score, can get their own shot, can switch. They can play man, they can play zone. They're active. They've got some depth. They're really a quality ACC team, as you would expect."
Iowa vs. Georgia Tech
When: Tuesday, 8:05 p.m.
Where: Carver-Hawkeye Arena
What: Big Ten/ACC Challenge
TV: ESPN2
Radio: Hawkeye Radio Network