By Pat Harty
IOWA CITY, Iowa – The news that Iowa junior quarterback Alex Padilla has entered the transfer portal hardly comes as a surprise.
It seemed inevitable after he barely played during a regular season in which the Iowa offense ranked at, or near the bottom, nationally in multiple statistical categories.
Iowa defeated Nevada 27-0 in the third game of the season, and in a game that was interrupted by three lightning delays and that took about six hours to play, and yet, Padilla didn't take a single snap in that game.
It made no sense then and still makes no sense why Spencer Petras played from start to finish against Nevada.
Padilla didn't play until he was thrown to the wolves, or in this case, to the Buckeyes, when he replaced Petras in the second half against Ohio State on Oct. 22 in Columbus, Ohio.
Iowa would go on to lose that game 54-10 and would commit six turnovers.
Padilla, not surprisingly, struggled against the Buckeyes, completing just 5-of-10 passes for 32 yards and one interception. He also lost a fumble on his first play from scrimmage.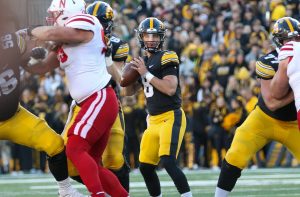 It looked as if Padilla wasn't ready for the challenge, but it's easy to see why since he hadn't taken a single snap up to that point.
Petras would go on to start the last five regular season games, while Padilla didn't get a single snap again until Petras was injured in the first quarter of last Friday's 24-17 loss to Nebraska.
Padilla was thrust back into a difficult situation, and because of his lack of playing time, he looked rusty and unsure of himself at times.
But Padilla also has his moments while completing 16-of-33 passes for 141 yards and one touchdown. Several of his incompletions came on plays in which Padilla just threw the ball away after not finding an opn receiver.
Of all the head-scratching things that have occurred on offense this season, and there have been a few, Padilla playing in just two games under the circumstances might top the list.
There has been talk that Padilla's academic schedule kept him from watching as much game film as the Iowa coaches wanted him to watch, so there was a reluctance to use Padilla in games.
Okay, so there was reluctance to use him in a lopsided win against Nevada at home, but not in beat-down at Ohio State?
That just doesn't make any sense.
Padilla started three games last season when Petras was injured, and while Iowa won all three games, Padilla apparently didn't show Kirk Ferentz enough to make a quarterback change.
Padilla also apparently didn't practice as well as Petras because Kirk Ferentz has said more than once that Petras has practiced better than the other quarterbacks.
Padilla has handled himself with class and has been a good teammate by all accounts.
He and Petras became friends instead of rivals, and that says a lot about Padilla's unselfishness since he is the backup.
Padilla, who is from Greenwood Village, Colorado, could've been bitter and disruptive over his lack of playing time, especially after Iowa offensive coordinator Brian Ferentz sort of threw him under the bus when asked by the media earlier in the season what would be downside to swtiching quarterbacks?
Brian Ferentz responded by saying, "what's the upside?"
That was considered a direct shot at Padilla, but Padilla gave no indication that he was upset by Brian Ferentz's comment.
Padilla has always put the team first. But now he's putting himself first, and he certainly deserves the chance to do that as he searches for a new team and for a better opportunity.