By Pat Harty
IOWA CITY, Iowa – Given the condition of the Iowa football team's offense, it took some convincing for Mr. Optimist to agree to another debate against Mr. Pessimist.
But he finally said yes, and like always, his glass was half full, even when talking about the much-maligned Iowa offense.
Kris Murray's rise to stardom is another glass-half-full narrative that Mr. Optimist highlighted, although, Mr. Pessimist found a way to counter with his glass-always-have-empty narrative.
Here is the transcript from their latest debate:
Mr. Optimist: Kris Murray has picked up where his twin brother Keegan Murray left off last season for the Iowa men's basketball team. Kris Murray scored 31 points and grabbed 20 rebounds in Tuesday's 81-65 victory over Georgia Tech, and Kris is the only NBA, WNBA or Division I men's or women's player in the last 20 years to have at least 30 points, 20 rebounds, four assists, four made 3-pointers and two blocks in a single game.
Kris and Keagan, who now plays for the Sacramento Kings, are also the only brothers in Division I in the last 20 years to each have a 20-point/20-rebound game at the same school, according to @OptaSTATS.
Mr. Pessimist: Kris Murray isn't part of triplets, nor does he have a younger brother to pick up where he will have left off this season.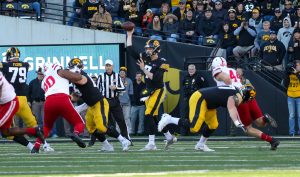 Mr. Optimist: Spencer Petras has only thrown five interceptions this season, which is fewer than every other Big Ten starting quarterback except for Michigan quarterback J.J. McCarthy and Illinois quarterback Tommy DeVito.
Mr. Pessimist: Spencer Petras has only thrown five touchdown passes this season, and he is the only Big Ten starting quarterback with fewer than 12 touchdown passes.
Mr. Optimist: By leading Iowa to a 7-5 record in the regular season, Kirk Ferentz has now won at least seven games in 18 of his 24 seasons as the Iowa head coach, and that doesn't include the 2020 Covid-shortened season when Iowa finished 6-2.
Mr. Pessimist: Iowa has also lost at least five games in 14 seasons under Kirk Ferentz.
Mr. Optimist: The Iowa football team held eight opponents to 10 or fewer points in the 12 regular season games. It is the first time since 1929 that the defense has allowed 10 or fewer points in at least eight games.
Mr. Pessimist: The Iowa football team has scored 14 or fewer points in six games this season.
Mr. Optimist: Iowa punter Tory Taylor is averaging 45.1 yards per punt this season, with 32 of his punts having been downed inside the 20-yard line and 22 that have traveled at least 50 yards.
Mr. Pessimist: Taylor has punted 74 times in 12 games, which is an average of 6.16 punts per game and far too many.
Mr. Optimist: The Iowa football team has had 19 offensive linemen selected in the NFL draft under Kirk Ferentz, including six in the first round: Robert Gallery in 2004, Bryan Bulaga in 2010, Riley Reiff in 2012, Brandon Scherff in 2015, Tristan Wirfs in 2020 and Tyler Linderbaum in 2022.
Mr. Pessimist: Despite all that individual star power, Iowa still has finished 10th or lower in the Big Ten in rushing in 10 seasons since 2004, and last in the conference four times.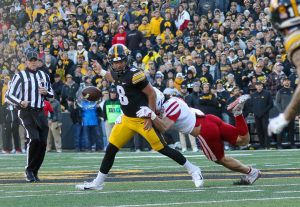 Mr. Optimist: With the transfer portal, there is a great opportunity for a proven quarterback to fill a key void on the 2023 Iowa football team, especially now that Alex Padilla has entered the transfer portal.
Mr. Pessimist: With the Iowa offense having sunk to historically bad levels, it would be a shock if any proven quarterback who has options would want to subject himself to the dysfunction without significant changes being made on offense.
Mr. Optimist: The Iowa football team has a 14-1 record in the month of November dating back to the 2019 season.
Mr. Pessimist: None of the 14 wins have come against Michigan or Ohio State.
Mr. Optimist: The Iowa men's basketball has a 32-11 record since the start of last season and is the reigning Big Ten Tournament champion.
Mr. Pessimist: And yet, Carver-Hawkeye Arena still was nearly half empty for Tuesday's game against Georgia Tech.
Mr. Optimist: The Iowa offensive line has struggled at times this season due mostly to a lack of experience, but it should be signifcantly better next season.
Mr. Pessimist: The inexperience excuse doesn't fit anymore considering the five current starters on the Iowa offensive line have combined to make 86 career starts, and one of the starters is a fifth-year senior (Jack Plumb) and another is a junior (Nick DeJong).
Mr. Optimist: The Iowa Athletic Department will receive more than $50 million in annual television revenue from being a member of the Big Ten Conference.
Mr. Pessimist: Fans might want to remind themselves of that as they wait through countless television timeouts that last longer than many of Iowa's offensive possessions.
Mr. Optimist: Hayden Fry had a lot of catchy phrases, including "scratch where it itches," which was his unique way of describing his desire to attack an opponent where it was most vulnerable.
Mr. Pessimist: I bet there's a lot of scratching where it itches in the stands at Kinnick Stadium during those television timeouts that seem to last longer than the wedding scene in the movie classic "The Deer Hunter."