By Pat Harty
IOWA CITY, Iowa – Kirk Ferentz hates to leave his comfort zone, but he doesn't really have a choice right now.
His offense has performed at a historically low level for much of this season, and in just the past 24 hours, he has lost a quarterback, receiver and offensive lineman to the transfer portal.
Junior quarterback Alex Padilla and junior offensive lineman Josh Volk both announced their decisions to enter the portal on Wednesday, while sophomore receiver Keagan Johnson announced his intentions on Thursday.
Assuming fifth-year senior quarterback Spencer Petras doesn't use his free Covid year to return next season, which is a pretty safe assumption, Iowa won't have a quarterback on the roster with any game experience unless Kirk Ferentz adds one from the transfer portal.
So, Kirk Ferentz really has no choice but to add a quarterback because the thought of the Iowa offense being directed by a quarterback that hasn't taken a single snap in a game is depressing.
There is talk that Michigan quarterback Cade McNamara might have interest in Iowa, but so much of the portal chatter right now is just speculation and conjecture and people looking for clicks and attention.
Iowa certainly has an opportunity for a proven quarterback to come in and take charge of the offense, and maybe it will turn out to be McNamara who ultimately fills the void.
But Iowa also has an offense that has been mocked and ridiculed throughout the season for its ineffectiveness.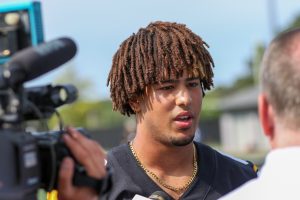 Throw in the fact that Kirk Ferentz's son is the offensive coordinator and the situation under offensive coordinator Brian Ferentz is awkward to say the least.
The loss of Keagan Johnson looks bad from an optics standpoint because he plays a position in which Iowa has very little talent and depth.
Johnson was considered the future at receiver after he performed well as a true freshman in 2021. But his sophomore season never really materialized as he appeared in just two games during the regular season and had two catches for 11 yards.
It's hard seeing the Iowa offense even being average next season unless Kirk Ferentz can add some key pieces from the portal.
He would rather develop his own players than rely on players that have been developed elsewhere, and that has approach has worked for the most part.
But right now, the Iowa offense needs help and there just isn't enough help on the current roster to fix things.
As much as the portal takes away, it also gives back as the Iowa football program would like to remind fans.
Stanford running back Arlen Harris announced on Twitter that he will visit Iowa City this coming Saturday.
In a perfect world, Kirk Ferentz would be focusing all his energy on preparing for a bowl game and on putting the finishing touches on Iowa's 2023 recruiting class.
But Kirk Ferentz's world is far from perfect as the transfer portal continues to impact college football at the Power Five level like few things have before.
It will be interesting to see how far Kirk Ferentz is willing to go outside of his comfort zone to fix the offense.
Just to rely on the transfer portal for help would be a dramatic step for Kirk Ferentz.
But will he have to make other changes in personnel, and in strategy, to convince players to come to Iowa?
Kirk Ferentz will be 68 years old by the start of next season, and he's pretty set in his ways as a head coach.
He has a contract that runs through the 2029 season, so he's also very secure as a head coach.
But Kirk Ferentz also has serious problems on offense, and a fan base that it very frustrated and angry about his offense because they feel it is keeping Iowa from having a chance to be elite.
So again, this could be a weird offseason for Kirk Ferentz as he deals with college football's version of free agency.
He has to make some waves in the portal, not only to help from a talent standpoint, but also to send a message to fans that he's really serious about fixing the offense.