By Pat Harty
IOWA CITY, Iowa – Spencer Petras will not play in the Music City Bowl on New Year's Eve, Iowa coach Kirk Ferentz confirmed Sunday afternoon on a zoom conference with the media.
Iowa (7-5) will face Kentucky (7-5) in the Music City Bowl in Nashville, Tennessee in a rematch of the 2022 Citrus Bowl, which Kentucky won 20-17 in Orlando, Florida.
"Unfortunately, Spencer Petras will not be able to play in the game," Kirk Ferentz said. The injury he had in the Nebraska ball game was significant enough to require surgery. So he's not going to be able to compete. Nobody's more disappointed than him, obviously. Like any player that has an injury that requires surgery, it just takes 'em out of competition. It's good that he'll be with us, but all of us wish he wasn't on sideline supporting the team. But that is the one thing I have to report right now.
Ferentz said that redshirt freshman Joey Labas and true freshman Carson May would be Iowa's quarterbacks in the Music City Bowl.
"It will be (Joey Labas) or Carson May, one of the two," Kirk Ferentz said of who would start at quarterback in the bowl game. "We'll let those guys work the next four weeks and see how they do. We were on the field yesterday and both, I thought, did some good things but obviously we got some work to do with both guys. The good news is we have four weeks to get that done."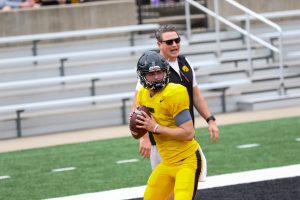 Ferentz also said that senior tight end Sam LaPorta and sophomore defensive back Cooper DeJean both should be ready to play in the bowl game.
LaPorta was injured late in the second quarter of Iowa's 13-10 win at Minnesota on Nov. 19 and then missed the Nebraska game.
He leads Iowa with 53 catches for 601 yards, and is one of three finalists for the John Mackey Award, which goes to the nation's top collegiate tight end.
DeJean was injured in the first quarter of the Nebraska game on Nov. 25th and didn't return.
Petras was injured in the first quarter against Nebraska and didn't return to the game. His arm was in a sling for part of the time while he watched from the sideline.
Iowa would go on to lose to Nebraska 24-17 on Senior Day at Kinnick Stadium.
Petras, a fifth-year senior from San Rafael, California, ends his career with a 20-11 record as a three-year starter at quarterback. He also led Iowa to the 2021 Big Ten West Division title, although, the offense struggled for much of the time Petras has been behind center.
Iowa will also be without junior quarterback Alex Padilla, who entered the tranfer portal earlier in the week.
Padilla played in two games this season, while neither Labas nor May have taken a single snap in a game.
Kentucky also could be without starting quarterback Will Levis, who is expected to opt out of playing in the bowl game since he projects as a high draft pick in the 2023 NFL draft.
One if his backups is former Iowa quarterback Deuce Hogan, so that could provide an interesting storyline should Hogan get to play.
However, Hogan is not listed as the backup on the most recent Kentucky depth chart, or as the third-team quarterback.
Hogan left Iowa shortly after Kirk Ferentz had joked to the media saying he might have stayed in Iowa City if Hogan would've had to play at Nebraska in the 2021 regular-season finale.
Hogan's mother lashed out at Ferentz on social media and her son was gone just a few weeks later.
Kentucky is also coached by former Iowa defensive back Mark Stoops.