By Pat Harty
IOWA CITY, Iowa – The packed house that watched the Iowa men's basketball team defeat Iowa State on Thursday at Carver-Hawkeye Arena could perhaps best be described as a late-arriving crowd.
It was stunning to look up about 15 minutes before tip-off and see the arena nearly half empty for the annual intrastate showdown.
But it was equally as stunning to see the arena fill up in those 15 minutes.
According to several accounts, the traffic outside the arena was gridlock just minutes before tip-off and that caused many fans to arrive later than probably they had expected.
Give the fans credit, though, because by tip-off they were in their seats, or walking to their seats, and would be engaged throughout Iowa's 75-56 victory.
It certainly helped that Iowa (7-2) bolted to a 15-0 lead against Iowa State, and it would help again on Sunday to start fast against Wisconsin at Carver-Hawkeye Arena.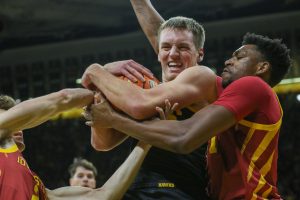 There were about 2,000 tickets still available for the Wisconsin game as of Saturday afternoon. But it's reasonable to think that the win over Iowa State might helped to draw a walk-up crowd on Sunday or some late ticket purchasers.
Because Iowa needs all the advantages it can get, especially since Fran McCaffery said Saturday on a zoom conference with the media that 6-foot-8 junior forward Kris Murray won't play against the Badgers on Sunday.
Kris Murray also missed the Iowa State game due to a lower body injury.
But to have defeated a ranked Iowa State team so convincingly, and to have done so without its leading scorer and rebounder speaks volumes about the potential of this Iowa team.
Senior forward Filip Rebraca is carrying a bigger load on offense this season, partly out of necessity, but also because he has a year under his belt at this level and he knows what to expect.
"It stands to reason that in year two with experience that he's gotten, he would be ready," Fran McCaffery said of the 6-9 Rebraca. "But at the end of the day with Filip, he's a gamer. He will fight you and he takes full responsibility."
Rebraca also showed against Iowa State that he can make you pay if you leave him wide open from 3-point range as he made both of his attempts from behind the acr.
He had missed his only attempt from 3-point range this season prior to the Iowa State game, and he was just 1-for-6 from 3-point range last season.
"Maybe I haven't had a game this season yet where I was comfortable shooting the three," Rebraca said. "But you know here they left me wide open, and I put two up and they went in.
"So, that's what I worked for in the summer."
Iowa outscored Iowa State 36-9 from 3-point range as Rebraca and his cohorts made 12-of-23 shots from behind the arc against a team that usually excels at perimeter defense.
Iowa also compensated for not having Kris Murray by having four players score in double figures against Iowa State, led by Rebraca's 22 points on 9-of-11 shooting from the field.
As for the 7-2 Badgers, they are what you would expect them to be under head coach Greg Gard; tough and locked in on defense, and patient and methodical on offense.
Wisconsin is holding opponents to 59.8 points per game, an average that ranks 26th best nationally.
Senior forward Tyler Wahl leads the team in total points (125) and rebounds (62), averaging 13.9 and 6.9 per game, while freshman guard Connor Essegian is shooting a team-best 48.7 percent from 3-point range, having made 19 of 39 attempts.
Sunday will be Wisconsin's second true road game of the season. The Badgers won at rival Marquette 80-77 on Dec. 3 in overtime.
Wisconsin opened Big Ten play at home last Tuesday with a 64-59 victory over No.13 Maryland in the Kohl Center
Wisconsin vs. Iowa
When: Sunday, 5:31 p.m.
Where: Carver-Hawkeye Arena
TV: Big Ten Network
Radio: Hawkeye Radio Network
Series: Thursday will be the 172nd mee! ng between Iowa and Wisconsin. Iowa leads the all-time series by the slimmest of margins, 86-85. That record includes a Wisconsin forfeit in 1983. Thirteen of the last 20 mee! ngs, da! ng back to 2011, have been decided by seven points or less. Iowa holds a 53-30 advantage in games played in Iowa City. The Hawkeyes have won three of the last four mee! ngs inside Carver-Hawkeye Arena, including the last two (2021 and 2020).