By Pat Harty
IOWA CITY, Iowa – Patrick McCaffery stood in silence on the court as if in shock after having watched his 3-point shot roll off the rim.
Iowa's 6-foot-9 junior forward had just missed his opportunity to send Sunday's game against Wisconsin into a second overtime as the Badgers hung on for a hard-earned 78-75 victory at Carver-Hawkeye Arena.
"It felt so good off the hand," Patrick McCaffery said. "Everything kind of felt good all day, even my misses. Everything felt good.
"So, yeah, I thought it was in."
Iowa (7-3, 0-1 Big Ten) played shorthanded again as junior forward Kris Murray missed his second straight game due to a lower body injury, while junior point guard Ahron Ulis missed Sunday's Big Ten opener due to a hip contusion.
"He said he couldn't go," Fran McCaffery said of Ulis.
Ulis was replaced in the starting lineup by freshman guard Dasonte Bowen, who made his first career start.
Kris Murray had his left foot in a boot and was on crutches Sunday.
Fran McCaffery dipped deep into his bench as walk-on guard Carter Kingsbury played 10 minutes off the bench and made one 3-point basket during a stretch in the first half when the Iowa offense was struggling.
The Hawkeyes just didn't have enough firepower without two starters, but especially without Kris Murray, who leads the team in both scoring and rebounding.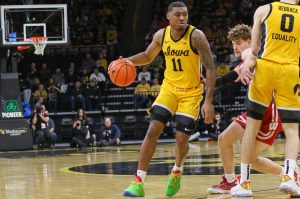 Patrick McCaffery did his best to help compensate for the loss of Kris Murray by scoring 24 points, while his older brother, Connor McCaffery, stuffed the stat sheet with 17 points, 10 rebounds, five assists and three steals while playing all five positions.
"I would say it's more kind of everybody feeds off Connor's energy because he's a warrior, man," Patrick McCaffery said when asked if he feeds off his brother's energy. "He plays so hard. He's so competitive. He's so smart.
"So, we all feed of him, I think."
The situation looked bleak when Iowa trailed 60-55 with slightly more than 20 seconds left in regulation.
But then junior guard Tony Perkins made a basket and Patrick McCaffery followed with a 3-point basket that evened the score at 60 with 15 seconds left to play.
The Badgers had a chance to win the game in regulation, but Chucky Hepburn missed a jump shot as time expired.
Iowa then committed two turnovers late in overtime that helped the Badgers secure the win.
Patrick McCaffery was asked after Sunday's game if he was encouraged by Iowa having forced overtime despite trailing late in regulation.
"I don't really believe in moral victories. We lost," Patrick McCaffery said.
Iowa had four players that scored in double figures as Perkins had 17 points and senior forward Filip Rebraca finished with 10.
Sunday's game had been over for more than an hour when Perkins returned to the court to take some extra shots by himself.
Iowa only made 7-of-27 shots from 3-point range as sophomore Payton Sandfort continued to struggle. He missed all seven of his field goal attempts, including five shots from 3-point range.
"We're going to keep playing him and we're going to keep going to him," Fran McCaffery said of Sandfort. "I told him, I said, look, I love you. You're a terrific player. You effect the game in so many different ways. You're puttin way too much pressure on yourself to make jump shots. Just go out there and make plays. Just be a really good basketball player because that's what you are.
"The shots will come. All you need is one bust-out game."
Iowa showed a lot of grit and toughness, and refused to wilt under the pressure, but just didn't have enough firepower without two starters, but especially without Kris Murray, who leads the team in both scoring and rebounding.
Iowa now has six days off for semester exams with the next game on Saturday against Southeast Missouri State at Carver-Hawkeye Arena.
Connor McCaffery played 41.29 minutes on Sunday, and his performance drew praise not only from his brother, but also from his father, Fran McCaffery.
"There's just nobody tougher and smarter than him," Fran McCaffery said of Connor McCaffery. "He just has to be on the floor, so, I'm really proud of him."
Wisconsin controlled the pace of the game throughout the first half, which ended in a 27-27 tie.
Neither team shot well in the first half as Iowa made just 10-of-27 field goal attempts, while the Badgers made 13-of-31 field-goal attempts, including just 1 of 11 shots from 3-point range.
Iowa was held scoreless in the first half until Connor McCaffery finally made a 3-point basket with 14:37 left before halftime.
Carter Kingsbury also provided a spark in the first half by coming off the bench and making a 3-point basket when the offense was struggling.
His three helped to energize the crowd and then Iowa turned a 25-19 deficit into a 27-25 lead until Wisconsin guard Chucky Hepburn made basket in the final seconds to even the score at 27 at the break.