By Pat Harty
IOWA CITY, Iowa – Perhaps the only thing more difficult than winning the Heisman Trophy is figuring out how to vote for it.
I couldn't do it, even with help from somebody slightly more tech savvy, and I ultimately had to e-mail my three choices to make the deadline.
I would be the first to admit that my technical skills are severely lacking, but the process of voting for the Heisman Trophy this year was just that – a process that started oddly enough with watching a short video.
Shortly after watching video is when things really got complicated.
But I still was able to vote, and for the first time I can remember, two of my three choices were from Iowa.
I picked Texas Christian University quarterback and Council Bluffs native Max Duggan as my No. 1 choice, and had Iowa linebacker and Cedar Falls native Jack Campbell as my third pick with Ohio State quarterback C.J. Stroud in the middle as my second pick.
Some will look at those picks and probably roll their eyes and dismiss me as just an Iowa homer, and maybe there is some bias in my picks, as there is in everybody's picks for the Heisman Trophy, or any individual award for that matter.
But I also believe a strong case could be made for Duggan deserving to be the winner – he finished second behind USC quarterback Caleb Williams – and for Campbell to be third on the ballot.
Caleb Williams won the award after having passed for 4,075 yards and 37 touchdowns, along with throwing just four interceptions.
Those are certainly outstanding numbers, but USC also failed to win the Pac-12 Conference, and failed to make the college playoff due to having two losses, while TCU made the playoff despite losing to Kansas State in the Big 12 Conference Championship game because it finished 12-0 in the regular season.
It would seem more difficult for a quarterback to lead TCU to the college playoff than for a quarterback to lead USC to the playoff, especially in this case since Williams was joined from the transfer portal by 2021 Biletnikoff Award winner Jordan Addison, who transferred from Pittsburgh.
TCU finished 5-7 last season, and then had a coaching change as Sonny Dykes took over.
It wasn't even certain that Duggan would be the starting quarterback heading into this season, and now barely three months later he is the runner-up for the Heisman Trophy.
It isn't quite as surreal as Brad Banks being the runner-up in 2002, considering Duggan had started 29 games heading into this season.
But it's still an incredible story of perseverance and competitiveness.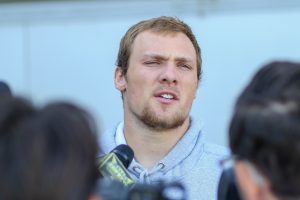 Coaches often tell their athletes to leave it all out there, and Duggan did just that in the Big 12 title game. He played and competed to the point of exhaustion and it was a joy to watch, even though his team lost.
My Heisman vote was pretty much decided after having watched that game.
Duggan's statistics also pass the eye test as he has passed for 3,321 yards and 30 touchdowns, while throwing just four interceptions.
He also has rushed for over 400 yards and scored six rushing touchdowns, and those numbers combined with his team's success makes Duggan a reasonable choice regardless where he grew up.
As for Campbell being my third pick, it basically comes down to whether the Heisman Trophy is just an offensive skill position award, or even more specifically, a quarterback award, or if it's truly meant to honor outstanding football players because that certainly describes Campbell, who was named the winner of the Butkus Award this past week.
Nothing against any of the quarterbacks, running backs or receivers, but Campbell plays linebacker as good or better than all of them.
He has performed at an incredibly high level throughout the season and is the leader for one of the best defenses in the country, averaging 10 tackles per game.
I stand by my picks.
RECEIVERS COMING AND GOING: Iowa receiver Keagan Johnson has found a new school as he announced Sunday afternoon on Twitter that he will transfer to Kansas State.
Johnson only appeared in two games this season as a sophomore due to undisclosed injuries after having had a breakout freshman season in 2021 when he had 18 catches for 352 yards and two touchdowns.
He will join a Kansas State program that just won the Big 12 Conference championship, and that has former Hawkeye Julius Brents as a starting cornerback.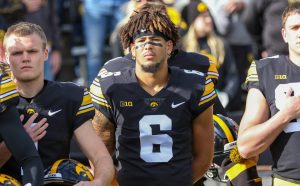 Johnson's departure, coupled with the loss of fellow receiver Arland Bruce IV to the transfer portal, is why the Iowa coaches are actively recruiting receivers in the portal, including Isaac TeSlaa, who attends Division II Hillsdale College in Michigan.
The 6-foot-4, 210-pound TeSlaa visited Iowa this weekend, and he also has scholarship offers from Iowa State, Oklahoma State and Houston.
He entered the portal after having led his conference in receptions (68), yards (1,325), touchdowns (13), yards per catch (19.5) and yards per game (120.5). His performance as a sophomore also put him on a short list of national leaders, as he finished the regular season third in the country at the NCAA DII level in receiving yards and receiving yards per game, tied for sixth in receiving touchdowns, and in the top 25 in receiving yards per catch.
Iowa currently only has four receivers on scholarship heading into the New Year's Eve matchup against Kentucky in the Music City Bowl in Nashville, Tennessee.
Michigan quarterback Cade McNamara already has commited to Iowa and is now helping to recruit receivers to join him in Iowa City where he is this weekend.
"We hung out briefly on Friday night," TeSlaa told HF. "Unfortunately, we didn't get to connect on Saturday because his visit was done.
"We didn't talk about anything too noteworthy. We just hung out with a group of guys on the team. I'm glad we got a chance to connect, though."
Bluder achieves special milestone: No Big Ten women's basketball coach has won more conference games than Lisa Bluder, whose record currently stands at 234 wins.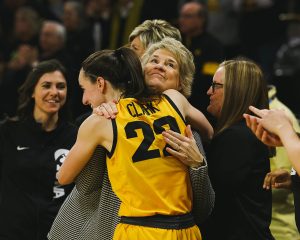 Bluder established that milestone in Saturday's 87-64 victory over Minnesota at Carver-Hawkeye Arena, surpassing former Iowa and Rutgers coach C. Vivian Stringer for No. 1 on the all-time list.
She is in her 23rd season as the Iowa head coach and has led Iowa to postseason tournament appearances in 20 seasons, including 16 NCAA Tournament appearances.
Vivian Stringer used to be in a class all by herself when ranking Iowa women's basketball coaches, but Bluder has certainly narrowed the gap, or maybe even caught up with Stringer with Iowa having won both the Big Ten regular season and tournament titles last season.
Bluder also coaches one of the most dynamic players in the country in junior guard Caitlin Clark, and together, they've won a lot of games with help from a strong supporting cast.
Iowa now has the all-time winningest women's basketball coach in Big Ten history and the third all-time winningest football coach in Kirk Ferentz.
Iowa men's basketball coach Fran McCaffery also won his 500th career game with the 75-56 victory over Iowa State this past Thursday at Carver-Hawkeye Arena.
That's a lot of winning across the board.
Extremely grateful for the opportunity to spend the weekend down in Iowa City! Couldn't have asked for a better official visit, thank you to everyone who made it so great. Go Hawks!!🐤 @HawkeyeFootball @CopelandKelton pic.twitter.com/iBvHDkMHcD

— Isaac TeSlaa (@TeslaaIsaac) December 11, 2022