By Pat Harty
IOWA CITY, Iowa – Cade McNamara will have the weight of Hawkeye nation on his shoulders when he becomes the Iowa football team's starting quarterback next season as a gradate transfer from Michigan.
But on the other hand, all he and the offense would have to be is just average to be considered a major improvement because the bar is set so low right now on offense.
Imagine if the Iowa offense would've just been average during the regular season instead of being historically bad.
Iowa would've almost certainly won the Big Ten West Division for the second straight year because it almost won the division despite having a historically bad offense.
Assuming the Iowa defense and special teams both perform at the same high level next season as they have this season, McNamara will have two key parts of winning working to his advantage.
Spencer Petras has had a rock-solid defense and special teams working to his advantage during most of his time as Iowa's starting quarterback, but the results have been mixed due to the deficiencies on offense.
Petras has a respectable 20-11 record as a starter, but rarely has the offense been the guiding force behind winning.
Petras will miss the Music City Bowl against Kentucky due to an injury that will require surgery, leaving redshirt freshman Joey Labas and true freshman Carson May as the only quarterbacks on scholarship for the bowl game.
But then once the bowl game ends, the offense will be turned over to McNamara, and the hope is that he will do for Iowa what he did for Michigan in 2021 by leading the Wolverines to the Big Ten title and to the college playoff.
The one big difference is that McNamara had a much better supporting cast at Michigan, including arguably the best offensive line in the country, and three stud running backs.
He won't have anything close to that at Iowa, and not even the transfer portal could change that.
The Iowa coaches are working the portal hard right now in search of receivers because there are currently only four receivers on scholarship, and one of them – Nico Ragaini – is a sixth-year senior.
The prevailing hope heading into the offseason will be that the transfer portal is helping to rescue the Iowa offense, and with McNamara leading the way.
McNamara recently did a podcast in which he said he is using the doubters and those critical of the Iowa offense as inspiration to prove them all wrong.
All he would have to do to prove the naysayers wrong is just be average.
Should the Iowa offense finish seventh in the Big Ten in total offense next season after having finished last this season, that would be a dramatic improvement, even though it would be the definition of average in a conference with 14 teams.
So, while there is pressure on McNamara to help jumpstart the offense, the bar is set so low right now under offensive coordinator Brian Ferentz to where McNamara won't have to be spectacular.
There is a narrative being pushed that says Kirk Ferentz is about to overhaul the offense once the seasons ends.
It could be in response to Kirk Ferentz saying recently that he planned to do a comprehensive study of the offense during the offseason.
Ferentz compared it to the 2014 offseason when he made C.J. Beathard the starting quarterback over two-year starter Jake Rudock, and when he switched practice from the afternoon to the morning.
Some changes are likely to occur on offense, and already have with the addition of McNamara, of course, and with the loss of receivers Arland Bruce IV and Keagan Johnson and running back Gavin Williams to the transfer portal.
But dramatic changes, such as Brian Ferentz being relieved of his duties or Kirk Ferentz overhauling the entire offense would seem highly unlikely.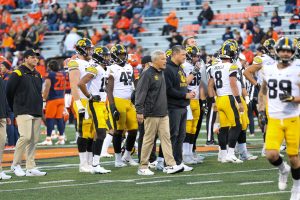 Kirk Ferentz said recently that he doesn't think the offense is broken.
And if that truly is how he feels, then why would he make dramatic changes with schemes?
It seems more likely that Kirk Ferentz would head to the offseason thinking that Iowa just needs to play better on offense and have better execution rather than make significant changes.
He has his quarterback, and he has a strong defense and reliable special teams to build around.
The defense might not be as good next season as this season, but Iowa almost always has a strong defense under Phil Parker.
Iowa also for least one more season plays in the Big Ten West Division, which isn't nearly as daunting as playing in the Big Ten East Division.
Purdue won the West Division this season with a 6-3 record in conference play. But Purdue has since lost its head coach with Jeff Brohm having resigned to be the head coach at Louisville, which is his alma mater, and will also be without starting quarterback Aidan O'Connell and star receiver Charlie Jones next season.
Wisconsin recently hired Luke Fickell as head coach, but also has major concerns at quarterback with Graham Mertz having entered the transfer portal, and with Mertz having been mediocre at best as a three-year starter.
There isn't a great team in the West Division this season, and it seems very unlikely that there will be a great team in the West Division next season, and that could work to McNamara's advantage.
McNamara received a rousing ovation from fans at Carver-Hawkeye Arena this past Thursday as he left the arena near the end of the Iowa men's basketball team's victory over Iowa State.
It isn't often where just being average, or maybe slightly better than average, could make you a Hawkeye hero.
But under the unusual circumstances, that could be the case for Cade McNamara next season.