IOWA CITY, Iowa – The Iowa Athletic Department is offering a two-for-one deal for those who have the afternoon off and enjoy watching college basketball.
If you purchase a ticket for the Iowa-Dartmouth women's game at noon on Wednesday at Carver-Hawkeye Arena, you can stay for the Eastern Illinois-Iowa men's game, which will start at approximately 2:30 p.m.
The starting times for both games were moved up due to the threat of severe weather late Wednesday night into Thursday,
The women's game was originally supposed to start at 2 p.m., followed by the men's game at 7 p.m.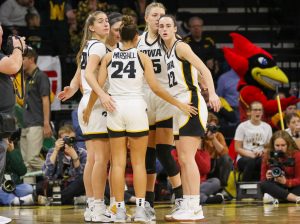 If you have a ticket for the men's game, you also can arrive early and attend the women's game.
Iowa will be heavy favorites in both game as the Dartmouth women are 2-10, while the Eastern Illinois men's team is 3-9.
Iowa junior forward Kris Murray, who leads the team in scoring and rebounding, is expected to miss his fourth straight game on Wednesday due to a lower body injury.
Iowa head coach Fran McCaffery held a zoom conference with media on Tuesday and gave an update on Kris Murray's status.
"Day by day, little by little, he's doing more and more, Fran McCaffery said. "So, it's going well.
"I don't think he'll play tomorrow."
Fran McCaffery said the hope is that Kris Murray will be ready for when Iowa resumes Big Ten play against Nebraska on Dec. 29 in Lincoln, Nebraska.
"But again, we'll make that assessment as we get closer," Fran McCaffery said.