By Dallas Jones
IOWA CITY, Iowa – Mother Nature caused a shift in tip-off time, and possibly momentum as the Iowa men's basketball team got off to an uncharacteristically slow start Wednesday afternoon against Eastern Illinois.
The Hawkeyes were a 31.5 point favorite, and while many assume they would pull things together in the second half after holding a 45-37 lead against the 3-9 Panthers, that didn't happen.
Eastern Illinois came back in the second half and pulled off one of the biggest upsets college basketball has seen in recent years, winning 93-82 at Carver-Hawkeye Arena in a rare 2:30 p.m. start on a Wednesday.
The starting time was moved from 7 p.m. to 2:30 p.m. due to the threat of severe weather.
Iowa (8-4) played without junior forward Kris Murray, its leading scorer and rebounder, and without sixth-year senior guard Connor McCaffery, due to injuries.
Iowa now has a week to get healthy and prepare for the Big Ten grind with its next game against Nebraska on Dec. 29th in Lincoln, Nebraska.
Check out my takeaways and postgame video here.
One to forget for the Hawkeyes: Eastern Illinois entered the game 3-9 with losses to Illinois State, Central Michigan and Alabama State.
No offense to those programs, but they are not of the level of the Big Ten, one of the best conferences in the country. That didn't matter today.
The Panthers shot 21-29 (72.4%) from the field in the second half, putting up 55 points. Coming into today they averaged just 60.3 point per game.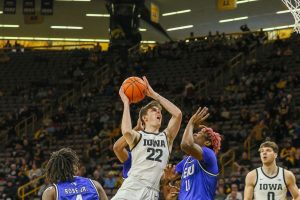 Another tough day from downtown: Shooting has been a rollercoaster for the Hawkeyes this season. When they are on, they are a wrecking ball. When they are off, it is not pretty. This afternoon started as one of those not so pretty days.
Hawkeye barely hit 30% in the first half (5-16) and veteran Patrick McCaffery was 0-5 alone.
Things did not get any better in the second half for the Hawks as they shot 2-17 (11.8%). Veterans Ahron Ulis and Patrick McCaffery shot 0-14 from deep as a pair.
They finished the game 28-72 (38.9%) from the field and 7-33 from three (21.2%), one of the worst shooting performances of the McCaffery era.
Health is the Hawkeyes top concern: The loss off Kris Murray has obviously hindered the Hawkeyes in their recent stretch, but today's game proved just how key Connor McCaffery is as well.
The pair combine for over 27 points per game and four assists. A tough portion for any program to replace in short notice.
Not saying the Hawkeyes had any business losing this one, but it is clear that McCaffery's veteran presence is something they need on the court.
After the game Coach McCaffery was optimistic on Connor's availability for their next matchup against Nebraska on December 29th.
Check out what coaches from both teams and Hawkeye Center Filip Rebraca had to say postgame here: