By Pat Harty
IOWA CITY, Iowa – Brad Heinrichs is frustrated, and rightfully so.
As CEO of the Iowa Swarm Collective, Heinrichs has taken on the daunting and time-consuming task of leading Hawkeye athletics into a new era in which name, image and likeness is re-shaping the college sports landscape.
Student-athletes can now benefit financially from their name, image and likeness and alumni groups from throughout the country are now working to help raise money, but are doing so without having any direct relationship with the athletic department to which they support.
The Iowa Swarm Collective operates separate from the Iowa Athletic Department, and it has two-prong approach in which every football, men's basketball and women's basketball player receives a stipend in exchange for required appearances and services to nonprofit organizations, while there is also an .LLC where UI student-athletes get paid by local businesses for doing promotional services.
The Swarm Collective received a recent boost in donors after former Michigan quarterback Cade McNamara announced that he would transfer to Iowa, with the number of donors more than tripling from about 325 to over 1,100, according to Heinrichs.
NIL money also played a key role in closing the deal with McNamara.
But there still is a steep hill to climb for Heinrichs to reach his very ambitious goal of having 10,000 donors in the Swarm Collective, and now he's facing resistance from the very people he's trying to help in some ways.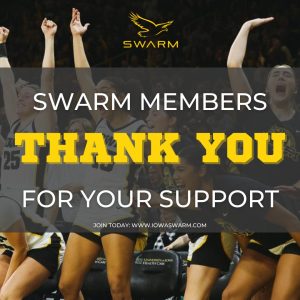 The University of Iowa is prohibited from providing any financial support to NIL causes, but it can help in other ways, like for example, putting donors and football and men's basketball season ticket holders in contact with Heinrich's organization.
Heinrichs has asked his alma mater to help in that regard, but he has been turned down because he says UI officials won't provide the contact information for donors and ticket holders unless the SWARM Collective agrees to meet Title IX requirements when distributing its money.
"SWARM refuses to raise money to spread payments equally across all sports to comply with Title IX," Heinrichs said Saturday in a text message exchange. "We are not subject to Title IX. We are not affiliated with the university.
"With that said, the University does not have to support us in any way. They cannot provide us financial assistance. But we have asked them to help in other ways."
Heinrichs said his organization asked UI officials to have a booth/table at the Hawkeye Huddle, but were denied.
They have asked for contact information for Iowa football and basketball season ticket holders and were denied.
Heinrich said he also has asked UI officials to blast their donors and season ticket holders, but they haven't to this point.
"Unfortunately, we are experiencing some headwinds that other NIL collectives across the country are not dealing with," Heinrichs said.
Heinrichs said he just spoke recently to the head of the North Carolina Collective and that person praised the North Carolina Athletic Department for its cooperation and assistance with their NIL pursuits.
"Providing him not only with contact information of season ticket holders and donors, but also UNC athletics is telling donors to give to their NIL program in addition to or instead of to athletics so that they can keep their star QB at UNC.
"That is the type of collaboration that is necessary for a Collective to be successful, and ultimately, the kind of collaboration for an athletics department to be successful in the new day and age."
The quarterback to whom Heinrichs was referring is UNC quarterback Drake Maye, who was named the Atlantic Coast Conference Player of the Year this season after passing for more than 4,000 yards.
Maye has been the subject of NIL rumors, fueled by Pittsburgh head coach Pat Narduzzi's shocking claim that two unnamed schools offered Maye $5 million in NIL money to transfer.
Whatever the case, NIL and the transfer portal are both here to stay, and it's up to each school to adapt or get left behind.
Some will blame Iowa Athletic Director Gary Barta for putting up this resistance, and say that it's just another example of him making a poor decision.
But this resistance almost certainly goes above Barta.
Iowa recently reinstated women's swimming and diving after a federal judge found that athletes had a fair chance of winning a lawsuit accusing the UI of violating Title IX for having cut the sport in response to Covid-19 financial shortfalls.
So, perhaps there is a level of paranoia.
But again, the Swarm Collective isn't directly affliated with the university, and should be free to make its own decisions about how its money is distributed.
The Iowa Swarm Collective has devised what seems a fair and balanced approach to a process that is easy to manipulate right now due from having little supervision or structure.
And while it's noble for UI officials to push for Title XI requirements with NIL money, it's not realistic, nor is it fair or prudent to tell donors how to spend their hard-earned money.
If a donor wants to make a financial contribution to the Iowa volleyball team or to the Iowa softball team, then do it and more power to that donor.
Each sport could also start its own collective.
Heinrichs, a 1997 University of Iowa graduate and former UI golfer, agreed to head the Swarm Collective, thinking that he would be raising money for three sports: football and men's and women's basketball.
There was concern that Iowa's approach to NIL was lacking before Heinrichs agreed to take over.
But now he's facing resistance from an unlikely source, and it could prove costly down the road.
This sort of brings back memories of when former UI President Hunter Rawlings wanted to make freshmen ineligible, even if other schools refused to do it.
Fortunately, that didn't happen because that would have put Iowa at such a competitive disadvantage.
The same thing could happen with NIL money if UI officials insist on having requirements that other schools don't have.
It would be great if all the UI sports teams could benefit equally from NIL money, but that just isn't practical because donors ultimately deserve the right to choose where their money goes.
But if it becomes harder for donors to choose where their money goes, or if they lose the right to choose where their money goes, you risk losing them as donors.
The Iowa men's basketball team has recently come up short in signing a couple targeted recruits, and in landing some players from the portal, and NIL money was reportedly the deciding factor in most cases.
So, the last thing Fran McCaffery needs with NIL is an obstacle that his competitors don't have to deal with when trying to attract players.
Universities and colleges are required by law to meet Title IX requirements as they should be because women certainly deserve the right to equal participation.
But NIL is different because it's not directly affiliated with a university.
The SWARM Collective wants to raise money for the three biggest revenue sports at Iowa and that is certainly its prerogative.
That isn't meant as disrespect to Title IX, but rather as acknowledgement of how important it is for Iowa to be competitive with NIL in the sports that generate the most revenue.
It just doesn't make sense why UI officials would refuse to cooperate in this case.
And while it's true that fans are being asked to spend money in lots of different ways, that should be even more reason for UI officials to help with the Swarm Collective because they face some stiff competition from schools like Alabama as fans saw this week when five-star offensive lineman Kadyn Proctor signed with Alabama after having been committed to Iowa since June.
There were reports that NIL money helped Alabama close the deal with Proctor, who attends Southeast Polk High School.
NIL certainly has its flaws, and there are schools that would have no problem exploiting the lack of structure and supervision to land a star player.
Heinrichs and his cohorts already face a difficult task of trying to be competitive in an era in which some NIL collectives are raising millions of dollars and spending it as they choose.
"Regardless what Iowa Athletics does, I am determined to make this venture a successful one that all Hawkeye fans can be proud of," Heinrichs said. "We have quite a bit of momentum going right now, and student-athletes and local charities are excited about what we have done so far.
"But we need the support moving forward if we are going to get where we want to go as soon as possible."
UI officials would be wise to listen to Heinrichs' plea, because if not, this could cause a lot of damage, on and off the playing field.