By Pat Harty
IOWA CITY, Iowa – After reading Gary Barta's open letter to Hawkeye fans, I had to sit down because I was dizzy from all the spin.
No disrespect to Iowa's veteran athletic director, but what is the benefit of releasing a feel-good letter than pats yourself on the back, but that buries deep within the letter and barely mentions the reason it was written?
Barta goes on and on in his open letter about all that has been accomplished in these early stages of Name, Image and Likeness, and there has been some progress made.
The Uuniversity of Iowa deserves praise for trying to make name, image and likeness more inclusive rather than just being a money grab for the best players.
Iowa also deserves praise for using NIL as a way to help the community and the charities that mean so much to the community.
But near the end of his letter, Barta squeezes in this paragraph:
"There are and will continue to be limitations on the athletic departments involvement in collective related to NCAA rules, tax law, Title IX law, etc. The concept and rules surrounding NIL and collectives will continue to evolve. The Hawkeyes will continue to advance with those changes."
It seems pretty apparent that Barta released the letter in response to fans' reaction to an article that was published last Saturday on Hawk Fanatic.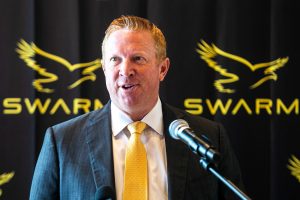 In the article, Brad Heinrichs, who is the CEO for the Iowa Swarm Collective, voices his frustration with UI officials for refusing to give him contact information for potential donors and season ticket holders unless the Swarm agrees to distribute the money it raises equally throughout the athletic program to meet Title IX requirements.
Barta doesn't explain in his letter why the UI in order to get its cooperation insists that the money raised by the Swarm Collective has to be distributed equally to all the teams in the athletic department to meet Title IX requirements.
He doesn't say why the UI has refused to help Heinrichs make contact with potential NIL donors.
Barta just made that vague reference about Title IX law and left the rest for interpretation.
And now the Iowa Athletic Department has its latest controversy, and like all the previous controversies, this one could've easily been avoided.
Heinrichs, a 1997 UI graduate and a former Iowa golfer who now lives in Florida, agreed to take over as CEO of the Iowa Swarm Collective at a time when little progress was being made.
He has since dedicated a lot of his time and resources to make it successful, and he took over as CEO thinking that he would raise money exclusively for football and men's and women's basketball.
Heinrichs took over with the goal of leading Iowa into this new era in college sports where student-athletes can earn money from their name- image and likeness.
The Iowa Swarm Collective received a huge boost in early December when former Michigan quarterback Cade McNamara committed to Iowa, as the number of donors tripled from about 325 to approximately 1,100 in a just a few days, according to Heinrichs.
NIL money also played a key role in closing the deal with McNamara, according to Heinrichs.
And while Heinrichs was thrilled with the impact that McNamara's commitment had on Swarm membership, Heinrichs said recently on the Hawk Fanatic radio show and podcast that his goal is to have 10,000 donors in the Swarm Collective.
So, in other words, there still is a lot of work to do and Heinrichs needs all the help he can get, and yet, the UI refuses to give him contact information and mailing lists for season ticket holders, and for potential donors apparently because Heinrichs refuses to agree to distribute the money equally.
Some have cited privacy rights and fears of Title IX repercussions as reasons why the UI is taking this stand pretty much on its own.
But a large majority of Iowa fans are upset with this position by the Iowa Athletic Department and are concerned about Iowa's ability to compete in this new NIL landscape.
Fans are upset because no other schools have taken this stand, and because the Iowa Swarm Collective doesn't have to meet Title IX requirements because it has no direct affiliation with the University of Iowa.
Iowa has created this obstacle either out of fear and paranoia, or to take the moral high ground out of pressure from somewhere above.
Barta is being blamed by fans for this controversy, but the buck might not stop with him in this case.
Iowa athletics has recently settled some discrimination lawsuits that cost millions, and in 2021, Iowa was forced to reinstate women's swimming and diving after some student-athletes had filed a Title IX lawsuit.
So, again, maybe this is just Iowa being paranoid.
Whatever the case, it's not a good look for Hawkeye athletics and it could prove costly down the road because no other Big Ten school appears to be taking this stand.
Donors should get to decide where their hard-earned money is spent.
And should Iowa take that privilege away from them, then it would risks losing donors.
Most of the other Big Ten schools have actually gone out of their way to help their NIL collectives make contact with donors and ticket holders.
The other schools don't seem worried about violating Title IX laws or about distributing the money equally.
Iowa stands alone in this case.
And this particular stand makes no sense and could be costly.
An open letter from Gary Barta: #Hawkeyes pic.twitter.com/9xChmFQw24

— The Iowa Hawkeyes (@TheIowaHawkeyes) December 27, 2022