By Pat Harty
IOWA CITY, Iowa – The decision by Kaevon Merriweather to skip the Music City Bowl so he could focus on the 2023 NFL Draft was a setback for the Iowa football team.
But it was also a case of a young man making a decision that he feels is in his best interest, and it's hard to find fault with that, especially considering Merriweather's reputation and track record.
Merriweather represented the Iowa football program with class and dignity off the field, and he was a rock-solid strong safety on the field, reliable, consistent and tough.
He served as a team captain this season, and he helped to unify the team during the racial unrest in the summer of 2020 by acting as sort of a team spokesperson.
Merriweather gave his heart, soul and body to Hawkeye football for five years.
He earned everything his scholarship has given him, including second-team All-America accolades this season.
But now a chance play in the NFL is well within Merriweather's reach, thanks to his ascension as a Hawkeye, and the Michigan native wants to focus on preparing for the draft and doesn't want to risk getting injured in the bowl game.
There is no right or wrong decisions in cases like this because each player has to do what he feels is in his best interest.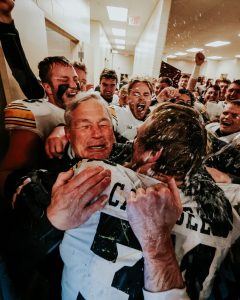 But on the other hand, it sure makes you appreciate even more the fact that fellow senior captains Jack Campbell, Sam LaPorta and Riley Moss all have chosen to play in the Music City Bowl, even though all three project as future NFL players, especially Campbell, who is widely regarded as the top college linebacker in the country.
Campbell doesn't have to play in the bowl game to help his cause because he already has helped his cause by performing at an elite level for the past two seasons, including being named the Butkus Award winner this season as the nation's top collegiate linebacker.
The Cedar Falls native has all the physical attributes at 6-foot-5 and 246-pounds, and he has impeccable character, according to those that know him best, including his teammates.
The Iowa football team and the Music City Bowl both need Jack Campbell a lot more than Jack Campbell needs them at this stage, and therein lies the beauty in his decision to play one more game under head coach Kirk Ferentz.
Campbell is doing it for his team, and for his head coach; the team that has helped to shape and impact some of the most important years in Campbell's life, and some of the best years to this point.
"It says a lot about the program, a lot of guys want to come back and play one more game for coach Ferentz, and most importantly, for each other," Campbell said after practice in Nashville on Tuesday. "I'm going to miss these guys, and what it means to play. It means a lot, and I feel like it's going to mean a lot to everybody that's on the field."
All Big Ten senior tight end Sam LaPorta also could've easily opted out of the bowl game, and nobody could have blamed him under the circumstances.
LaPorta has played a key role since his true freshman season and has combined for 106 catches over the last two seasons, with 53 catches in each season.
There really isn't anything left for LaPorta to prove at this stage, and yet, he wants to see it through until the very end.
The Illinois native wants to be a part of the Swarm one more time, and wants to hear Kirk Ferentz give one more pre-game pep talk.
He wants to wear the black and gold and the tiger hawk one more time and he wants to go to battle with his teammates/friends one more time despite having suffered a torn meniscus in the next to last game of the regular season against Minnesota.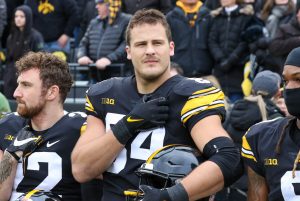 LaPorta missed the Nebraska game on Senior Day because of the injury, so the bowl game against Kentucky on New Year's Eve will sort be like his Senior Day with one more game to play.
"I have one more opportunity to play with my boys, LaPorta said. "I've been here four years. I've given this program a lot and it's given me more than I ever dreamed of since I've got here. And it's just really important for me to play one more time, put on the black and gold and lay it all out there."
The Iowa players had a team meeting a few days before traveling to Nashville in which they talked about being fully invested in the bowl game.
"We were all talking about it at a team meeting; if you're not one-hundred percent invested then we don't want you out there because we want the guys out there going as hard as they can," LaPorta said. "If you're here, you're in an you're invested. So, I'm here, and I want to be here."
Fifth-year senior cornerback Riley Moss has played in 53 games as a Hawkeye, ranks second in career interception yards (239) and is one of three Iowa players with three interception returns for touchdowns.
Moss was also named the Big Ten Defensive Back of the Year in 2021, and he considered leaving for the NFL draft after last season.
"Like I said last year when I stayed, you only get so many opportunities to put on the black and gold and you've got the black and gold down in Nashville," said Moss, who is from Ankeny. "So, it's an exciting spot for us to be in and I'm excited to go out one last time with the boys, and hopefully, cap it off with a win and end my career with a W."
Moss and Campbell both grew up in Iowa as Hawkeye fans, and that probably has something to do with why they both want to play in the bowl game.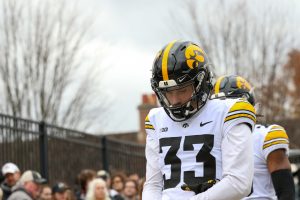 They both consider it a privilege being a Hawkeye, and they want that privilege to last for as long as possible.
Senior receiver Nico Ragaini also isn't ready for his Hawkeye career to end as he will not only play play in the bowl game, but will also return for his free Covid year next season.
Ragaini said that to the media on Tuesday, and his decision to return is huge because he is one of just four receivers currently on scholarship.
This season has been a rough ride with Iowa having lost five games and with the offense ranking at or near the bottom nationally in total offense throughout the season.
The Music City Bowl is not where Campbell and his cohorts wanted this season to end, but maybe that's even more incentive for them to play in the bowl because they want to end on a high note after losing to Nebraska on Senior Day.
There is something to be said for finishing what you started, especially when there is a risk involved.
Football is a violent sport, and remember that former Iowa All-America center Tyler Linderbaum suffered a foot injury in the Citrus Bowl last season.
Fortunately, the injury didn't effect his NFL status as Linderbaum would go on to be selected in the first round of the 2022 NFL draft by the Baltimore Ravens, and he now starts for the Ravens.
Linderbaum didn't have to play in the Citrus Bowl to help his cause.
He chose to play because he wanted to be a Hawkeye football player one more time.
And for some, that's enough incentive.