By Pat Harty
IOWA CITY, Iowa – I'll believe it when I see it.
That is my response to reports that the Iowa offense will look different under redshirt freshman quarterback Joe Labas against Kentucky in the Music City Bowl on New Year's Eve in Nashville, Tennessee.
Iowa will supposedly use more zone-read plays to take advantage of Labas's mobility.
Labas said as much while meeting with the media prior to leaving for Nashville.
"We've added some stuff to the play book that we haven't ran ever," Labas said. "And it's pretty good. I feel very confident about it. I'm excited about it."
Iowa fans probably smiled when they read that quote because a lack of mobility at quarterback has been an ongoing problem ever since Spencer Petras became the starter in 2020.
Petras will miss the bowl game due to a shoulder injury that could take up to 11 months to heal. He was injured on a sack against Nebraska in the first quarter, and has played his final game as a Hawkeye.
Petras has a cannon for a throwing arm when healthy, but his ability to move the pocket, and scramble from the pocket leaves much to be desired.
Petras often was helpless when the play would break down, but Labas said that's when he is at his best.
"I would say extending plays," Labas said when asked what is his biggest strength as a quarterback. "When the play is not working, or something that happens that goes wrong, being able to create and make plays."
The offense should look different in the bowl game just from how Labas plays the position compared to how Petras plays it.
But it's just hard to believe that the offense will look dramatically different because there just hasn't been enough time to prepare Labas, who has yet to take a snap in a game, and because it would be taking a huge risk to have Labas run multiple times, considering Iowa only has one other quarterback on scholarship that would be available for the bowl game, and that's true freshman Carson May, who also hasn't taken a single snap.
The Iowa offense was supposedly going to look different this season compared to the 2021 season, but it's only looked worse.
A lot was written and said about Jon Budmayr being hired as an offensive analyst prior to this season, and how his presence would help Brian Ferentz adjust to coaching quarterbacks for the first time, and make him a better play caller.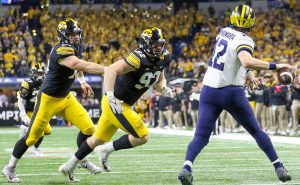 But unfortunately for fans, the offense has regressed this season, and the plays and the play calling have pretty much been the same as previous seasons.
The addition of former Michigan quarterback Cade McNamara has helped to energize the fans, and rightfully so, because unlike Labas, McNamara has proven himself at this level after having led Michigan to the college football playoff in 2021.
McNamara is also somewhat mobile and can extend plays with his legs.
So, there is hope, speculation and some are predicting that his presence will finally convince Kirk Ferentz to make changes on offense.
But again, my response is the same; I'll believe it when I see it.
Kirk Ferentz is nearing the end of his 24th season as head coach, and he will be 68 years old by the time next season starts.
He has made it this far by believing strongly in his instincts and philosophies, and it's just hard to believe that he would start making significant changes right now.
Adding McNamara from the transfer portal is about as radical as Kirk Ferentz gets, and to have also added Michigan tight end Erick All is another example of Kirk Ferentz stepping out of his comfort zone.
Kirk Ferentz would rather use players that he has developed, rather than players that were developed elsewhere.
But every head coach has his breaking point, and Kirk Ferentz reached his breaking point this season by adding McNamara.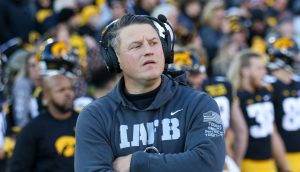 It was either play the game, or risk being left behind.
But as for his offense, Kirk Ferentz said recently to the media that he doesn't think the offense is broken, and that it's more a case of just having to play better.
That hardly sounds like a head coach on the verge of making significant changes.
Some fans are hoping that Brian Ferentz will be relieved of his duties as offensive coordinator, but that's another case in which I'll believe it when I see it.
The only way I could see Brian Ferentz not returning to coach under his father next season would be if he could find a suitable landing spot somewhere else, most likely as an NFL assistant coach.
My hunch is that Kirk Ferentz believes that Cade McNamara will provide a spark for an offense that so desperately needs a spark.
There could be some new wrinkles added to the offense that cater to McNamara's strengths.
But the offense still will be Kirk Ferentz's offense.
Petras told the media in Nashville on Wednesday that he plans to stay with the Iowa football team this coming spring as he recovers from his injury. He also plans to work with McNamara and to help him learn the offense.
Or, more specifically, help him learn Kirk Ferentz's offense.
Iowa has had three different offensive coordinators under Kirk Ferentz, and yet, the offense has changed very little over the past two decades.
I'll believe it when I see it is pretty much my response to everything on offense for the Iowa football team at this point, because too many times before, words have spoken louder than action.
Iowa doesn't have the personnel to suddenly shift to a spread offense, and Kirk Ferentz never would do that because that would just be admitting that his way doesn't work anymore.
There is always the chance that I could be wrong, and that Kirk Ferentz is on the verge of making sweeping changes on offense, both on and off the field.
He recently said that he plans to do a comprehensive study of the offense after the season, sort of similar to what he did after the 2014 season when he switched quarterbacks and switched practice time from the afternoon to the morning.
That was pretty radical for Kirk Ferentz at the time, and it paid instant dividends as C.J. Beathard took over at quarterback and would go on to lead Iowa to the Rose Bowl, and to a 12-2 record in 2015.
But the offense still pretty much stayed the same.
Beathard had the ability to extend plays with his legs, and that would prove crucial during the course of the 2015 season.
But again, the offense still pretty much stayed the same because it's Kirk Ferent'z offense and will always be his offense for as long as he is the head Hawk.
So as for these changes on offense, I'll believe it when I see it.