By Pat Harty
IOWA CITY, Iowa – Iowa offensive coordinator Brian Ferentz met with the media on Friday in Nashvile, Tennessee to preview the New Year's Eve matchup against Kentucky in the Music City Bowl, but that wasn't all that was discussed.
His press conference started with a question about Joe Labas preparing to make his first career start at quarterback for Iowa.
And then for his second question, Brian Ferentz was asked to evaluate his performance this season.
That's a fair, but also a loaded question because we already know the answer in that Brian Ferentz's performance as a play caller and strategist has left much to be desired.
Most Iowa fans probably would say it's been unacceptable, but Brian Ferentz never would say that publicly, nor would his father, Iowa head coach Kirk Ferentz.
"I would say I do the best I could this year with the pieces we had to try to put the team in position to win," Brian Ferentz said. "Was I successful every week? No. Was I successful enough? I wish we would have won every game we played. That's the bottom line to me.
"My evaluation is simple: Are we doing what we need to do to help us win football games? I think the record speaks for itself. We are who our record says we are."
Iowa won seven games during the regular season, which is enough for a winning record.
But most fans would say that Iowa won seven games in spite of the offense and lost five games because of the offense.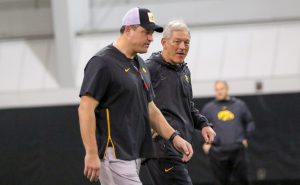 The interesting thing about Brian Ferentz's self-evaluation is that it seems to suggest that he did the best he could under tough circumstances from a talent standpoint.
If he truly does feel that way, it's a knock against the players, and a knock against Iowa's recruiting.
Iowa currently has just four receivers on scholarship and has lost multiple receivers to the transfer portal over the past year, including Charlie Jones, who transferred to Purdue in the summer and would go on to be named the Big Ten Receiver of the Year this season.
Former Iowa receiver Tyrone Tracy Jr. also transferred to Purdue and has been a factor this season.
However, all the other receivers that have left Iowa over the past year or two have transferred to schools that compete at a lower level.
So, that doesn't speak well about Iowa's ability to recruit receivers.
When an offense performs as woefully as Iowa's has this season, there is no one person to blame because it takes a group effort.
But it isn't a good look when a coach says he did the best he could with the pieces he had.
Spencer Petras will miss the Music City Bowl due to a shoulder injury, so he ends his career with a respectable 20-11 record as Iowa's starting quarterback over three seasons.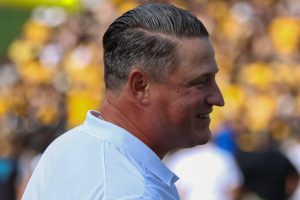 However, it's hard to say where Petras has made significant improvement. He has only throw five touchdown passes this season and he won a lot of games because of the Iowa defense and special teams.
Petras certainly deserves part of the blame, but so does Brian Ferentz and Kirk Ferentz for not putting Petras in favorable positions to have success.
When Brian Ferentz says he did the best he could with the pieces he had, it just comes off as shifting the blame to the players when the play calling, game plans, daily preparation and recruiting also should be scrutinized.
Brian Ferentz has climbed the coaching ladder faster than most, and his father's influence has had a lot to do with it, obviously.
Right now, however, Brian Ferentz's climb has hit a standstill because in some ways he is damaged goods from how poorly his offense has performed this season.
Kirk Ferentz and Brian Ferentz both talk a lot about finding the right fits for their culture, and while that is a key part to recruiting, winning takes more than just finding the right fits.
If Brian Ferentz was suggesting that Iowa doesn't have the right pieces to be successful on offense, well, it's up to him and his father to correct that.
And the sooner the better because fans are getting restless as Kirk Ferentz nears the end of his 24th season as head coach.