By Pat Harty
Kirk Ferentz is nearing the end of his 24th season as the Iowa football coach, and what has been by far his strangest season as the Hawk head.
Iowa (7-5) will cap the 2022 season by facing Kentucky (7-5) in the Music City Bowl on Saturday in Nashville, Tennessee.
The game will be a rematch of the 2022 Citrus Bowl in which Kentucky prevailed 20-17 against the Hawkeyes in Orlando, Florida.
That by itself is sort of strange, because in this case, a rematch just doesn't make a lot of season regardless who plays in the game.
The Mark Stoops-connection-to-Iowa storyline is old news because the media covered that angle extensively in the days leading up to the Citrus Bowl a year ago.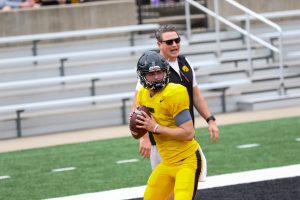 As for the matchup itself, it's hard to get too excited because both offenses leave so much to be desired, and it's hard to know what to expect since both teams will be using backup quarterbacks.
Iowa will be down to third-team quarterback Joe Labas, a redshirt freshman who hasn't taken a single snap in a game over two seasons, while Kentucky freshman quarterback Destin Wade will also reportedly make his college debut in the bowl game.
Labas is filling in for an injured Spencer Petras, and for former backup Alex Padilla, who has entered the transfer portal, while Wade is replacing Will Levis, who opted out of playing in the bowl game to prepare for the 2023 NFL draft.
Iowa's offense has been ranked at, or near the bottom nationally in total offense throughout the season, and there are currently just four scholarship receivers on the Iowa roster.
The offensive line has also struggled with both run blocking and pass blocking, and that sobering fact combined with the lack of depth and playmakers at receiver is a recipe for trouble, with or without an experienced quarterback.
But the fact that Labas has no game experience just adds to the concern.
Wade is competing with redshirt freshman Kaiya Sheron and Iowa transfer Deuce Hogan, a sophomore, to be the starter. Sheron played in four games in the regular season completing 17-of-29 passes for 187 yards with two touchdowns and one interception.
Wade was the Class 6A Tennessee Mr. Football in 2021 after passing for 1,436 yards and 18 touchdowns. He also rushed for 2,308 yards and 30 touchdowns, guiding Summit High School to a 40-5 record in his three years as a starter.
There is talk and speculation that Iowa will use some zone-option plays to take advantage of Labas's mobility, and Labas has said as much to the media.
There is a risk to that approach, however, in that Labas could take and beating and get injured.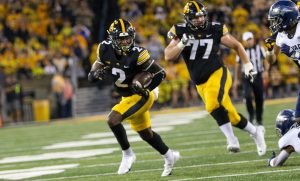 True freshman Carson May is the only other quarterback on the roster for Iowa at this stage, but he also hasn't taken a snap.
"Joe has been great. He's really been great," Kirk Ferentz said Friday. "A little scary at the front end. That's where the volume of having a chance to get on the field and do work, talked about the offensive line, but maybe most importantly, Joe and Carson. Reality is threes and fours don't take many snaps during the year in your system. The one and twos do that. I'm not sure we've ever gone into a game where our one and twos are gone, not on the roster.
"Fortunately we had an extended period here. I think the last two weeks Joe has really done a lot of good things. Seems like he's more comfortable. All that being said, it's going to be his first play in college football."
Even at full strength this season, both offenses have been slow works in progress, while both defenses have been rock solid.
This game could come down to the first team that scores 10 points wins, assuming one team can score 10 points.
That would be a fitting ending to a season that started with a deflating 7-3 victory over FSC opponent South Dakota State in the season opener at Kinnick Stadium, followed by a disheartening 10-7 loss to Iowa State in the second game.
It was painfully clear after the Iowa State loss that the Iowa offense was a dysfunctional mess, and not much would change throughout the season, although, the emergence of freshman running back Kaleb Johnson and the one-two punch at tight end with Sam LaPorta and Luke Lachey have been two bright spots.
Iowa finally showed some life on offense during the 27-0 victory over Nevada in the third game, but the opponent wasn't very good, and the game took about six hours to play because of three lightning delays.
It was a surreal scene when the game Nevada game finally ended late in the evening with Kinnick Stadium mostly empty, and with a dog among the few spectators that still remained.
The image of the dog on a leash will be one of the lasting images of this season because it was yet another strange occurrence in a strange season.
Iowa already has some unique circumstances with Kirk Ferentz being the longest-tenured head coach in the country, and with his son being the embattled offensive coordinator.
But the historic struggles on offense have turned Iowa into a national laughingstock and punchline, and that might be part of the appeal to this bowl for those that aren't loyal to either school.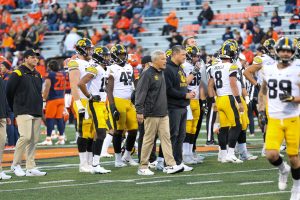 Some might be curious to watch Iowa play with its third-team quarterback, thinking it'll be a comedy of errors and the kind of dysfunction that is fun to watch.
But there is also the chance that Labas might seize the moment and play well.
And should that happen, Kirk Ferentz would undoubtedly be ripped by some fans for not having played the best quarterback during the regular season.
It's hard to say when Labas might start another game for Iowa with Michigan transfer Cade McNamara set to take over at quarterback next season.
Labas could treat this game as an audition for the transfer portal, or as a chance to show that McNamara will have some competition.
Kirk Ferentz joked about having Iowa All-America linebacker Jack Campbell help Labas get ready for his first career start as a Hawkeye.
"Maybe we'll have Campbell hit him in the locker room a couple times, loosen him up a little bit there," Kirk Ferentz said. "In the head a little bit, too, so he's not thinking too much.
"He's a competitor, he's tough. I'm sure he's going to do a great job for us."
Prediction: Kentucky 13, Iowa 9
Iowa (7-5) vs. Kentucky (7-5)
What: Music City Bowl
When: Saturday, 11 a.m
Where: Nashville, Tennessee (Nissan Stadium)
TV: ABC
Radio: Hawkeye Radio Network
Series: Iowa is 0-1 against Kentucky, losing 20-17 in the 2022 Citrus Bowl in Orlando, Florida.