By Susan Harman
IOWA CITY, Iowa – Considering the Big Ten season began on December 4, it was interesting that senior McKenna Warnock thought Thursday's Purdue game was something of a kickoff.
"We know it's not the beginning of the Big Ten season, but it really feels like it," Warnock said. "So this is a really good start to the season."
Inserting two conference games into the early December schedule (Wisconsin, Minnesota) amid in-state rivalries and ACC/Big Ten matchups makes it a little hard to focus on the league games. But after defeating Purdue it's nothing but Big Ten games until the postseason. No chance to relax; no chance to atone for previous missteps.
"Every team is so amazing in the Big Ten, and any team can win on any given night especially when you go on the road," Warnock said. "I'm excited to go on the road. It will be a good opportunity for us to go up there (to Illinois). They're a great team, so I'm excited."
Iowa (11-3, 3-0) plays at Illinois (12-2, 2-1) at 2 p.m. Sunday as part of a two-game road trip. The 12th-ranked Hawkeyes then travel to No. 14 Michigan (12-2, 2-0) on Saturday.
"When we came back from Christmas break we had some really, really good practices, and I think that's why we had such a spark (against Purdue)," Warnock said.
"We're all excited to get back into Big Ten play," Monika Czinano said. "It's such a fun time of the season."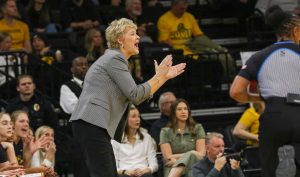 Iowa coach Lisa Bluder noted some of the interesting early season results as proof that top to bottom the Big Ten has no guarantees. Nebraska upset No. 16 Maryland on the road and then was beaten at home by Michigan. Illinois almost beat fourth-ranked Indiana in Bloomington. Purdue won at Michigan State.
"Look at our conference," Bluder said. "Michigan State beats Indiana (Thursday). There's more parity everywhere, but I certainly see it in the Big Ten. This is the toughest it's been since I've been in this conference just with great teams across the board. (Two) teams ranked in the top 10 right now and, how many, five ranked in the top 25? Every game you have to bring your "A" game."
Warnock remains something of an unsung hero for the Hawkeyes. Throughout her career she has been productive in many areas but has been overshadowed by the success of Czinano and Caitlin Clark.
She is averaging 12 points, six rebounds and shoots .426 from 3-point range. She is second on the team in minutes played (29.6) and 3-pointers made and leads the team in free-throw percentage (.852). She has a knack for making herself available on the perimeter, as she did against Purdue, when Czinano is double-teamed inside.
Warnock gets up and down the floor and has an uncanny ability to catch, shoot and score on fastbreak passes that require the concentration and finesse of an NFL receiver. She is unafraid to mix it up in the paint.
Her production, which has been consistent through the last three seasons, is critical with opponent defenses coming up with new ways to shut down Czinano and Clark. She is the "other" scorer the Hawkeyes have to have.