By Russell Vannozzi
NASHVILLE, Tennessee – Iowa stuck with its brand of football in Saturday's TransPerfect Music City Bowl.
It worked like a charm.
The Hawkeyes (8-5) used a pair of defensive touchdowns, timely catches from tight ends and eight long punts to cruise past Kentucky 21-0 at Nissan Stadium.
"I think Iowa won today by being Iowa," Kentucky coach Mark Stoops said. "Credit to them. I say that as a compliment."
Iowa limited Kentucky to 185 yards of total offense and delivered the first shutout of the Music City Bowl's 25-year history.
"I'm not the smartest guy in the world, but one thing I've learned: if they don't score, you're not going to lose," Iowa coach Kirk Ferentz said. "If we could've written the script, today was perfect. It's a testament to the way our guys prepare and the work they put in beyond the practice field."
The Hawkeyes did all of their damage in the second quarter. Over a span of just 11 seconds, Iowa turned a scoreless tie into a commanding 14-0 advantage at the 11:57 mark.
Senior tight end Sam LaPorta started the fireworks by catching a short pass from redshirt freshman quarterback Joe Labas and taking it for a 27-yard gain, bullying his way through at least six Kentucky defenders in the process.
"That's crazy that it was only 27 yards," said LaPorta, who had five receptions for a game-high 56 yards. "I felt like I was running for like 20 seconds. (It was) like backyard football almost – don't let one guy bring you down."
Labas then hit tight end Luke Lachey for a 15-yard touchdown one play later. On Kentucky's ensuing drive, freshman Xavier Nwankpa intercepted an errant pass from Kentucky QB Destin Wade and returned it 52 yards for another score.
Cooper DeJean, who earned bowl MVP honors for his seven total tackles and key contributions on special teams, capped the scoring with a 14-yard pick-six just before halftime.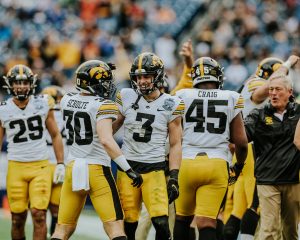 "I think we have a lot of talent in our (defensive backs) room," DeJean said. "We played well today. Obviously, there are things we can continue to improve on. But you see the stuff that guys are doing in games in practice all the time."
Both teams used Saturday as an audition of sorts for new quarterbacks.
Labas proved to be the more serviceable option, completing 14-of-24 passes for 139 yards and one touchdown. He got the nod after Spencer Petras suffered a season-ending shoulder injury in Iowa's loss to Nebraska on Nov. 25 and backup Alex Padilla entered the transfer portal just days later.
Labas dropped a snap early in pregame warmups, but he was able to settle those nerves in his debut.
"Going out there… it was my first rodeo. I was just focused on getting the win, and we did," Labas said. "Ball security was huge for us."
Iowa's top-ranked defense took advantage of Kentucky's depleted offense, which was missing starting quarterback Will Levis and leading rusher Chris Rodriquez after both declared for the NFL Draft in early December.
The Wildcats (7-6) turned to Wade, a true freshman who went 16-of-30 passing for 98 yards and two interceptions. Wade was able to evade pressure at times, though the Hawkeyes still finished with four sacks.
Iowa routinely won the field position battle thanks to All-American punter Tory Taylor and the coverage team. He averaged 48.3 yards across eight punts to make life even more difficult for the Wildcats.
"All those little things aren't very interesting to people, but they make a big difference in the games," Ferentz said. "And then if you've got a good defense, it gives you a chance."
LaPorta was emotional in the moments following the win. He said he was "crying like a little baby" as he walked off the field. Ferentz also held back tears during his postgame TV interview.
It was a satisfying ending for Iowa's senior class after an up-and-down season.
"That's one of our mottos – leave the jersey in a better place," LaPorta said. "I sure hope I did that. I know the program is in great hands with the young guys. They're going to spring forward."
Celebrate with the #Hawkeyes pic.twitter.com/8za04LuIDF

— Hawkeye Football (@HawkeyeFootball) December 31, 2022