By Russell Vannozzi
NASHVILLE, Tennessee – Iowa's Tory Taylor drew a crowd during pregame warmups Saturday at the TransPerfect Music City Bowl.
He put on the punter equivalent of batting practice at Nissan Stadium, booming high-arching punts instead of home runs. A group of young fans took notice.
"They certainly don't have any idea who I am. I know that's for sure," Taylor said. "They were kind of just screaming '9, 9, Taylor, Taylor.'"
Iowa will be treated to Taylor's services for at least one more year.
The Australia native told reporters after the Hawkeyes' 21-0 win over Kentucky that he will return to the program in 2023 rather than enter the NFL Draft.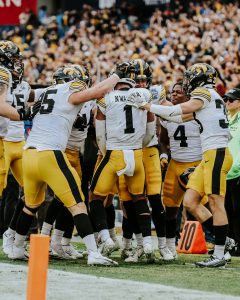 "It's going to be a special year," Taylor said. "We've kind of got a young group. Obviously (we're) bringing in a pretty special quarterback (Cade McNamara) and a pretty big couple of transfers. I really think this team can go far, and I just want to be a part of it."
Taylor is considered to be one of the top college punters in the nation. He was named first-team All-America by the Football Writers Association of America after averaging 45.1 yards per punt during the regular season.
On Saturday, Taylor booted eight punts an average of 48.3 yards, including six that landed inside the 20. That allowed the Hawkeyes to win the battle for field position in what was expected to be a low-scoring affair.
Taylor had two punts land inside the 10-yard line early in the game – the first was downed by Iowa cornerback Cooper DeJean at the 2 late in the first quarter, and the second was fair caught by Kentucky returner Tayvion Robinson at the 7 to help set the stage for Iowa's first scoring drive.
"We stressed the importance of special teams in this game and every game," DeJean said. "When you have (Taylor) back there throwing darts down the field, it makes it pretty easy on the gunners to go down and tackle the returner."
Taylor served as a team captain on Saturday. Iowa coach Kirk Ferentz joked that the Hawkeyes should've voted him into that role sooner, given how well he performed against Kentucky.
"He's been outstanding," Ferentz said. "Watching his growth over the past three years – that's one of the fun parts about coaching. He had a couple of games (this season) where he wasn't as sharp, but I don't know that I've seen him sharper than he was today. He was on it every time."
Xavier Nwankpa shines in first start
Xavier Nwankpa won't soon forget his first career start, even if he doesn't completely remember a key part of it.
He intercepted Kentucky quarterback Destin Wade and returned it 52 yards for a touchdown in the second quarter.
"I saw the ball in the air and had a chance to go get it," Nwankpa said. "I really blacked out after that and just ran into the end zone and celebrated with my teammates. It was a special moment."
The true freshman safety stepped up in place of Kaevon Merriweather, who opted out of the game to prepare for the NFL Draft. Nwankpa finished with eight tackles and also had a pass breakup.
Future uncertain for Lukas Van Ness
It remains to be seen whether Iowa defensive end Lukas Van Ness will be back in 2023.
Van Ness, a third-year sophomore, may be a high pick in the NFL Draft if he forgoes his final two years of eligibility, but he could return to Iowa City to try to improve his draft stock.
"We'll see. Time will tell," Ferentz said. "We hope (he returns). We hope a lot of guys are back."
Van Ness was part of Iowa's defensive line rotation against Kentucky. He made three total tackles, including one for a 2-yard loss just before halftime.
Iowa attendance strong despite empty seats
Saturday's announced attendance of 42,312 was disappointing by Music City Bowl standards. It was the game's smallest crowd since 2005 and the third-smallest since the bowl's inception in 1998.
Most of the upper deck at Nissan Stadium was empty, and there were plenty of open seats along the end zones in the lower level. Iowa still appeared to have a better turnout than Kentucky, which played basketball rival Louisville at the same time in Lexington.
https://twitter.com/HawkeyeFootball/status/1609346289157668864?s=20&t=dzxdcUQikNZOcGG5511GeA