By Pat Harty
IOWA CITY, Iowa – The one downside, it seems, to landing an established quarterback from the transfer portal is the potential impact it could have on a team's depth at that position.
The Iowa football team is experiencing that right now as true freshman Carson May has entered the transfer portal.
The Jones, Oklahoma native joins former Iowa quarterback Alex Padilla in the portal.
Padilla entered the portal in late November and just a few days before former Michigan quarterback Cade McNamara announced that he would transfer to Iowa.
The loss of Padilla and May, coupled with three-year starting quarterback Spencer Petras having played his last game for the Hawkeyes, gives Iowa very little depth behind McNamara, and that's even with assuming Joe Labas is willing to be the backup next season as a third-year sophomore.
Incoming freshman Marco Lainez would be the only other quarterback on scholarship next season, unless Iowa should add another quarterback from the portal this spring or summer.
It wouldn't matter should McNamara stay healthy next season because Iowa coach Kirk Ferentz rarely plays his backup quarterback under any circumstances.
Petras was the only quarterback for Iowa that played in the 27-0 victory over Nevada this season, even though Iowa led comfortably for most of the second half, and even though the game took nearly six hours to play due to three lightning delays.
May also didn't play in the 21-0 victory over Kentucky in the Music City Bowl, but All-Big Ten tight end Sam LaPorta did, oddly enough, take three snaps behind center.
But a team still needs at least one reliable backup quarterback and three or four quarterbacks on scholarship to function properly.
That never used to be a problem, but now with quarterbacks coming and going at an alarming rate through the portal, it seems that having a happy and reliable backup quarterback is becoming more of a challenge.
Iowa is no different than any other Power Five program in that quarterbacks are constantly on the move in search of playing time.
Only one quarterback can play at a time, and nobody drives home that point more than Kirk Ferentz and the Iowa football team.
May hasn't even been a Hawkeye for one year, and yet, he wants out.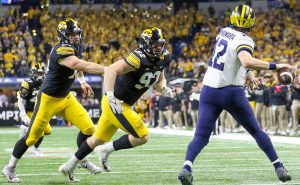 That isn't necessarily a knock against Iowa, but rather a sign of the times.
Patience is in short supply for Power Five football players, and especially for quarterbacks.
And with McNamara being an established quarterback, there was little chance of May playing a role next season.
McNamara also has two seasons of eligiblity, so May could've been two more seasons of sitting on the bench at Iowa.
McNamara led Michigan to the 2021 Big Ten title, and to the college playoff that season as its starting quarterback.
He is a proven quarterback at this level, and the moment he chose to transfer to Iowa, he was penciled in as the starter, and deservedly so.
Carson May, obviously, understands that and wants to make a change.
The transfer portal makes it so much easier for players to transfer, and that's good for the most part, because a kid has a right to change his mind.
Carson May apparently has spent enough time as a Hawkeye to know that it isn't the right fit for him anymore, and now he has to do what he feels is in his best interest.
And while it's always news when a quarterback enters the transfer portal, there may come a point when not entering the portal is bigger news.
Thank you Iowa.

I have entered the Transfer Portal with 4 years of eligibility remaining. pic.twitter.com/0x3eZZITdT

— Carson May (@CarsonMay_3) January 3, 2023