By Pat Harty
IOWA CITY, Iowa – Patrick McCaffery has dealt with way more than his share of adversity in what still is a pretty young life.
He had a malignant tumor removed from his thyroid in 2014, and now he's battling with anxiety, which has caused the 6-foot-9 junior forward to take an indefinite leave of absence from the Iowa men's basketball team.
Patrick McCaffery's problems with anxiety date back to high school, and his condition makes it hard to function normally, partly because his eating and sleeping habits are disrupted.
Iowa head coach Fran McCaffery, who is Patrick's father, met with the media on Wednesday and spoke at great length about his son's struggle.
Iowa faces 15th-ranked Indiana on Thursday's at Carver-Hawkeye Arena, but that was hardly even mentioned during Fran McCaffery's press conference.
Fran McCaffery's wife, Margaret McCaffery, also attended Wednesday's press conference and met with the media after her husband's press conference.
"He has struggled with this for a while," Fran McCaffery said. "I think he said it pretty well, in terms of how he feels and how his body feels at any point in time in terms of his eating and sleeping and so forth. His energy level isn't where it needs to be.
"He's pretty transparent about how he feels, and so we're just trying to help him feel better."
And though he's taking an indefinite leave of absence, Patrick McCaffery still wants to be around his teammates and coaches on a daily basis.
He will attend the Indiana game on Thursday, and he plans to travel with the team for its game at Rutgers on Sunday.
Patrick McCaffery is also determined to play basketball again.
"I wondered about that because sometimes when you take a leave of absence, that's what that means, right; you remove yourself from the situation," Fran McCaffery said. "He's removing himself from the competition part. But it was important to him, and he verbalized this to his teammates, that he remain supportive of them.
"So, he'll be at practice today, he'll be at the game tomorrow, he'll travel with us to New Jersey. So that was important to him."
Patrick McCaffery has mostly kept his struggles with anxiety to himself, and within his family.
However, he had struggled recently on the court, combining to make just 2-of-15 field goal attempts in Iowa's last two games against Nebraska and Penn State.
Margaret McCaffery said Wednesay that Iowa's 93-82 loss to Eastern Illinois on Dec. 21 is when Patrick really started to show signs of his struggle.
"I don't know if you noticed, but he almost threw up on the free throw line," Margaret McCaffery said. "And he went in and got sick and I walked over, and at first, I thought, or hoped, that he was just exhausted. And he was, but part of why he was exhausted is just because he was getting so run down."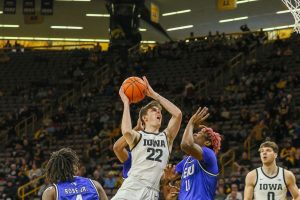 Patrick McCaffery, according to his father, suffers his worst symptoms in the morning, and in the evening.
Senior forward Filip Rebraca praised Patrick McCaffery for his courage and for being open and honest about his condition.
"It is recent, so we're still handling it," Rebraca said. "It's incredibly brave what he did. I didn't even know that he was dealing with that, and I live with him.
"It's something I admire. It's very courageous. People go through things like this, and you don't even know. So, I'm always going to be here for him in whatever he needs. The whole team is going to step up and be there for Patrick."
Not everybody in Patrick McCaffery's position would be as open and transparent about his struggle, but he wanted the public to know exactly what he was dealing with and how it has affected him.
His older brother and Iowa teammate, Connor McCaffery, also encouraged Patrick to be transparent about his situation.
"Quite honestly, my first inclination was to keep it simple and not be vague but just very simple and work through it," Fran McCaffery said. "It was really his, and quite frankly, Connor's, thoughts were to be open about it and discuss it directly, which I agreed with, and they of course talked it over with their mother, as well.
"I think they felt it's more important to — I think in terms of how everybody views it, but I think more importantly, his teammates in the locker room needed to know specifically what was going on, so he addressed them first. Then felt it was important to, as you said, be transparent: Okay, this is how I feel, and this is why I'm struggling."
Connor McCaffery thinks others who struggle with anxiety could benefit from his brother's transparency and his willingness to talk about his struggles.
"I don't think it's something to be looked poorly upon," Connor McCaffery said before practice on Wednesday. "I think it's brave. I feel like people will understand and I think he's actually helping a lot of people by doing that."
Patrick McCaffery is the second oldest of the McCaffery's four children.
He also has a younger sister, Maret, and a younger brother, Jack, who is a sophomore and a rising basketball star at Iowa City West High School.
Patrick attended Jack's game Tuesday night, and gave him a hug afterwards, according to their mother.
He was reluctant to go, but ultimately decided that he wanted to support his little brother.
"It is hard on everybody," Margaret McCaffery said. "This is scary. And he's been in some pretty scary places throughout his battle with this. And it's draining on us.
"Fran and I have really tried to stick together and support each other."
Patrick McCaffery has received a ton of support since announcing his leave of absence and the reason behind it.
He also has heard from many people that are fighting the same battle.
"I've gotten so many messages from folks that said, okay, I've been dealing with this, people that I know, that I never knew were dealing with it; my son has been dealing with it — I have two daughters, both of whom are dealing with it," Fran McCaffery said. "I think when you're in that position, I think you feel very alone. You're the only one going through it. But then when you find out that there's so many people in every walk of life."
Fran McCaffery said there is no timetable for Patrick McCaffery's return, but his son is determined to play basketball for the Hawkeyes again.
"I think he was very determined to not say, okay, it's going to be two weeks, it's going to be 10 days," Fran McCaffery said. "It's going to be when I feel better. When I feel like I'm better and I'm feeling better about myself, I'm feeling better physically and I can help our team, then I'm going to come back.
"He also was very adamant; I'm not walking away from the game. I love the game; I'm good at it. But right now I'm not where I need to be. I think that took an incredible level of maturity to be able to stand up and say that."
Patrick McCaffery is averaging 12.8 points and 4.1 rebounds per game, so his absence will be felt on the court.
"I don't think anything is going to change, but he definitely on the court brings a big impact just because of how he can space the floor, and what he can do on both sides of the ball." said junior forward Kris Murray. "So, I think definitely changes a little bit because it's going to be something that we have to adjust to and we'll be able to do that on the fly."
The loss of Patrick McCaffery comes at a time when Iowa is 0-3 in the Big Ten and has lost three games in a row.
Thursday's game against Indiana will also mark 40 years since Carver-Hawkeye Arena hosted its first game on Jan. 5, 1983. Iowa lost that game 61-59 to Michigan State.
Indiana (10-3, 11) vs. Iowa (8-6, 0-3)
When: Thursday, 8:07 p.m.
Where: Carver-Hawkeye Arena
TV: FS1
Radio: Hawkeye Radio Network
Series: Indiana holds a 106-80 advantage in the series, dating back to 1909. The two teams have split the last eight overall meetings, dating back to 2018. The Hawkeyes swept the Hoosiers last season, winning in Iowa City (83-74) on Jan. 13, and at Indianapolis in the Big Ten Tournament semifinals (80-77) on March 12. Iowa leads, 47-43, in games played at Iowa City, holding a 22-13 advantage in Carver-Hawkeye Arena. Iowa has won 10 of the last 15 meetings in Iowa City.