By Pat Harty
IOWA CITY, Iowa – What happens when you just had one of the worst offenses in the country, and now you have a 2023 home football schedule that doesn't include Iowa State, Wisconsin, Michigan, Ohio State, Penn State, or even Nebraska or Northern Iowa?
If you're the Iowa Athletic Department and faced with those sobering circumstances, you lower season ticket prices and try to spin it as if you're doing it solely as a way to show appreciation for your beloved fans.
"We appreciate the investment our fans make each and every gameday to support our student athletes as they compete," Iowa Athletic Director Gary Barta said in a release. "While it seems like the cost of everything else is increasing, we wanted to not only hold our prices steady but reduce them slightly to recognize the support of the greatest fans in America."
While that comes off as being noble and respectful, it seems more likely the decision to lower prices is in response to the difficult circumstances.
Iowa finished 8-5 this past season and defeated Kentucky 21-0 in the Music City Bowl in spite of having an offense that finished the season ranked 130th among 131 FCS teams in total offense.
Iowa also scored 13 or fewer points in five games this past season, and finished the 2022 season with just seven touchdown passes.
To say the offense was hard to watch at times would be an understatment.
All seven home games in 2022 were sold out, but that probably was due largely from Iowa having won the Big Ten West Division in 2021, and with having a home schedule that included Iowa State, Michigan, Wisconsin and Nebraska.
This was a business decision to lower prices, and probably the right decision under the circumstances.
Depending on seat location, prices for general public season tickets for the seven home games range from $335 to $425. Last season the season ticket cost was between $345-$450, based on location.
So, the price cuts aren't huge, but it still is a dramatic shift from raising the cost of season tickets, which often happens.
Fans are frustrated with the offense, and some would like to see changes in strategy, schemes and personnel.
But should that not happen, filling Kinnick Stadium next season could be a daunting task, even with former Michigan quarterback Cade McNamara preparing to take over the much-maligned offense.
The addition of McNamara and former Michigan tight end Erick All has certainly provided a spark for the fans, and some hope that the offense will improve.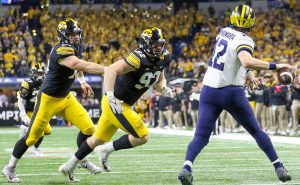 Iowa head coach Kirk Ferentz said he doesn't think the offense is broken, nor has he given any hint that he is even considering making any changes on his coaching staff.
Some Iowa fans are hoping that Brian Ferentz will be replaced as offensive coordinator, or at least demoted.
But unless Brian Ferentz could find a reasonable landing place, it just seems very unlikely that Kirk Ferentz would fire his son.
This column isn't meant to be criticism.
Iowa did the right thing by lowering ticket prices, and it certainly has the right to push a self-serving narrative about showing fan appreciation.
It just seems in this case Iowa was reacting more to the circumstances, and that's okay, too.
Iowa's 2023 seven-game home schedule leaves much to be desired from an opponent standpoint with maybe Illinois the most appealing matchup since the Fighting Illini are on the rise under former Hawkeye Bret Bielema, followed by Minnesota.
The massive amount of televsion revenue that gets divided between the 14 Big Ten teams makes it easier to lower ticket prices.
But again, Iowa deserves praise for actually doing it, even if you don't believe its explanation for why they chose to do it.
Iowa's 2023 home schedule
Sept. 2 – Utah State
Sept. 16 – Western Michigan
Sept. 30 – Michigan State
Oct. 7 – Purdue
Oct. 21 – Minnesota
Nov. 11 – Rutgers
Nov. 18 – Illinois
Our 2023 schedule has been finalized.#Hawkeyes pic.twitter.com/w2QbHSRJ9I

— Hawkeye Football (@HawkeyeFootball) October 26, 2022