By Susan Harman
IOWA CITY, Iowa – Saturday's brunch-time game against Penn State is the last one for Iowa before the schedule turns a little chillier.
The Nittany Lions (11-6, 2-4) are tied for eighth in the Big Ten women's standings, but their overall record isn't that bad. Two losses were in overtime and one was by one point.
But they are coming off an 80-51 thrashing at Nebraska.
"I just feel like they've been up and down a little bit," Iowa coach Lisa Bluder said. "Like the Nebraska game, they just never really got in a rhythm. They did not shoot well."
After Penn State, Iowa has road trips to Michigan State and unbeaten Ohio State followed by home games against Nebraska and Maryland. Considering what's coming the Hawkeyes are well aware of how important it is to take care of business.
To that end they have been working this week on handling the Nittany Lions' press.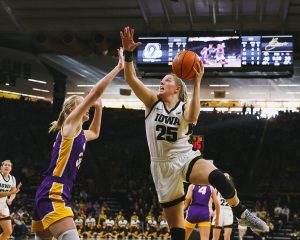 "Penn State plays a different style than what we've seen a lot of," Bluder said. "A lot of pressing, really the whole game. That's something they really hang their hat on is the defensive intensity and their press and forcing turnovers and creating havoc that way. It's something we have to be prepared for.
"It's kind of nice because the next three teams we play are all very similar in that way. It's kind of nice that you're playing them all in a row."
Bluder said PSU, which is fourth in the Big Ten in turnover margin, runs a variety of presses.
"Their press is so much better," Bluder said. "They are picking up and denying you in-bounds. And they use it a lot. It could be a quarter-court 1-2-2; it could be a half-court 1-2-2; it could be full-court player (to player). They are always trapping and creating havoc."
But if Iowa can solve the press it may benefit from some mismatches at the other end of the court.
"I feel very good. I feel like we've worked hard on it in practice," Bluder said. "A lot of teams have tried to press us and been unsuccessful. And they've had to take it off. I told our team that should give you confidence. When a coach comes in with Plan A and you make them go to Plan B, that should make you feel good."
Iowa is as well-equipped as any team to handle a press considering it has Caitlin Clark at the point, four other veteran players on the floor and veteran point guard Molly Davis in the wings.
"They've been doing it for years, running our press (break) plays," Bluder said.
Offensively the Nittany Lions have three double-figure scorers, including freshman shooter Shay Ciezki who averages .415 from behind the arc.
McKenna Marissa, a 5-11 senior, is PSU's best player, leading scorer and most prolific 3-point shooter. She was first-team all-Big Ten a year ago and is fifth in the Big Ten in scoring, averaging 18.4 points per game. She shoots .422 from behind the arc and averages five rebounds a game.
"She's such a quick scorer," Bluder said. "She's looking for her shot all the time. She plays a ton of minutes, really doesn't come off the floor. She's someone we really have to key on.
"She gets a lot of ball screens. She's pretty savvy at reading defense. She can drive with both hands. She crashes and gets at least one offensive board a game, which is pretty good for a guard. She's very effective from the free-throw line. Good 3-point shooter. She just kind of checks all the boxes offensively."
Iowa has won eight of its last nine games, and Bluder said she's been happy the way her team played its last eight quarters. It's a good way to head into the meat of the schedule.
Penn State (11-6, 2-4) vs. Iowa (13-4, 5-1)
When: Saturday, 11:31 a.m
Where: Carver-Hawkeye Arena
TV: Big Ten Network
Radio: Hawkeye Radio Network
Series: This will be the 55th meeting between the two programs. The Lady Lions lead the all-time series, 31-23. Iowa has won the last six contests dating back to 2018. The Hawkeyes are 15-10 against PSU all-time inside Carver-Hawkeye Arena.