By Pat Harty
IOWA CITY, Iowa – Time usually causes memories to fade and emotional wounds to heal, but Chris Street's shocking death 30 years ago is a sad and tragic exception.
Street was killed in an automobile accident on Jan 19, 1993 on the outskirts of Iowa City, and lives were changed forever because of it.
In just a matter of seconds, a young life that was filled with so much promise and potential was taken away, leaving a family, a team and a community in disbelief and devasted.
Chris Street was in the middle of his junior season on the Iowa men's basketball team, and an emerging star, when his car collided with a snowplow.
The 6-foot-8 power forward from Indianola was killed instantly, and just three days after having played in what would prove to be his final game against the mighty Duke Blue Devils in Durham, North Carolina.
Iowa lost that game 65-56, but Street had earned the respect and admiration of Duke fans, especially the students, because of how hard he played, and because of the passion, energy and skill set that he brought to the court.
I was in my first year covering the Hawkeye beat for the Iowa City Press-Citizen, and still to this day I remember the Duke game as if it happened yesterday.
I remember Street harassing the Duke players from the front of Iowa's full-court press with his long arms, lateral quickness and in-your-face toughness.
I remember him leaving Duke's Cameron-Indoor Stadium having made a school-record 34 consecutive free throws, a record that still stands to this day, thanks to Jordan Bohannon's incredible display of respect when he intentionally missed a free throw because Bohannon felt the record should belong to Street.
I remember interviewing Street after the Duke game, not knowing, obviously, that it would be the last time I would see him alive.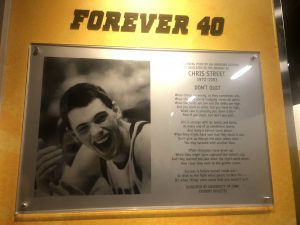 I hadn't necessarily planned on writing a column to mark 30 years since Street's death because I've written tributes before on significant dates and didn't want to give the impression that I was using his tragedy to bring attention to myself.
But then the Big Ten Network started airing promotional spots for its documentary that marks 30 years since the tragedy, which airs on Wednesday, and everything just came rushing back as it so often does this time of year.
The police scanner.
The car from Warren County.
The frozen embankment, and the flashing lights.
The look of devastation and despair on Tom Davis's face as team trainer John Streif helped him back to his vehicle.
Still to this day, I sometimes drive by the accident scene on Highway 1 and think about that horrible night, and about how so much of the sadness unfolded right before my eyes.
The accident happened not even a half mile from the old Press-Citizen building on Dodge Street.
I had gone to the office that night to write an advance for Iowa's upcoming game against Northwestern and figured it would only take a few hours.
But then the nightmare started with the police scanner saying that there had been an accident on Highway 1 near the old Highlander hotel, and from the description of the details, it sounded serious.
One of the cars involved in the accident was from Warren County and we soon learned that it was very similar to the car that Street had driven.
Somebody then called the office and asked if we had heard anything about Chris Street being involved in an automobile accident.
I then ran out of the office, climbed in my car, and drove towards the accident scene not knowing what to expect.
That whole sequence probably took less than five minutes as a routine night in the office was about to turn into an unthinkable tragedy that would go on to grip the nation.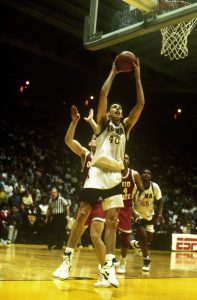 There are times when I wish the memories from that night would fade away because they're such horrible memories with so much emotional pain and suffering.
But I've come to accept the sobering fact that Street's death will be etched in my mind forever.
I feel an attachment to Chris Street even though I barely had the chance to get to know him or cover him as a Hawkeye.
I still remember the details from that awful night more than I remember what happened just a week ago because it was a moment that transcended time, but for all the wrong reasons.
To this day, I still remember parking my car in the parking lot of the North Dodge Athletic Club and then climbing up the frozen embankment near the shoulder of the road, the whole time trying to come to terms with the possibility that Chris Street had just been killed.
I still remember the hat that Tom Davis wore that night, and when he reached out and grabbed my arm, I assume, because he was so devastated and gutted by the loss of his star player and friend that it was difficult for him to even walk.
I still remember the lights from the emergency vehicles flashing in the frozen air, and the frozen breaths from those on the scene.
I still remember thinking that there were other journalists on the Iowa beat that were far more experienced and qualified to cover a tragedy of this magnitude, and yet, there I was in the middle of this nightmare, a tragedy that would change the lives of so many.
I still remember getting confirmation at the accident scene that it was Chris Street who had been killed and watching from several hundred feet away as his body was removed from the vehicle.
I still remember driving back to the Press-Citizen office and telling my co-workers that Chris Street was dead, and the reaction from Bryce Miller, who upon hearing the news walked slowly down a hallway and then slammed both of his hands against a wall while screaming, "why him, why him."
I still remember telling Bryce what I had just witnessed and him doing all he could to keep up as he typed on his computer while fighting back tears and shaking his head in disbelief.
I still remember calling my parents that night from the office, overwhelmed by what I had just witnessed, and my mom and dad, both saying, hey, you've got a job to do, and you owe it to the legacy of Chris Street to do it to the best of your ability. They didn't say it in those exact words, of course, but that was their message, and it helped me get through one of the worst times in my life.
I remember taking a deep breath in the Press-Citizen rest room before heading back to my desk to report on the tragedy.
I remember thinking that I was just a few years older than Chris Street and being reminded in the worst way that life is so precious and fragile.
I also remember thinking how horrible the driver of the snowplow must have felt because his life also changed forever that night.
Iowa didn't play for 12 days after Street's death as the players and coaches mourned and tried to come to terms with their new reality.
They didn't just lose a great player that night, they lost a friend and a leader, somebody whose biggest dream in life was to play basketball at Iowa.
Chris Street squeezed a lot into his short life, and he impacted all sorts of people, and still does to this day.
It was a privilege to cover Iowa's game at Michigan State on Jan. 28, 1993, and to see upclose how the players and coaches relied on each other to prevail in their first game since the tragedy.
I remember thinking as Val Barnes put on a spectacular 3-point shooting display during the late comeback that Chris Street's spirit was in the Breslin Center that night.
That same spirit would also help Iowa defeat Michigan's legendary Fab Five 88-80 in the second game after Street's death, and the first game played at Carver-Hawkeye Arena since his death.
That was the loudest I've ever heard Carver-Hawkeye Arena and there wasn't a dry eye in the place when the game ended and the Iowa players rushed over to Street's parents, Mike and Patty, to give them the game ball as fans rushed the court.
Iowa would go on to finish 23-9 that season and advance to the second-round of the NCAA Tournament in what I consider Tom Davis' greatest performance as a head coach, on and off th court.
Davis became so much more than a head coach in the days and months after Street's death.
The current Iowa team was scheduled to play Northwestern on Wednesday at Carver-Hawkeye Arena, but the game was postponed due to Covid-19 related health issues within the Northwestern program.
Mike and Patty Street both still attend the Iowa home games on a regular basis and were scheduled to meet with the media prior to Wednesday's game to talk about the Big Ten Network's documentary.
Iowa also has the annual Chris Street Golf Tournament every summer in which former players, coaches and support staff all gather to honor his memory.
Iowa and the Street family have relied on each other over these past 30 years to help cope with the tragedy.
The postponement of the Northwestern game came almost exactly 30 years after the Northwestern game in 1993 was cancelled in the wake of Street's death.
The fact that both games were scheduled to be played on a Wednesday at Carver-Hawkeye Arena is sort of eerie, and makes you think.
I've thought a lot about Chris Street recently as I usually do this time of year.
My mind races back to that chilling night and to the horrible memories that come with it because even time is no match for the power and spirit of Chris Street.
RIP No. 40.
"I think it's the greatest moment in the history of Iowa basketball."

Late @TheIowaHawkeyes icon Chris Street still has a spot in the @IowaHoops record book, thanks to Jordan Bohannon's selfless decision.

The B1G Story: Chris Street – 11 p.m. ET | Jan. 18 | @BigTenNetwork pic.twitter.com/h6rfqaKJIq

— Big Ten Network (@BigTenNetwork) January 16, 2023