By Pat Harty
IOWA CITY, Iowa – Almost 24 hours later and Payton Sandfort still couldn't believe how Thursday's game at Michigan State ended.
"Off the hand on that first one, I thought there's no way it wasn't going in," Sandfort said. "It felt perfect. I gave it a chance on the back rim. We drew up a great play. Not much else I could have done.
"It's the Big Ten. So, we've got to get over it. Big one Sunday. So, we've got to move on."
Sandfort, a 6-foot-7 sophomore forward on the Iowa basketball team, had two chances to make a potential game-winning shot against the Spartans, but both of his attempts from 3-point range bounced off the rim, allowing Michigan State to escape with a 63-61 victory at the Breslin Center in East Lansing, Michigan.
But as Sandfort said about having a big one on Sunday in reference to facing Rutgers at Carver-Hawkeye Arena, there is no time to dwell on what could've been.
The only real option is to move on and keep grinding.
"You have to," Sandfort said. "I struggled with that earlier in the year for the first time in my life. But I'm really over that now. So, you've just got to move on.
"It's the next shot. The next day. Next practice. Next game. That's the mentality we have to keep."
Sandfort has combined to score just 11 points in the last two games, including five against Michigan State, after having scored in double figures in four consecutive games.
The Waukee native also combined to make 11-of-22 shots from 3-point range during the four consecutive games in which he scored in double figures.
However, he was just 1-for-5 from 3-point range against Michigan State, and Iowa as a team, was just 3-for-17 from behind the arc.
And yet, Iowa still had a chance to win in one of the Big Ten's toughest road environments.
"It just shows kind of the fight we have," Sandfort said. "Even on a really off shooting night we were right in there in one of the toughest environments in the Big Ten against a really good team.
"So, I'm proud of our fight. We battled all the way to the end and it came down to just a couple inches maybe."
Sandfort is considered one of the top 3-point shooters on the team, but he has struggled with consistency this season. He was mired in a prolonged shooting slump until breaking out of it in the 76-65 victory over Rutgers on Jan. 8 in Piscataway, New Jersey when he made four of his five attempts from 3-point range.
"Obviously, they're a gauntlet to play against," Sandfort said of Rutgers, which enters Sunday's game in second place in the Big Ten at 6-3 and 14-6 overall. "We handled them pretty well the first time, so they're going to bring a whole new level of focus and intensity. So, it's not going to be easy.
"We've got to get our motion offense working again, and just take care of business."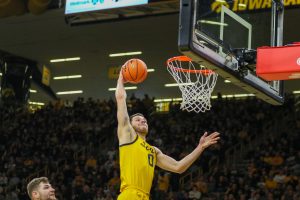 Big Ten grind: Iowa senior forward Filip Rebraca managed to get eight hours of sleep after returning home from East Lansing early Friday morning.
But he also had to sleep until about noon to do it.
So, goes the life of a Big Ten basketball player.
Rebraca played the entire the second half against Michigan State and 38 of 40 minutes overall.
He also played well as he recorded a double-double with 16 points and 11 rebounds.
However, the game took a lot out of him from a physical standpoint, and now he only has two days to rest and prepare for one of the Big Ten's top defensive teams in Rutgers.
Rebraca was asked before practice on Friday if he prefers having a quick turnaround after a frustrating loss.
"I'm not so sure when I play 38 minutes," Rebraca said. "Mentally, I guess, yeah. But physically, not really. But we've got to battle through it."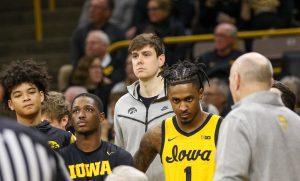 Rebraca said he will rely on the support and expertise of Iowa trainer Brad Floy to get his body ready for Rutgers.
"We've got to live with Brad Floy, our trainer, and hydrate and eat well," Rebraca said. "We can't be eating bad stuff. We've got to get sleep even though I went to sleep at four, I think I woke up like twelve or twelve-thirty. So, I got my sleep in."
Following the Rutgers game on Sunday, Iowa will face Northwestern on Tuesday at Carver-Hawkeye Arena.
The Northwestern game was originally scheduled for Jan. 18, but was postponed due to Covid-19 related health issues within the Northwestern program.
So, Rebraca and his teammmates will face another quick turnaround as the Big Ten grind continues.
Patrick McCaffery update: Fran McCaffery said Friday that Patrick McCaffery's status for the Rutgers game on Sunday will be a game-time decision.
That was also the case for the Michigan State game in which Patrick McCaffery didn't play. He traveled with the team to East Lansing, but he didn't dress for the game.
"He will practice today and tomorrow," Fran McCaffery said Friday of his son, who is a 6-9 junior forward. "I think he's getting closer. But we'll see."
Patrick McCaffery has missed the last six games due to struggles with anxiety.
He is averaging 12.8 points and 4.8 rebounds per game.
On further review: Junior point guard Ahron Ulis scored a career-high 17 points in the loss at Michigan State, but he also committed six of Iowa's 13 turnovers in the game.
Fran McCaffery said on his post-game radio show that Ulis has to work on limiting his turnovers, but on Friday. Fran McCaffery seemed more sympathetic.
"We're going to have to have a different approach in how we looked at those turnovers, if you know what I mean," Fran McCaffery said without being specific.
Michigan State has a reputation for being physical under head coach Tom Izzo, and Thursday's game was no exception.
So, perhaps Fran McCaffery was giving Ulis the benefit of the doubt because of how physical the game was played.
Iowa vs. Rutgers
When: Sunday, 1:07 p.m.
Where: Carver-Hawkeye Arena
TV: Big Ten Network
Radio: Hawkeye Radio Network
Series: The Hawkeyes are 11-3 against the Scarlet Knights, including a 4-1 record in games played in Iowa City. Iowa has won five of the last six overall meetings with Rutgers, dating back to 2020. Rutgers is making its fi rst visit to Carver-Hawkeye Arena in nearly two years (79-66 Iowa victory on Feb. 10, 2021).