By Pat Harty
IOWA CITY, Iowa – For as long as Chris Collins is its head coach, the Northwestern men's basketball team will always be more than just another Big Ten opponent for me.
I've never met Chris Collins personally, nor have I spent much time around him, other than in press conferences over the years.
He played basketball for Duke after having also considered Iowa during the recruiting process, but I would hardly call myself a Duke fan.
I'm a fan of Chris Collins mostly because he is the son Doug Collins, and that's enough for me.
Doug Collins will always hold a special place amongst the numerous sports personalities that I've had the privilege of meeting over the years as a sports reporter simply because he was nice to me when I really needed someone to be nice.
He paid attention to me, and made it seem as if I mattered when he could've easily ignored me, or have refused to talk.
I was covering the 1997 NBA pre-draft in Chicago where former Iowa point guard Andre Woolridge was participating. But trying to get anybody from the NBA to talk about Woolridge, or to even acknowledge my presence was proving to be impossible until Doug Collins arrived.
He had just entered the facility where the event was being held when I walked up and asked if he had a few minutes to talk about Woolridge.
He was reluctant to talk about Woolridge in specific detail, but he was more than willing to talk about just about anything else.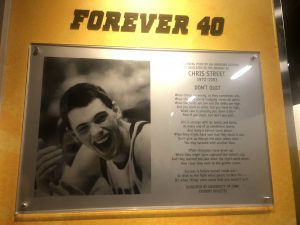 Especially Chris Street.
More than four years had passed since Street had been killed in an automobile accident on Jan. 19, 1993 when Doug Collins and I struck up a conversation.
Street was midway through his junior season on the Iowa basketball team, and an emerging star as a fiery 6-foot-8 power forward, when he was killed.
He had played what proved to be his final game against Duke just three days earlier, and Chris Collins was a freshman on that Duke team.
Street had developed a friendship with Chris Collins during the recruiting process, and even though Chris Collins ultimately signed with Duke in 1992, they remained friends.
So, the news of Chris Street's death was devastating for Chris Collins, and that's what I remember Doug Collins telling me that day in 1997.
Doug Collins went on and on about what a great player, and a great young man Chris Street had become, and about how much his son liked and respected him.
Duke was in the early stages of its dynasty under Mike Krzyzewski at the time, but Iowa had Chris Street, and was close to Chris Collins' home in suburban Chicago.
Chris Collins was hosted on his recruiting visit by Chris Street and Paul Lusk, and they apparently made quite an impression because the three became close friends, and Chris Collins seriously considered the Hawkeyes as a sharpshooting guard.
Iowa also played a fun style under Tom Davis, so that gave Chris Collins a lot to think about during the recruiting process.
That's what I remember Doug Collins saying that day.
Doug talked about how much that Iowa had to offer his son from a recruiting standpoint, and he said the chance to play with Chris Street was near the top of the list.
And while Doug Collins was thrilled that his son played for Duke, he said that day that would've felt the same if he had picked Iowa.
We probably spoke for less five minutes because Doug Collins was busy that day as the head coach for the Detroit Pistons.
But it seemed much longer than five minutes, and I'll cherish our conversation forever for lots of reasons, including the simple fact that a famous basketball personality was nice to me when he didn't have to be.
Doug Collins played on the 1972 United States Olympic team, made All-Pro as an NBA shooting guard and coached Michael Jordan with the Chicago Bulls, and he now works as a senior advisor for the Bulls. He also has worked as a television analyst for the NBA.
You name it and Doug Collins probably has done it in the sport of basketball.
So, it truly was a privilege to talk to him that day in 1997.
The moment I mentioned to Doug Collins that I worked for the Iowa City Press-Citizen his eyes lit up because of his son's connection to Chris Street and the Iowa men's basketball program.
I believe that Doug Collins was showing respect for Chris Street when he gave me a few minutes of his time that day, and I also believe he did it because he's a nice person.
And we need more high-profile people like him.
So, that's why Northwestern is more than just another opponent for me, and why Tuesday's game between Iowa an Northwestern at Carver-Hawkeye Arena carries more significance from a personal standpoint.
In no way am I suggesting that I want Northwestern to win the game.
But I do take great satisfaction in seeing Northwestern exceed expectations this season, and it's also fitting that Northwestern will be the opponent on Tuesday when Iowa pays tribute to Chris Street to mark thirty years since his death.
The Northwestern game was originally scheduled for Jan. 18, but was postponed due to Covid-19 related health concerns within the Northwestern program.
Street's parents, Mike and Patty, will meet with the media prior to Tuesday's game, and I assume they'll have a chance to speak with Chris Collins in what figures to be an emotional conversation.
As for the game, it has the potential to be a competitive matchup between contrasting styles as Iowa prefers to play up tempo on offense, while Northwestern prefers to slow teams down by playing suffocating defense.
Northwestern is 40th in the NET rankings and enters Tuesday's game 15-5 overall and 6-3 in conference play. The Wildcats are 3-1 on the road in Big Ten play this season, with its wins coming at Michigan State, Indiana, and Nebraska, and they are first in the conference in turnover margin, and 12th nationally, 4.8), and second in field goal percentage defense, and (18th nationally, 39.3), steals per game (8.3), turnovers forced per game (15.10), and winning percentage (75.0).
"I'm not surprised, I really like he personnel they had back and they've got one of the best coaches in the country, and I mean that sincerely," Iowa coach Fran McCaffery said of Chris Collins and the Wildcats. "He and his staff know what they're doing."
Iowa vs. Northwestern
When: Tuesday, 8 p.m.
Where: Carver-Hawkeye Arena
TV: Big Ten Network
Radio: Hawkeye Radio Network
Series: Iowa holds a commanding 123-60 advantage over Northwestern. The Hawkeyes have won 15 of the last 18 meetings, including eight straight. Iowa swept the Wildcats last season winning both contests by an average of 28.5 points: 82-61 in Iowa City and 112-76 in Indianapolis. Iowa holds a dominate 71-18 advantage in games played in Iowa City, including a 31-4 record in Carver-Hawkeye Arena.
The Hawkeyes have won the last eight contests played against the Wildcats in Iowa City, dating back to 2013. Iowa's a's 31 wins over Northwestern in Carver-Hawkeye Arena are the most over any opponent.