By Pat Harty
IOWA CITY, Iowa – Iowa and Illinois supposedly don't care much for each other in men's basketball, but that's okay because sometimes it leads to the kind of game that unfolded Saturday afternoon at a packed and raucous Carver-Hawkeye Arena.
Games like this also produce stars for the moment and Iowa junior guard Tony Perkins seized the opportunity in spectacular fashion by having maybe his best performance as a Hawkeye.
The 6-foot-4 Indianapolis native scored a career-high 32 points, including 25 in the second half, and his team needed every point to escape with an 81-79 victory.
"I've been doing this a long time, I haven't had too many guys go off like that," said Fran McCaffery, who is in his 13th season as the Iowa head coach. "That was impressive."
Perkins made 15-of-16 free throw attempts, including one with 10.4 seconds remaining that gave Iowa an 81-78 lead.
That free throw would prove to be the difference as Illinois forward Coleman Hawkins, after having made a free throw, intentionally missed his second attempt with 1.2 seconds remaining, and with the Illini trailing by two points. His free throw bounced off the front of the rim, and then Iowa senior guard Connor McCaffery grabbed the rebound to secure the victory.
Iowa completed a three-game home sweep, with previous wins over Rutgers and Northwestern, and improved to 15-8 and 7-5 in the Big Ten, while Illinois fell to 16-7 and 7-5 in conference play.
Perkins said he was motivated to play well by having his mother, two younger brothers, an aunt and a close friend in the stands.
"Especially for my little brothers because they play basketball, so they can see the environment and it motivates them," Perkins said. "And being able to do that for my mom feels good because she lives far away and I don't really see her that much."
Perkins also had plenty of help from his teammates, including sophomore forward Payton Sandfort, who made a 3-point basket to give Iowa a 79-76 lead with 1:29 left to play.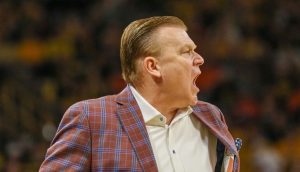 Junior forward Kris Murray, despite being in foul trouble, scored 19 points and grabbed seven rebounds, while senior forward Filip Rebraca finished with 13 points.
But the stage on Saturday belonged to Perkins, and his teammates did all they could to help.
"What was impressive to me about that was the players that were on the floor with him, they're yelling out plays to me that we should be running for him," said Fran McCaffery. "So, they recognized, okay, this guy is on fire. We're going to him. Nobody else is shooting the ball right now.'
Iowa continued its hot shooting from the free throw line, making 26-of-30 attempts, thanks largely to Perkins.
Illinois was leading 62-59 when Sandfort worked off a screen and drained a 3-pointer with 8:30 left to play.
Illinois responded with a basket by guard Jayden Epps, and then Kris Murray picked up his fourth with 7:30 left to play and went to the bench with Iowa trailing, 64-62.
Murray returned to the game with 3:52 remaining, and with Iowa clinging to a 72-70 lead.
Iowa only committed seven turnovers in the game game, including just two in the second half.
That helped to offset Illinois' 37-26 advantage on the boards.
"It's absolutely critical with the way they rebound," Fran McCaffery said of Illinois. "There as good a rebounding team that there is in the country."
One of the loudest ovations in the game occurred in the first half when the kids from the Boys and Girls Club of Cedar Rapids were recognized.
They were given tickets to the game after it was discovered that the Illinois student section, known as the Orange Krush, had purchased 200 tickets in October, but had done so by claiming they were a charity for underprivileged kids.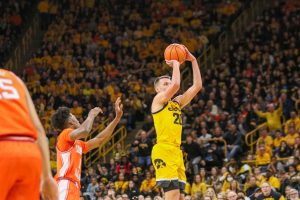 Iowa Athletics refunded the original ticket order and then donated the tickets the Boys and Girls Club of Cedar Rapids.
This latest controversy added yet another layer to an already intense border rivalry, and that intensity was noticeable on the court Saturday, and in the stands.
The first half had six leads changes and four ties, and neither team led by more than seven points.
Iowa was trailing 36-32 when Murray made a 3-point basket right before the clock expired to end the first half.
Murray led Iowa with 10 points in the first half on just five shots from the field.
Illinois had a 19-11 advantage on the boards in the first half, but still only led by one point (36-35) at the break.
Baylor transfer Matthew Mayer led Illinois with 15 points in the first half, but he also picked up two fouls and spent nearly seven minutes on the bench.
Illinois went on an 11-0 scoring early the second half, causing Fran McCaffery to call a timeout with Iowa trailing 47-39 with 15:37 left to play.
Iowa now hits the road again with a matchup at top-ranked Purdue on Thursday, although, the Boilermakers might drop from the top spot after losing at Indiana on Saturday.
Four of Iowa's next five games are on the road.