By Pat Harty
IOWA CITY, Iowa – Jess Settles was part of the Big Ten Network crew that called the Nebraska-Penn State game on Sunday when he made a very interesting statement about the surging Iowa men's basketball team.
Settles said Iowa is currently the second best team in the conference behind Purdue, and he might be right.
Some might accuse Settles of being biased since he played for the Hawkeyes during most of the 1990s – sorry Jess I couldn't help it – but his comment makes a lot of sense.
Iowa has won three games in a row, and already has earned a season sweep over Rutgers, which is currently in second place in the conference.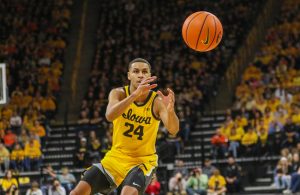 Iowa (15-8, 7-5) also has impressive home wins over Michigan, Maryland, Northwestern and Illinois, all of which are in the upper half of the conference standings, and probably headed to the NCAA Tournament.
On the other hand, Iowa also has some blemishes, most notably the 66-50 loss at Nebraska in late December, and the 93-77 loss at Ohio State on Jan. 21, after which Fran McCaffery said was unacceptable from a performance standpoint.
And if you want to go way back, the low point to Iowa's season was an embarrassing 92-83 loss to Eastern Illinois on Dec. 21 at Carver-Hawkeye Arena.
So, yes, Iowa has its soft spots and flaws, but it's all about being hot at the right time and about what have you done for me lately.
Purdue has sort of separated from the pack, although, it lost at Indiana 79-74 on Saturday, and now has the red-hot Hawkeyes coming to West Lafayette, Indiana on Thursday.
Iowa has one of the best players in the conference in 6-foot-8 junior forward Kris Murray, but Iowa also a supporting cast around Murray that just keeps getting better.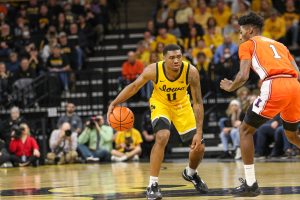 Junior guard Tony Perkins scored a career-high 32 points and made 15-of-16 free throw attempts in the 81-79 victory over Illinois this past Saturday, while Murray did his part as usual with 19 points and seven rebounds.
Murray is an unselfish star who trusts the players around him because they have earned that trust.
Senior forward Filip Rebraca has gone from being a role player last season whose main responsibility was to rebound and defend to now being a reliable second or third scoring option depending on matchups.
Sophomore forward Payton Sandfort has helped to fill the 3-point shooting void that was lost when Jordan Bohannon finally exhausted his eligibility, while junior point guard Ahron Ulis has emerged as another scoring option.
Sixth-year senior guard Connor McCaffery defends multiple positions, plays multiple positions, is the best passer on the team and a much-improved 3-point shooter.
His younger brother, Patrick McCaffery, is a very versatile scorer as a 6-9 junior forward, but has been slowed due to struggles with anxiety.
Should he start playing up to his potential again, that would make Iowa even harder to defend.
Freshman guard Josh Dix also has had his moments this season while playing both guard positions. Leave Dix open from three and chances are he will make you pay.
Freshman guard Dasonte Bowen has seen his playing time get reduced, but that is partly because of how much depth and experience Iowa has in the backcourt.
Iowa could also use more help in the post, but no team is perfect, especially in the Big Ten this season.
Fran McCaffery's team is playing as well as any team in the conference right now, so for Settles to say that Iowa is the second best team in the conference at this moment is far from a reach.
The situation, of course, is fluid and could change in a hurry as the Big Ten grind wears on.
Four of Iowa's next five games are on the road, so it'll be a daunting task to keep playing like the second best team in the conference.
But right now, outside of Purdue, there isn't a team in the conference that is playing better than Iowa, and Purdue is coming off a loss to a team that Iowa defeated.
The stretch drive should be quite interesting.