By Pat Harty
IOWA CITY, Iowa – As a freshman at North Dakota, Filip Rebraca was preparing to face Kentucky and its massive frontline when his father gave him some advice.
Rebraca's father is former NBA center Zeljko Rebraca.
"He just told me to watch Ben Wallace highlights how he guarded Shaq and other players," Rebraca said Tuesday before practice. "So, I might have to bring out the old Ben Wallace tapes."
Ben Wallace is a former NBA center who excelled as a defensive stopper and rebounder despite only standing about 6-foot-9, which is small for an NBA post player.
Wallace had clever ways to compensate for his lack of height while defending NBA giants such as Shaquille O'Neal, so maybe Filip Rebraca, who also stands 6-9, could learn a few things as he prepares for the daunting task on Thursday of defending 7-4 Purdue center Zach Edey, who is considered the leading candidate for National Player of the Year for the top-ranked Boilermakers.
Filip Rebraca actually thinks he could use his seven-inch height disadvantage against Edey to his advantage in some ways.
"Definitely. I feel like I'm a lot quicker than him, so getting down hill and the way they also play ball screens, I feel like I'll be setting a lot of open ball screens, and that's good for my teammates," Rebraca said. "Then also just running him if, and when, we get a board, just running him hard and just make him use his energy.
"So, that's how I can use my height disadvantage against him."
Edey is ranked first in the Big Ten and nationally in double-doubles (19), rebounds (303) and offensive rebounds per game (5.65). He is also first in the conference in field goals (4th nationally, 202), points (7th nationally, 516), points per game (4th nationally, 22.4), and rebounds per game (2nd nationally, 13.2).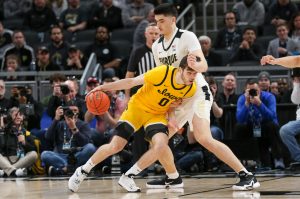 And he also leads Purdue in blocks with 50.
"I know I'm guarding one of the best players in the country right now," said Rebraca, who played his first three seasons at North Dakota before transferring to Iowa last season.
Iowa coach Fran McCaffery believes that Edey's rise to stardom is due partly to Edey no longer having to share the center position with Trevion Williams as he did the previous two seasons with Williams on the roster.
"I think it helps that he's not splitting time," Fran McCaffery said of Edey, who is from Canada. "He's more comfortable out there. They've always gone to him. Even when he only played half the game, they would go to him when he was in there. He's become much better at playing in traffic and making plays.
When he first got there, he wasn't very good at that, and now he's passing the ball to cutters, he's skipping opposite, he's going quick, and that makes him that much harder to guard."
Rebraca will have some help in the post with the return of 6-10 junior center Josh Ogundele, who has only appeared briefly in nine games this season because of a leg injury.
Ogundele is healthy now and ready to contribute if needed.
He performed well against Purdue last season off the bench, including in the Big Ten championship in which Iowa prevailed.
"That's huge," Rebraca said. "He's a big body and we're going to need him against Edey because last year I remember he came in a for a few possessions against Purdue and he got a few stops. He has something that I don't, which is size and strength.
"So, it's huge for him to be able come in and contribute. And that's not only for this game, but that's also for going forward."
Rebraca has been an ironman for Iowa this season as he has played at least 30 minutes in 15 games, including all 40 minutes in a win at Rutgers.
Rebraca thinks his stamina and conditioning from playing so many minutes could work to his advantage against Edey.
"I think it does just playing so much and practicing a lot," said Rebraca, who is averaging 13.9 points and 8.2 rebounds per game. "Even though my minutes are at an all-time high, I don't feel tired in games. After games is a different story. But I feel like I can run all forty minutes. So, I think that is an advantage."
Purdue has won 11 of the last 12 games against Iowa at Mackey Arena.
Iowa (15-8, 7-5) vs. Purdue (22-2, 11-2)
When: Thursday, 6 p.m.
Where: West Lafayette, Indiana, (Mackey Arena)
TV: ESPN2
Radio: Hawkeye Radio Network
Series: Purdue holds a 94-78 advantage in the series. The Boilermakers have won six of the last eight in the series. The Boilermakers won both regular season meetings last season, but the Hawkeyes topped Purdue in the Big Ten Tournament championship game in March. The Boilermakers hold a 62-22 advantage in games played in West Lafayette. Purdue has won 11 of the last 12 contests over the Hawkeyes inside Mackey Arena. Iowa's last victory at Mackey Arena came on Jan. 2, 2016 (70-63).