By Pat Harty
IOWA CITY, Iowa – This is the last I'll write about the controversy surrounding Brian Ferentz's contract, and about his situation overall, unless of course, there is news to report.
Although, that now seems unlikely to happen anytime soon.
The news earlier this week that amendments based on performance had been added to Brian Ferentz's contract has caused quite a reaction, and most of it has ranged from anger, frustration and bewilderment amongst Hawkeye fans.
I've already written how I feel and that is I believe that Iowa Athletic Director Gary Barta, and Iowa head football coach Kirk Ferentz, are doing all they can to save Brian Ferentz's job, and they are doing so because Brian Ferentz is Kirk Ferentz's son.
It's a unique and awkward situation to say the least.
Iowa would only have to win seven games and average 25 points per game next season, and it doesn't matter who scores the points, for Brian Ferentz to meet the designated performance objectives now in his contract.
That's a very low bar that gives the impression that Brian Ferentz, whose offense finished ranked 130th out of 131 FBS teams in total offense this past season, is being treated different than a typical offensive coordinator would be treated simply because of his relationship to the head coach.
But again, to rehash that narrative wasn't the motivation behind this column because why kick somebody when they're down?
It's easy to criticize Brian Ferentz right now, but after a while it comes across as piling on and just looking for attention.
The motivation for this column was a recent comment from an Iowa fan who said that I seemed to get great enjoyment from writing negative columns about Brian Ferentz.
While that fan is certainly entitled to his opinion, he couldn't be more wrong.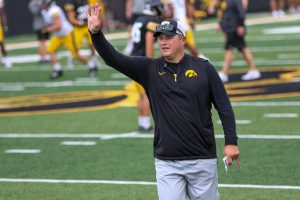 These past few days haven't been enjoyable at all because there is no fun or enjoyment in calling out Iowa for showing favoritism, or calling out Kirk Ferentz for putting his own self-interest above the football program.
I was sort of depressed after writing two critical columns about Brian Ferentz this week because I knew that it might damage my relationship with both he and his father, and because it's uncomfortable and awkward to be so negative, especially when you're criticizing the all-time winningest football coach in school history, who also ranks fourth all-time in Big Ten wins, and who has mostly treated the media with class and respect.
Kirk Ferentz is hardly a quote machine, but he mostly has been a nice and down-to-earth guy as the head Hawk.
Brian Ferentz is different than his father from a personality standpoint in that Brian is more outgoing, and more controversial and less-guarded with what he says publicly.
Brian Ferentz has a gift for gab, but he also has a quick fuse, and sometimes, that can be counter-productive, like for example, when in his first season as the Iowa offensive coordinator in 2017, he unleased a profanity-laced tirade at a replay official during halftime of a game at Kinnick Stadium.
It was just a bad look for Brian Ferentz, for his father, and for the Iowa football program.
Brian Ferentz would go on to issue a public apology as he should have because his behavior was unacceptable, and he knew it.
But there is also a side to Brian Ferentz for which I will always be grateful, because he in some ways helped to save my career as a member of the Hawkeye media.
It happened in the spring of 2015, and a few months after my job had been eliminated at the Iowa City Press-Citizen where I had covered the Hawkeye beat since 1992.
Instead of trying to stay in the newspaper business, or do something else entirely different, I decided to launch a Hawkeye website that included a small team of reporters, financial backers and a technical support staff.
Shortly after the website was built, we reached out to the Iowa Sports Information Department to apply for media credentials, but were turned down.
Needless to say, I wasn't happy after having spent a considerable amount of money, and I will admit, I felt slighted and disrespected after having spent more than two decades covering the Iowa beat.
I also blamed myself for not checking on credentials before having the website built.
My future on the Hawkeye beat looked uncertain, and that was scary because that's all I knew how I do, and because I didn't want to leave Iowa City for another job.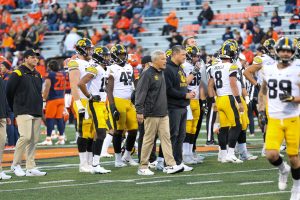 But within just a few hours after having been turned down for credentials, I was told in e-mail that Iowa had reconsidered and approved our credentials.
My first reaction was relief, but then I wanted to know what had caused the sudden shift and would soon learn that Brian Ferentz had stood up for our website, saying that we deserved to have credentials.
I don't know for sure that he contacted Iowa, but if my memory serves me correct, he shared his feelings on Twitter, and that got the ball rolling.
I was also told that Kirk Ferentz agreed with Brian in this case, and it always helps to have Kirk Ferentz on your side.
So, I will forever be grateful and appreciative of Brian Ferentz for helping to save my career.
He and his father might regret it now, but the one thing I would tell them is that it's never been personal what I write.
I try to be true to my feelings when writing columns, and as an old newspaper guy, I try to be objective when reporting on the Hawkeyes.
That isn't as easy to do these days because the landscape has changed with more fans writing, tweeting and podcasting about Iowa.
I hope that Brian Ferentz doesn't feel that I betrayed his trust because I was only doing my job when I accused his father of protecting him.
I would've been betraying my job if I had pushed a narrative that was different than how I actually felt when writing the columns.
My hope is that Brian Ferentz figures things out on offense, and this story goes away.
Am I confident that will happen?
No.
But I would love to be wrong in this case.