By Pat Harty
IOWA CITY, Iowa – Connor McCaffery is 24 years old and in his sixth season playing for his father as a member of the Iowa men's basketball team.
Connor, much like his father, Fran McCaffery, is highly emotional, highly competitive, and not afraid to speak his mind on and off the court.
Connor will let the officials know when he thinks they have missed a call, and he will let his teammates know when they make a mistake, or when they need to play harder or play better.
His style might rub some the wrong way, especially fans and players from opposing schools, but any team would be fortunate to have Connor McCaffery on its roster.
Just the fact that he plays for his father makes Connor a lightning rod for criticism and ridicule because some just assume that he receives special treatment and has a sense of entitlement when that hardly is case.
Iowa fans should be grateful that Connor McCaffery plays for his father, and that Connor decided to use his free Covid year because he is one of the most important and impactful players on the team.
Connor is the kind of player that doesn't have to score a lot of points to make a significant impact, and those kinds of players are rare.
Fans were reminded of that on Thursday when Connor McCaffery dished out a career-high 13 assists in a 92-75 victory over Ohio State at Carver-Hawkeye Arena.
He also had seven points, six rebounds, two steals and zero turnovers while playing 35 minutes.
"I feel like there are definitely times when you can get into a zone as a passer just as like a shooter," Connor McCaffery said after the Ohio State game. "You're seeing things, you're seeing cutters.
"I have to credit my teammates as well because if they're not cutting, if they're not running in transition, and especially not making shots, that doesn't happen."
In the last two games against Ohio State and Minnesota, Connor McCaffery has combined for 17 assists, 16 rebounds and just one turnover.
He leads the nation in assist-to-turnover ratio this season at 3.45. He also led the nation in that category in 2019-20 and was fourth in 2020-21.
And he's a winner with Iowa having won 109 of 159 games, and a Big Ten Tournament Championship with Connor McCaffery in uniform.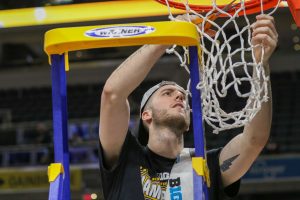 Connor's 13 assists against the Buckeyes ties him for fifth on Iowa's single-game assist list.
Former point guard Cal Wulfsburg set the school record with 16 assists in a 78-67 victory over Ohio State on January 24, 1976 in Iowa Fieldhouse.
"A really impressive game by him on a number of different levels," Fran McCaffery said. "He was calming everybody down. He drove it. We were in the bonus. He was flashing to the high post when they went zone. And just made plays from there. He brings it up against the press, guarding really good players.
"He was spectacular tonight."
Iowa ((17-9, 9-6) is currently tied for third place in the Big Ten with Indiana and Maryland and has a huge matchup against second-place Northwestern on Sunday in Evanston, Illinois.
The top four teams in the conference standings will receive a double bye in the Big Ten Tournament, and right now Iowa is in position to achieve that goal, and Connor McCaffery's contributions are a big reason why.
It's easy to overlook what Connor McCaffery does on the court because he doesn't score a lot of points or play above the rim.
He's also a streaky 3-point shooter.
But the one thing that never changes is his effort, his vision and his unselfishness.
Connor sees angles that other players don't see, and like every gifted passer, he has great anticipation and touch, especially when feeding the post.
Luka Garza left Iowa in 2021 as the program's all-time leading scorer, and many of his points came on pin-point passes in the post from Connor McCaffery.
In Connor's case, the apple doesn't fall far from the tree in that his father was also a pass-first point guard who earned the nickname "White Magic" largely because of his nifty ball handling skills and passing ability.
Connor doesn't have a famous nickname because his game is more about substance than style and flash.
And it's probably a good thing that he is a pass-first player because to play for your father is awkward enough.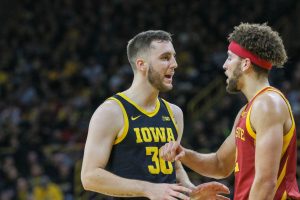 So, just imagine if Connor McCaffery were the kind of player that hunted for shots and had to score to feel complete.
Connor has the size (6-foot-5, 215 pounds) and the skills to guard multiple positions. It isn't unusual for him to go from guarding a point guard to a power forward during the course of a game.
This is the age of positionless basketball, and Connor McCaffery fits the mold.
What he lacks in quickness he makes up for with grit, knowledge and toughness.
He also has built up his body to where he can handle the pounding that occurs in the Big Ten.
Connor has said that he might get into coaching after his playing days, and that would make perfect sense since he is like having another coach on the court.
Connor and his younger brother, Patrick McCaffery, both share of love for basketball, but they're also very different, on and off the court.
Connor almost from the moment he first picked up a basketball was very serious about the sport, and he wanted to learn everything he could about the game, while Patrick, who is a junior forward on the Iowa team, started playing just for fun as a kid.
Connor used to watch film with his father when most kids, including his brother, were watching cartoons.
Connor has always been mature beyond his years, and that stretches to the court in how he plays.
Connor's journey as a Hawkeye is almost over and what a journey it has been, considering he started his Hawkeye career as a rare two-sport athlete.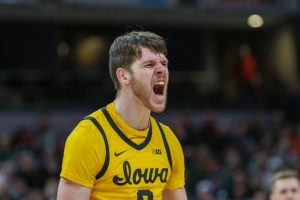 Some would argue that Connor had more potential as a baseball player as a hard hitting outfielder, but injuries and conflicts with his schedule kept him from achieving his goals in baseball.
But the fact that Connor was willing to play both sports at the highest level in college is a testimony to his confidence and determination.
It would be easy to take Connor McCaffery for granted because he has been around for so long, and because he does the little things that often go unnoticed.
Some say that he is the glue to this Iowa team, and that seems accurate, but he also brings a level of toughness that every team needs, especially in the rugged Big Ten.
Connor's nose-to-nose confrontation against former Illinois guard Da'Monte Williams on the road was a case of two tough-minded leaders refusing to back down.
It's a moment that sort of symbolizes Connor McCaffery's career, along with all the assists and the other little things that go into winning.
Junior forward Kris Murray is without question the biggest star on the Iowa team, and its best NBA prospect.
But it's hard to imagine Iowa being as good as it is without Connor McCaffery, and without 25-year old senior forward Filip Rebraca bringing a level of maturity that is rare in college basketball these days.
The free Covid year has helped to create a unique situation at Iowa, and right now Connor McCaffery and Rebraca are both thriving in their roles as veteran leaders.
Connor McCaffery is the head coach's son, a big brother, a team leader and a player with unique skills.
Enjoy him while you still can Iowa fans.
https://twitter.com/IowaHoops/status/1626632296609480713?s=20