By Susan Harman
IOWA CITY, Iowa – Kate Martin and Gabbie Marshall have elected to take an extra season of eligibility that the NCAA awarded after the COVID-19 shutdown a couple years ago.
"Thrilled to announce today that these two will be returning," Iowa coach Lisa Bluder said. "Extremely thrilled."
Martin is a fifth-year senior as it is because of an injury redshirt her freshman season. She is averaging seven points, four rebounds, .413 from 3-point range and 82 percent from the foul line. Marshall, considered the team's top perimeter defender, is in her fourth season.
McKenna Warnock, a senior, three-year starter, has elected to end her career as she pursues dental school. Warnock has been consistently productive throughout her career and currently averages 11 points and six rebounds.
"She's applying a number of places; it's very competitive," Bluder said. "She's done great on her tests, but it's a very competitive environment."
The two players had an idea they wanted to use the extra year, but both talked with coaches and family about the decision.
"For me it was talking with coaches and family and reflecting on my goals for next year," Martin said. "For me it was a no-brainer, just with finishing my master's degree and getting to finish school debt-free with a master's degree was pretty huge. And when I think about not playing basketball it just killed me."
She acknowledged that six years of playing basketball was a big commitment, but added there's nothing else she'd rather do.
Marshall talked with Martin, among others.
"I talked to my family and they said 'You want to stay in college as long as you can; working sucks,'" she said, prompting laughter among reporters. "I love playing with these girls, and the team is so special and the coaches, so it was really a no-brainer for me too.
"I wondered if I could do another year mentally and physically, but this place is very special to me and it's been an honor to play under these coaches for the last four years."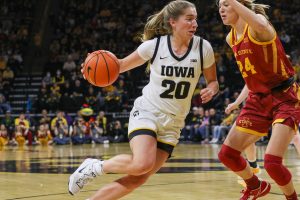 Martin acknowledged that these decisions likely will block reserves from increasing their playing time and "puts a wrinkle" in recruiting. That caused her some doubt, but by early January she was sure about her decision.
Bluder said she tried to get an idea what the seniors would do before the season as she planned the team's recruiting strategy.
"We were so hopeful that these guys would come back. What they've meant for our program and how much success they've had and what quality young women they are, you want to hang on to those people, right? So we recruited with the possibility that they might come back."
Iowa has two incoming recruits (Ava Jones, Ava Heiden), but only the 6-foot-4 Heiden will be physically able to play.  Jones still has a long way to go in her rehabilitation after a traffic accident. The team loses center Monika Czinano and Warnock. In the era of the transfer portal Iowa could lose other players as well.
So, barring any defections, next year Iowa will have a roster like this:  Seniors: Molly Davis (Gr.), Kate Martin (Gr.), Gabbie Marshall (Gr), Caitlin Clark. Juniors: Kylie Feuerbach (RS), Addison O'Grady, Sydney Affolter, Sharon Goodman (RS), Shateah Wetering (RS), A.J. Ediger. Sophomores: Jada Gymfi, Taylor McCabe, Hannah Stuelke. Freshman: Ava Heiden.
Bluder was effusive in discussing the benefits of having a team leader like Martin return.
"It's huge because, as I've said before, Kate is kind of able to hold everybody else accountable, motivate everybody," Bluder said. "She's a coach in the locker room as far as making sure people are saying the right things. You just can't understand the value of somebody like that. So it really is amazing that somebody with such great leadership skills is returning and helping us again."
"I just want to add that there's once-in-a-lifetime players like Caitlin, but there are once-in-a-lifetime leaders like Kate, too," Marshall said. "She's just a very important part of this team. Not everything she does shows up in the box score, but what she does inside the locker room and in team meetings, there's no words to describe it."
*Maryland. Crunch time is here for Iowa if it wants to repeat as co-champs of the Big Ten. Indiana (16-1) clinched a share of the title Sunday, and its only game this week is at Iowa on Sunday. The Hawkeyes (14-2) need to beat Maryland (13-3) Tuesday night on the road and beat the second-ranked Hoosiers on Sunday to secure a share of the title.
Iowa was in a similar position last year when it had to run the table after some earlier losses.
"We have a lot of experience, and we've been in similar situations," Martin said. "This is the best time to be peaking right now and the best time to be playing some of the best competition.
"Heading into the end of our season we play Maryland, we play Indiana. Two great teams. Some of the top teams in the country. We feel really lucky to be at this point. We're just really motivated right now. Our mindset is better than it has been all season."
On Feb. 2 Iowa defeated Maryland 96-82 at home with Clark and Czinano combining for 70 points. Clearly others will have to contribute to win on the road. Bluder said Maryland hasn't changed much since the previous game when Diamond Miller and Shyanne Sellers combined for 53 points.
The Maryland game begins at 7 p.m. and will be televised by the Big Ten Network.