By Pat Harty
IOWA CITY, Iowa – Fran McCaffery is sometimes his own worst enemy.
There is no denying that Iowa's head men's basketball coach has a temper, and a quick fuse that can lead to trouble for him, and for his team, in games.
The latest example was Sunday's 80-60 loss at Northwestern in which Fran McCaffery was ejected in the second half after being called for two technical fouls in a matter of seconds.
Fran McCaffery was upset because he felt that Northwestern had failed to advance the ball past midcourt within the 10-second rule.
The replay showed that he had a right to be upset because Northwestern didn't beat the 10-second clock.
He just took it too far as he sometimes has a tendency to do in the heat of the moment.
But it also seems that Fran McCaffery's reputation is used against him, partly because officials are human and don't like being verbally attacked.
The broadcasting crew that called the game for the Big Ten Network said Fran McCaffery was given the first technical because he stepped out of the coach's box to complain to the officials, while the second technical was given because he kept complaining.
Okay. Fair enough.
Rules are rules.
But there also appears to be a double standard that works for and against some head coaches, with Fran McCaffery on the wrong end of the double standard.
It seems that some head coaches get away with complaining outside of the coach's box way more than Fran McCaffery does.
It also seems that some head coaches have a much longer leash than Fran McCaffery does to where you wonder if it's personal with some officials.
Although, in fairness to the officials there is this belief that Fran McCaffery has a long history of being tossed from games when that really isn't the case.
Fran McCaffery will be coaching in his 432nd game as the head Hawk when Iowa faces Wisconsin on Wednesday in Madison, Wisconsin.
Fran McCaffery has been ejected from four games overall as the Iowa head coach.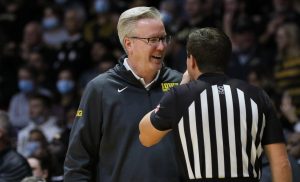 In addition to this past Sunday's game at Northwestern, Fran McCaffery was also ejected from three other road games at Northern Iowa in 2011, at Wisconsin in 2014 and at Maryland in 2018.
Some will say that being ejected from four games is too many and a case could certainly be made for that argument.
But on the other hand, being ejected from four out of 431 games is hardly a pattern of behavior.
Fran McCaffery was suspended after a loss at Ohio State in 2019 for his behavior in the tunnel afterwards, but he wasn't ejected from the game.
That doesn't excuse what he said to the officials after the game, but it's important for the sake of accuracy.
Fran McCaffery would do himself, and his team, a favor if could learn to control his temper during the heat of the moment.
At this stage in his career, however, that might be wishful thinking.
It's unfortunate because Fran McCaffery's temper sometimes overshadows all the good that he does away from the court, including his work in raising money to fight cancer.
Fran and his wife, Margaret, have dedicated so much of their time and resources to fight the dreaded disease that took the lives of both of Fran's parents, and that impacted the life of Fran's son, Patrick McCaffery, who had malignant tumor removed from his thyroid in 2014.
There is side of Fran McCaffery that most never see that is loyal, genuine and caring.
Following Iowa's victory over Ohio State last Thursday at Carver-Hawkeye Arena, Fran McCaffery told Iowa assistant coach Matt Gatens to bring his daughter into the locker room after the game so the players and coaches could sing Happy Birthday to her on what was her fourth birthday.
Some fans from opposing schools might dismiss this column as just a homer defending the head coach that he covers in order to stay on his good side.
Fine. Whatever.
Believe what you want.
Fran McCaffery's behavior sometimes is unacceptable and he should suffer the consequences, and he has suffered the consequences.
But he also deserves to be treated like all the other head coaches, and it should never get personal.
Unfortunately, it does seem personal with some officials that appear to hold a grudge and that should also be unacceptable.