By Pat Harty
IOWA CITY, Iowa – After learning about the recent tragedy at Michigan State in which three students were shot and killed by a gunman on campus, Fran McCaffery immediately reached out to Michigan State men's basketball coach Tom Izzo.
McCaffery wanted Izzo to know that he was thinking about him, and it was also McCaffery's way of supporting a head coach from a rival Big Ten school that has always been there for him during tough times.
Most people only see head coaches during games where they do everything within their power to try to win.
And that will be the case on Saturday when Iowa faces Izzo and the Spartans in a key Big Ten matchup at Carver-Hawkeye Arena.
Away from the court, however, McCaffery and Izzo share a special bond and a mutual respect that goes far beyond coaching basketball.
This bond is built more on compassion and caring.
"If you look at all the coaches in our profession, he might be the very best at reaching out to people at various times for various reasons," Fran McCaffery said of Izzo. "He's very connected that way to our profession and to relationships."
Fran McCaffery has dealt with more than his share of hardship off the court, much of it involving his son, Iowa junior forward Patrick McCaffery.
Patrick McCaffery had a malignant tumor removed from his thyroid in 2014, and he also missed six games earlier this season due to problems with anxiety.
Asked if Izzo reached out to him about Patrick, Fran McCaffery said:
"Oh, yeah.
"But he's reached out to me multiple times for a variety of reasons. And both times with Patrick, yeah."
Izzo has earned fame, fortune and respect for his legendary coaching career, which includes having led Michigan State to eight NCAA Final Fours, and to the 2000 national championship.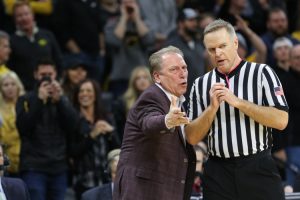 His teams have won 10 Big Ten regular-season championships in his 26 years at Michigan State. Izzo also has the most wins in school history and his teams have earned invitations to 24 consecutive NCAA Tournaments without a single losing season as a head coach.
The 68-year old Izzo is a coaching legend in every sense of the word, but his importance to the Michigan State community goes way beyond winning championships.
Izzo has been a pillar of strength in the wake of tragedy.
A head coach of Izzo's stature has a lot of  influence on campus and his words convey a powerful message.
That was apparent when Izzo spoke publicly on the Michigan State campus shortly after the three students were shot and killed and five were seriously injured.
Izzo fought back tears and his voice cracked with emotion as he spoke about trying to cope with the overwhelming grief on campus.
"I thought his response and his speech was spectacular in helping to bring that community together," Fran McCaffery said. "He's a guy that can do it. He's done a fabulous job."
McCaffery and Izzo will be competitors on Saturday, and both are known for being highly emotional during games.
Both teams are close in the Big Ten standings with Michigan State 17-10 overall and 9-7 in the conference, while Iowa is 17-11 and 9-8.
Michigan State will try for a season sweep after having defeated Iowa 63-61 on Jan. 26, at the Breslin Center in East Lansing, Michigan.
The win also snapped a three-game losing streak against Fran McCaffery's Hawkeyes.
But regardless of what happens on the court, Fran McCaffery and Tom Izzo will always be there for each other, especially during tough times, because the coaching fraternity is a tight-knit group, but also because they both admire and respect each other.
Michigan State (17-10, 9-7) vs. Iowa (17-11, 9-8)
When: Saturday, 11 a.m.
Where: Carver-Hawkeye Arena
TV: ESPN
Radio: Hawkeye Radio Network
Series: Michigan State holds a 77-58 advantage Iowa in the series. The Spartans snapped a three-game losing streak to the Hawkeyes with last month's two-point win in East Lansing. Michigan State has won 15 of the last 21 overall meetings, da! ng back to 2011. Iowa holds a 37-26 advantage in games played against Michigan State in Iowa City. The teams have split the last six meetings in Carver-Hawkeye Arena, with the Hawkeyes winning the last two (2021 and 2022). Michigan State, in 1983, won the first basketball game ever played in Carver-Hawkeye Arena (61-59).