By Pat Harty
IOWA CITY, Iowa – Tom Izzo was asked after Saturday's stunning 112-106 loss to Iowa in overtime if he could ever recall being on the wrong end of a similar comeback.
Michigan State's legendary head coach paused briefly before thinking back to when Iowa erased a double-digit deficit in the final minutes of regulation and would then go on to defeat Michigan State, 96-90, in overtime on Jan. 28, 1993, and barely one week after Iowa star forward Chris Street had been killed in an automobile accident.
Izzo was a Michigan State assistant coach at the time.
"I can, ironically," Izzo said. "I had the privilege of meeting Mike and Patty Street today and I remember that game many, many years ago at our place. I was an assistant then. And it was another game that we had won.
"I think Chris came out of the heavens and maybe did again. That's about the only one that was that big of a turnaround in my opinion."
Izzo was referring to Chris Street's parents, Mike and Patty Street, who were part of the sellout crowd on Saturday at Carver-Hawkeye Arena.
Saturday's game obviously didn't have the same kind of emotion as the comeback in 1993.
But it still was spectacular the way Iowa made five 3-point baskets in the final 38 seconds of regulation to force overtime with the score even at 101.
Iowa trailed by 11 points with less than one minute left in regulation on Saturday, and according to the NCAA, it marked just the fourth time ever that a team has won after trailing by 11 points or more in the final minute of regulation.
Iowa coach Fran McCaffery was told after Saturday's game that Izzo had compared the comeback to the 1993 win at Michigan State.
"I have watched it on TV, obviously, I wasn't there," Fran McCaffery said of the 1993 comeback at Michigan State. "But my guess is you could feel the electricity and the enthusiasm and determination building, not only for the players, but for the crowd.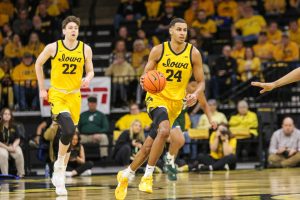 "So, to be compared with that game says a lot about how incredibly loud and supportive this building was today, and how it really helped our guys."
Iowa made its comeback on Saturday despite many of the seats in the arena being empty in the closing seconds of regulation as some fans either had left all together or had climbed to the concourse to watch what they assumed would be a third straight loss.
Sophomore guard Payton Sandfort made perhaps the biggest three in Saturday's game in the final seconds of regulation to force overtime.
Iowa made 17-of-36 shots from 3-point range in Saturday's game after having combined to make just 6-of-52 threes in double-digit losses to Northwestern and Wisconsin in the previous two games.
Sandfort was asked after the game if he could feel the fans leaving with Iowa trailing late in regulation.
"A little bit, but we were kind of focused on the task at hand," said Sandfort, who finished with 22 points. "We definitely felt the crowd come back, though."
The way Saturday's game ended was a dramatic change from the first game against Michigan State this season when Sandfort missed a potential game-winning shot in a 63-61 loss at the Breslin Center in East Lansing, Michigan.
"I wish I could have hit that one, but this one is nice, too," Sandfort said.
Izzo blamed himself for his team's meltdown late in regulation.
"That was piss-poor coaching," he said. "A 13-point lead with two minutes left and you can't win a game."
Izzo blamed his team's collapse at the end of regulation mostly on a lack of discipline.
"The head coach has to take responsibility," Izzo said. "I'm really proud of my guys. I thought they played their tails off. I thought they played as well as they could play, and we didn't finish the job."
Saturday's game started with a moment of silence for the Michigan State students that were killed and seriously injured in a recent shooting on the Michigan State campus.
The Spartans then played like a team on a mission for most of the game, but just couldn't finish against an opponent that kept believing it could win.
Michigan State shot 59.3 percent from the field in Saturday's game and also made 11-of-15 shots from 3-point range, and yet still lost.
Michigan State guard Tyson Walker was spectacular on offense as he scored 31 points on 11-of-15 shooting from the field.
And while Iowa's defense left something to be desired, the players made up it for by having a 29-4 advantage in second-chance points.
Iowa also had a 34-30 advantage on the boards and forced 10 steals.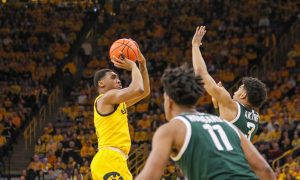 Junior forward Kris Murray led four Iowa players in double figures on Saturday with 26 points, including 20 in the second half and overtime.
Murray struggled in the first half as he missed all three of his shots from 3-point range and spent seven minutes on the bench.
But when it mattered the most, Iowa's leading scorer rose to the occasion.
The overtime started with Murray winning the tip to give Iowa the ball, much to the delight of Fran McCaffery.
"He was yelling in my ear telling me to get the tip," Murray said of a conversation he had with Fran McCaffery heading into overtime. "I hadn't gotten one in probably like a month.
"So, I knew I had to time it really well and give it my best jump. That's probably the highest I've jumped in a while.
Iowa prevailed despite senior forward Filip Rebraca having fouled out in regulation.
Rebraca still played nearly 34 minutes and finished with 18 points and six rebounds.
He then spent overtime cheering loudly from the bench and watching his teammates get the job done.
Fran McCaffery was called for a technical foul in the second half of Saturday's game, and he also had a moment during a timeout in the second half in which he stared down an official.
"I don't know what you're talking about," Fran McCaffery said when asked if he thinks his message come across from his stare down. "I have no idea what you're talking about. You must have been at a different game."
Fran McCaffery, obviously, was joking, but his technical foul and the stare down did seem to ignite his players.
"We seem to go on runs when coach gets a tech," Kris Murray said. "I definitely I would say it gives us a little more dog. You want to fight for coach."
So much had to go right for Iowa down the stretch, and incredibly, most of it did.
Sandfort told his teammates when the situation looked helpless in the final minute of regulation that it wasn't over, and he was right.
"We had to do everything and execute perfectly," Sandfort said. "I mean they really didn't miss any free throws, either.
"So, we just had to keep fighting, believe and it was an incredible effort."
Michigan State guard A.J. Hoggard actually did miss one critical free throw late in regulation that kept the deficit at three points.
Hoggard made 12-of-14 free throws overall and the Spartans made 31-of-36 free throw attempts as a team.
But all it took one was critical miss to create an opportunity for an Iowa team that refused to quit.
Iowa improved to 18-11 overall and 10-8 in the Big Ten and now heads back on the road for a game at Indiana on Tuesday.
"I'm not going to lie, I thought the game was over," said Iowa junior guard Tony Perkins, who finished with 24 points and had a key tip basket in overtime. "Probably everybody did. But I always preach at the end of the day, you can be down thirty and I still want to show our pride."
Perkins and his cohorts showed a lot of pride on Saturday and are now part of the one of the greatest comebacks in program history.