By Pat Harty
IOWA CITY, Iowa – Thirty years covering the same team is a long time for a sportswriter, and I was reminded of that on Saturday as the Iowa men's basketball team mounted one of the greatest comebacks in program history.
Iowa trailed Michigan State by 11 points with less than a minute left in regulation, but would go on to prevail, 112-106, in overtime at Carver-Hawkeye Arena.
Iowa made five 3-point baskets in the final 38 seconds of regulation to force overtime and then would go on to outscore the Spartans 11-5 in overtime.
It was the kind of comeback you wouldn't have believed without seeing it yourself.
Many of the fans apparently stopped believing as they headed for the exits late in regulation. Some fans also climbed to the concourse late in regulation, but then returned to their seats when the improbable suddenly seemed probable again.
Once it became clear that Iowa would win Saturday's game, I thought back to Jan. 28, 1993 when the Hawkeyes orchestrated what is arguably the greatest comeback in program history.
That was the day Iowa overcame a double-digit deficit late in regulation against Michigan State and then would go on to win, 96-90, in overtime before a stunned crowd at the Breslin Center in East Lansing, Michigan.
Iowa was playing under brutal circumstances in that game, which was played barely one week after star junior forward Chris Street had been killed in an automobile accident.
It was Iowa's first game since Street's death, so it was hard to know how the players would respond.
Michigan State head coach Tom Izzo was a Spartan assistant coach in 1993, and he was asked after Saturday's loss if he ever had experienced a similar comeback by an opponent.
I knew what Izzo's answer would be as he paused briefly to gather his thoughts.
"I can, ironically," Izzo said. "I had the privilege of meeting Mike and Patty Street today and I remember that game many, many years ago at our place. I was an assistant then. And it was another game that we had won.
"I think Chris came out of the heavens and maybe did again. That's about the only one that was that big of a turnaround in my opinion."
Mike and Patty Street are the parents of Chris Street, and they both were part of the sellout crowd that witnessed Saturday's spectacular comeback.
It occurred to me as I looked around the room in which Saturday's post-game press conference was held that I was the only member of the Iowa media that covered both comebacks against Michigan State.
That made feel proud, and old.
The reporters for the Daily Iowan student newspaper still were about 10 years from even being born in 1993.
There was no Twitter or Facebook in 1993 and Tom Brady was just 15 years old.
In both comebacks, Iowa refused to accept defeat, albeit under much different circumstances.
Th fact that Saturday's comeback came on the heels of back-to-back double-digit losses to Northwestern and Wisconsin, games in which Iowa combined to make just 6-of-52 shots from 3-point range, says a lot about the players' determination and resolve.
They could have wilted in the closing seconds, but instead they found a way to win under the most unlikely circumstances.
Payton Sandfort's clutch shooting on Saturday, which included making 6-of-10 shots from 3-point range, including one that sent the game into overtime, was reminiscent of how Iowa guard Val Barnes put the 1993 team on his back in the closing minutes against Michigan State by making one perimeter shot after another.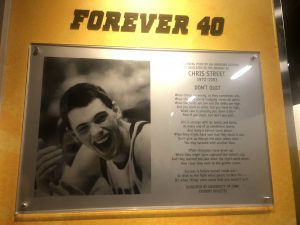 It just shows what can be accomplished when emotion and belief join forces to help do the unimaginable.
I consider it a privilege to have covered both comebacks against Michigan State, and will remember them both in great detail for the rest of my life.
My seat for the 1993 game was almost directly behind the Iowa bench, and I still remember then head coach Tom Davis trying to stay composed as he grinded through the game.
I still remember the jubilation as the Iowa players and coaches left the court victorious, many of them pointing upwards in honor of Street.
It was one of the most powerful and emotional moments that I've experienced in all my years covering the Hawkeyes.
The Michigan State fans, of course, were disappointed to lose, but I remember many of them paying their respects as the Iowa players left the court.
Iowa also paid its respect on Saturday by having a moment of silence before tip-off in honor of the three Michigan State students that were killed, and five that were critically injured, in a recent shooting on the Michigan State campus.
Sports has a way of helping to forget all the pain and suffering in life, at least for a while.
I looked over to Mike and Patty Street after Saturday's game ended and saw them both celebrating with huge smiles on their faces.
I then imagined Chris Street looking down from heaven, just like Izzo said, and beaming with pride over what his beloved Hawkeyes had just accomplished.
Both comebacks show that miracles can happen if you stay the course and keep believing.
All the emotions.#Hawkeyes pic.twitter.com/Id4R7hP0yG

— Iowa Men's Basketball (@IowaHoops) February 25, 2023