By Susan Harman
IOWA CITY, Iowa –  One of the things the college experience is supposed to provide is personal growth. Both of Iowa's seniors who will be honored following Sunday's game against Indiana personify that opportunity.
Monika Czinano and McKenna Warnock both laughed and said they would not recognize the freshmen they were when arriving at Iowa.
 "No. Honestly no," Warnock said. "I think I've been able to grow so much as a leader. I kind of adapted to that role. I was a (junior) when I was a captain and being able to be in that role has been awesome. I couldn't ask for a better four years."
"Absolutely not. I'm more blond now," Czinano cracked. "But I'm just so much more confident. I just feel like being here has made my foundation stronger. I'm more confident and strong in who I am. I would not recognize her, but I could help her out a lot."
The two have had stellar careers.
Warnock might have been the program's most consistent player over the course of her four years. For example, through her last three seasons as a starter she's averaged 11 or 12 points per game. Her rebounding has ranged from 5.8 to eight per game. She has always shot at least 50 percent from the field, between .404 and .498 from 3-point range and at least 80 percent from the foul line. Even as a freshman she was close to those numbers.
She was second-team All-Big Ten as a junior and two-time academic all-Big Ten in Human Physiology.
"The consistency is something that's amazing to me," Iowa coach Lisa Bluder said of both players. "Night in and night out as long as our season is and also doing a great job in the classroom."
Czinano led the country in field-goal percentage the last two seasons and is fourth (.669) this season. She was first-team all-Big Ten three times and was honorable mention All-America last season. She was a finalist for the Lisa Leslie award as the nation's top center. She is the third-leading scorer (2,248 points) in program history and is 15th in total rebounds (721).
A biology major, Czinano has also been academic all-Big Ten three times.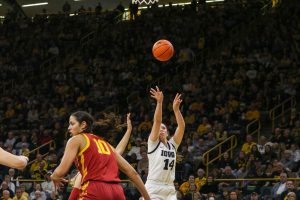 'They've both been captains for the last two years of our program," Bluder said. "It's fun to see kinds develop in their leadership styles and their communication style. Both have done a great job…embracing the freshmen and making them feel good about being here. Passing on the culture of this program is important as well."Warnock is bound for dental school. She's applied at several schools, but the process of interviewing goes into the fall, so she has elected to end her basketball career instead of taking the extra year that the NCAA allowed to make up for the COVID years.
Warnock was one of those players who does a little bit of everything for her team depending on matchups and what the team needs.
"McKenna is a Swiss Army Knife," junior Caitlin Clark said. "She's not maybe the person that's getting all the points or rebounds, but she's going to do whatever our team needs to win. She does a lot of the dirty work for us. At the defensive end getting the toughest assignment, O-boarding, things like that."
Warnock says it's made things interesting.
"I enjoy it. I think it's super fun to guard a point guard one game, a 3-point shooter one game or a post in another game," she said. "There's a big difference guarding (Michigan center) Emily Kiser versus guards."
Warnock might be the least well-known among the prominent players on the team. And that's OK.
"She's not this gregarious personality, but she just knows her role, does her job and doesn't expect a lot of fanfare for it," Bluder said. "And she's exceptional at that. McKenna has always been confident in herself enough that she doesn't require (attention). I think McKenna knows what a good player she is. She doesn't care if anyone else knows it or not."
Czinano arrived in the shadow of Megan Gustafson. When she was recruited Bluder and Associate Head Coach Jan Jensen, Iowa's post guru, saw that she was unafraid of contact, ran the floor and wanted to be strong down in the paint.
 "And we thought, 'We can work with that,'" Bluder said.
After one season Jensen and Czinano did a complete face lift of Czinano's shooting motion. Czinano put in the time, effort and repetition it took to transform her shooting motion into what it is today: simple, consistent and efficient.
That hasn't been all that's changed for Czinano.
"I mean what haven't I taken away from Iowa," she said, rhetorically. "I think there's two different aspects to it. Like what I've learned here. Hard work is a big thing I've learned through basketball, but also the coaches do such a great job of instilling into us being strong females in whatever career path we take."
Czinano said a number of Iowa's players will go into male-dominated fields like dentistry, medicine and engineering. She wants to pursue medicine.
"I know what it's like to be treated with respect. This is my job, as much as I love to do it, I treat it with respect every single day," she said. "I know what it's like to work in a team. Tough love is part of it, those highs and lows. I just have taken so much away from this.
"I'm worried people are going to ask me about career experience for my next job, and I'll (say), 'Well, I was on a basketball team, and it taught me everything I know.' It really has."
Clark and Czinano have been a terrific tandem for the three seasons they've been together, and the junior point guard acknowledged how Warnock and Czinano helped her fit in.
"The post-guard connection is very important. That's something you have to have especially in the offense we run," Clark said. "To have a point guard that's a freshman, they were very understanding and helpful. I was somebody who was probably not fully ready to take on the college game or know what to expect. They helped kind of guide me through that."
Sunday's game against No. 2 Indiana is the last regular-season contest at home for Warnock and Czinano, but if you think they are consumed by that thought you'd be wrong.
"I think it's going to be electric," Czinano said. "I think it's going to be a lot of fun. Quite honestly I know it's Senior Night, but that's kind of the last thing on my mind. This just feels like a great opportunity on our home court. I'm totally way more focused on the game and the opportunity at hand instead of all the theatrics going on on Senior Night."
You can bet Warnock feels the same way.