By Susan Harman
MINNEAPOLIS – The Iowa women's basketball team weathered a poor second quarter and a third-quarter surge by Purdue to win its Big Ten tournament quarterfinal, 69-58, before a crowd that was all Iowa all the time.
"I want to thank the fans; I mean, they were amazing," Iowa coach Lisa Bluder said. "It was Carver-Hawkeye Arena North. I'm so thankful because obviously we needed it today."
Befitting its reputation, in both men's and women's basketball, Purdue was a tough out. Iowa burst out to a 19-10 lead after one quarter, but Purdue made some adjustments and Iowa was the team that managed only 10 points in the second quarter.  Gabbie Marshall almost single-handedly kept the Hawkeyes afloat with two 3-pointers. Monika Czinano and Sydney Affolter added two free throws apiece, but Marshall was the only Hawk who made a basket.
As a consequence Purdue got back in the game and only trailed 29-25 at halftime.
"They just played hard," Iowa's Caitlin Clark said. "You've got to give them credit. They never backed down, especially when we got up, I think, 15 or whatever it was to start the game. They responded; they tried different defenses. They tried to slow the game down because they knew we want to push in transition."
Clark said Purdue went to a box-and-one to clamp down on her.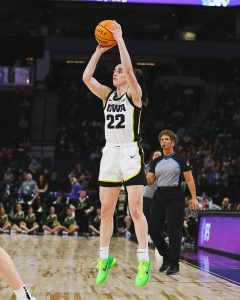 "We didn't really run and cut to our spots," Clark said. "We had too many turnovers (six in the quarter). But we didn't make some shots that we usually make. And they made some shots, so we couldn't really push in transition."
Iowa made 2-of-10 shots in the second quarter. The Hawkeyes were 2-of-5 from three, both by Marshall. Purdue made six baskets in the quarter but made only 6-of-15. Also in the second quarter, Clark committed a foul and then got a technical for questioning the call. Purdue made only 2-of-4 free throws and didn't score on the ensuing possession. So as bad as it was, it could have been a lot worse.
To start the third quarter Purdue held Iowa to one basket in its first five possessions and took its only lead of the game, 34-33. The Boilers were a taking their time and working the whole shot clock against Iowa's zone. Many times they were rewarded with open shots, but they made only 5-of-16 in the third quarter.
The Hawkeyes forged a 45-40 lead when they finally put some productive possessions together. Clark had a 3-point play; Hannah Stuelke scored in transition; Czinano scored over the 6-4 Rickie Woltman and McKenna Warnock knocked in two free throws.
Iowa began the final quarter with a rush. Kate Martin hit a three, her only one of the game, and then Clark took over. She swished a short baseline jumper, scored down the lane on a fast break and then added a three from the wing to bump the lead to 55-42.
"We really responded in the second half. We weren't intimidated by the box-and-one at all," Clark said.
"We shot the ball much better in the second half," Bluder said. "I thought Gabbie worked really hard on defense. I thought she did a great job for us. But you know we got the ball in the paint better in the second half."
Iowa made 15 of its 26 second-half shots, including 4-of-9 threes.
Purdue had 10 paint points to zero for Iowa in the second period. Overall in the half the Boilers had a 16-10 advantage. But in the second half Iowa emerged. The Hawkeyes finished with 28 paint points, six more than the Boilermakers.
"I think we got going in and out," Czinano said. "We were reversing the ball, kind of taking our time pushing and in transition. We were just reverting more back to how we know how to play, setting the tone of the game for ourselves."
Clark finished with 22 points, Czinano 14, Marshall 11 and Warnock nine.
Marshall's contributions were all over the court. She must have run a marathon chasing Purdue shooters besides contributing her 3-point shooting (4-of-7 overall and 3-of-5 from three. Her emergence from an earlier slump to become a threat from three is huge for Iowa.
"Shooting is confidence," Bluder said. "And we just didn't ever let her doubt herself the whole year. And we're never going to tell her to stop shooting the ball."
Iowa will play Maryland Saturday at approximately 4 p.m.
Maryland defeated Illinois 73-58 in the quarterfinals, and also split with Iowa during the regular season, with both teams winning at home.
https://twitter.com/IowaWBB/status/1631834060036161538?s=20