By Susan Harman
MINNEAPOLIS—No one could quite figure out why Iowa senior Gabbie Marshall struggled with her 3-point shot early in the season. Certainly not Marshall and not her coaches or teammates. Her form was fine, but after missing shots she also became hesitant to take shots, which compounded the problem.
"When you struggle like I did in the beginning and just knowing the confidence that my coaches and teammates have in me, I knew I had to start making shots in order to open things up," Marshall said.
"(It feels) honestly amazing, actually, especially because I know how I've gotten my confidence back. Just seeing all those shots go in is just a great feeling."
According to coach Lisa Bluder Marshall has made 58 percent of her threes in the last nine games. And Saturday Marshall tied her career high with seven threes against Maryland.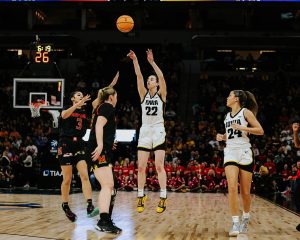 Marshall constantly got positive feedback from teammates and coaches and continued to work on her shot. Her emergence couldn't have come at a better time for the Hawkeyes.
"I'm so happy for Gabbie, her shot going in," McKenna Warnock said. "She's an amazing shooter and I'm glad that she can show it to everyone."
*Numbers.  Maryland made 6-of-13 threes in the first half against Iowa but only 2-of-10 in the second. Iowa's 40 3-point attempts set a Big Ten Tournament record. Iowa's 15 made threes tied a Big Ten Tournament record (Nebraska 2022). If Caitlin Clark has seven assists in Sunday's game she will break the record for career tournament assists (67) held by Ohio State's Sammy Prahalis.
 Eight of the 12 tournament games have been decided by five or fewer points.
*Fair warning to Iowa.  Ohio State and Indiana played a game in which each team was its best self in one half. Indiana played beautiful basketball throughout the first half. The Hoosiers got the good shots, moved the ball, more than held their own on the boards, and held the Buckeyes to 29 percent shooting. The Hoosiers shot 53 percent and committed only four turnovers.
They led by as many as 24 points and settled for a 20-point halftime lead. The second half IU shot 28 percent and committed 14 turnovers as Ohio State cranked up its full-court pressure defense. The Buckeyes had 11 second-half steals. OSU outscored IU 53-29.
"We knew that they were not going to go away in the second half after the first half that we had," Indiana coach Teri Moren said. "So the message was 'erase the score.' We knew the press was going to come out, and that's on me. We just didn't handle ourselves the way we needed to.
"The bugaboo was the press today, but we've handled it at our place. We handled it at their place. Today in the semis that wasn't a good moment for us to have to not be able to handle it."
 Indiana fifth-year senior Grace Berger said OSU's press was a bit different than it had shown in the teams' previous games.
"I think they did a better job of denying, getting the ball in," she said. "Then I think you have Jacy Sheldon back, and she makes a big difference. She's quick; she's athletic; she's really good."
Sheldon didn't start but it's obvious when she's on the court how much the Buckeyes have missed her since an early-season injury.
OSU's Kevin McGuff said he couldn't remember a comeback like this one.
"It was pretty wild," he said. "I think one of the biggest things is it's hard to go down 24 and win a game against anybody but especially a great team like Indiana. Not only are they a great team, they're well coached, they're organized and they have mature older players who don't get rattled."
https://twitter.com/IowaWBB/status/1632196776320020484?s=20