By Pat Harty
IOWA CITY, Iowa – When news broke on Monday that the Iowa Board of Regents, and the University of Iowa, have agreed to settle a discrimination lawsuit filed by seven former Iowa football players, it hardly came as a surprise.
Because it seemed obvious that a settlement was in the works when the plaintiffs in the lawsuit filed against Iowa head football coach Kirk Ferentz, assistant coach Brian Ferentz, athletic director Gary Barta and former strength and conditioning coach Chris Doyle had filed for dismissals without prejudice about a week earlier.
Some mistakenly viewed the dismissals as a victory for the Iowa coaches, and as proof that the lawsuit was a lost cause due to a lack of credible evidence.
But this case had settlement written all over it from the moment the plaintiffs filed for dismissals without prejudice.
The question was how much the settlement would cost, and the answer came on Monday with news that University of Iowa would pay $2.175 million, while the state would pay the additional $2 million from its general fund.
The settlement was approved by a 2-1 vote by Iowa's State Appeal Board Monday afternoon.
In the provisions of the settlement, the players will get tens of thousands in tuition expenses, and a year of mental health counseling. It also requires the University of Iowa to hire a diversity, equity, and inclusion consultant to help the athletic department implement its five-year diversity plan.
State Auditor Rob Sand, who is a member of the State Appeal Board, issued a statement saying he would oppose spending state dollars to settle the suit unless Gary Barta, "is no longer employed at the university and forfeits any severance or similar pay."
Sand also pointed out that this is the fourth discrimination settlement under Barta's watch.
Combine the cost of all four settlements and it's close to $10 million that the university apparently is willing to pay to avoid the risk of litigation and discovery.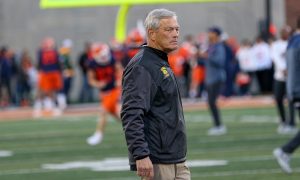 Iowa isn't necessarily admitting guilt, but it's also paying a significant amount of money to avoid litigation and to dodge negative publicity.
Kirk Ferentz released a statement on Monday in which he was greatly disappointed with how this legal matter was resolved. But he also expressed gratitude for the "many players, parents, donors, fans and others who have remained supportive of our coaches and program during this time."
Ferentz said the negotiations between plaintiff's counsel and the Attorney General's Office took place "entirely without the knowledge or consent of all the coaches who were named in the lawsuit."
He also said that for more than two years, the Iowa football program has been "unfairly and negatively impacted by these allegations."
Kirk Ferentz is obviously upset with how this was handled, and with how an agreement was reached, and he certainly has a right to defend his program and his coaches, which includes his son.
But it still doesn't change the fact that four discrimination settlements have occurred under the same athletic director, and that is a disturbing and expensive pattern of behavior, and a public relations nightmare.
It also makes you question whether there is some dysfunction in the athletic department or breakdowns that are causing these kinds of failures to happen.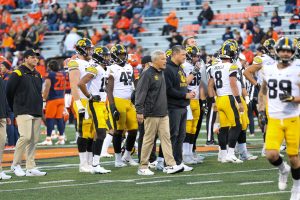 Some fans are saying that Barta should be fired immediately because all this is happening under his watch.
There is no denying that these settlements are costly and embarrassing, and they also make Iowa an easy target for criticism.
The case involving the seven former football players has been described by some Iowa fans as strictly a money grab by disgruntled and greedy former players who are out to exploit the circumstances.
And while there might be some truth to that, it still doesn't mean that the multiple accusations of racial discrimination that were made public by former Iowa players in the summer of 2020 were all false.
Both narratives can be true in this case.
Iowa took the accusations serious enough that Chris Doyle was relieved of his duties barely two weeks after they were made public. He agreed to a $1.2 million separation and was gone, abruptly ending a two-decade run in which Doyle was considered one of the top strength and conditioning coaches in college football.
Kirk Ferentz also admitted to having a "blind spot" in response to the accusations, and he vowed to fix it.
So, to dismiss all the accusations as just former players being vindictive and speaking out of frustration, and looking for payback, or as just tough love from Doyle and the coaches seems misguided, narrow-minded and inaccurate.
There were nearly 50 former players that spoke out about racial disparities and bullying. You can't just dismiss them all as liars, or as someone looking to cash in on the adversity.
Two internal investigations were conducted in which there were multiple reports of racial disparities within the football program.
Former Iowa offensive lineman James Daniels was hoping that the athletic department would respond to the investigations with what he felt were necessary changes, and he reportedly waited for nearly a year for some action to be taken.
But when it didn't happen, Daniels finally went public with his frustration by posting his feelings on Twitter in the summer of 2020, and then it became a national story, and a blemish on Kirk Ferentz's track record.
It seems fair to say that progress has been made from a culture and from an inclusivity standpoint based on the number of current black players, or recent players, that have spoken highly of the changes.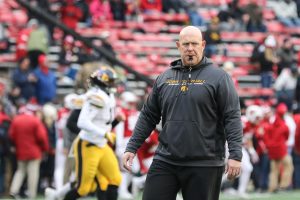 Former Iowa receiver Tyrone Tracy Jr. said the culture within the football program was more like a home than a house, and that was his way of saying that progress had been made.
A skeptic might ask then why did Tracy transfer to Purdue last summer?
He transferred because he had lost his job as a starter and wanted more playing time.
It was a football decision more than anything else.
Former Iowa defensive back Kaevon Merriweather also has said multiple times that the culture within the football program is much better now than it was before the accusations were made public.
And it would be hard in this case to find a more credible source than Merriweather.
Gary Barta has been the Iowa Athletic Director since 2006, and there are rumors that he is making plans to move on.
Regardless how you feel about Barta, or how you feel about the allegations of racism within the Iowa football program, this latest settlement continues a disturbing and embarrassing trend for Hawkeye athletics.
Rob Sand is also right in saying that taxpayer money shouldn't be used to pay for any part of the settlement.
Iowa receieves more than $50 million annually from Big Ten television revenue, and that figure is expected to keep rising with UCLA and USC both on the verge of joining the Big Ten.
So, there should be plenty of money to pay for the repeated mistakes that have been made under Gary Barta's watch.
Iowa should worry less about where the money comes from and more about who's in charge of the athletic department.