By Hawkeyesports.com
IOWA CITY, Iowa — Six University of Iowa men's basketball student-athletes earned postseason recognition by the league head coaches and selected media panel, the Big Ten Conference announced Tuesday.
Junior forward Kris Murray was selected as a first-team All-Big Ten honoree by both the media and coaches. Senior forward Filip Rebraca was a third team pick by the media and honorable mention by the coaches. Senior Connor McCaffery and junior Tony Perkins were honorable mention selections by both the media and coaches. Sophomore Payton Sandfort was chosen as the conference's Sixth Man of the Year by the Big Ten by the coaches. Junior Patrick McCaffery earned the team's Big Ten Sportsmanship Award for the second straight season.
Murray earned unanimous distinction by the media, marking the fourth straight season a Hawkeye has been a unanimous selection (Keegan Murray in 2022; Luka Garza in 2020 and 2021).
Head coach Fran McCaffery has coached a first-team All-Big Ten honoree in eight of the last 10 seasons, matching the most over a 10-year span in program history (1939-48). Murray joins Devyn Marble (2014), Aaron White (2015), Jarrod Uthoff (2016), Peter Jok (2017), Garza (2020 and 2021), and Keegan Murray (2022) as first team selections.
Murray averages a team-best 20.5 points, eight rebounds, and one block per game. He is the only Division I player to average 20+ points, 8+ rebounds, and have made 60+ 3-pointers this season. The Cedar Rapids, Iowa, native has scored 30+ points four times this season, 25+ points nine times, and 20+ points 15 times. Murray averaged 21 points per game, ranking third in the league, during conference play. From his sophomore to junior season, Murray has boosted his scoring average by 11.8 points.
Rebraca is second on the squad in points (13.9) and rebounds (7.6) per game, while ranking first in field goal percentage (.571), blocks per contest (1.0) and free throws made (98) and attempted (149). The native of Sombor, Serbia, has netted double figures a team-best 26 times and posted a team-best nine double-doubles this season. Rebraca averages 2.9 offensive rebounds per game, fifth best in the Big Ten and 49th-best nationally. His field-goal percentage of 57.1 percent is 33rd-best in the country.
Connor McCaffery leads the country in assist-to-turnover ratio (4.19) by a wide margin. He has played in 111 games that Iowa has won, tying former teammate Jordan Bohannon for most in program history. McCaffery is averaging 6.7 points, 4.1 rebounds and a team-best 3.8 assists per game this year. He has made a single-season best 37 triples, which are third most on the team. McCaffery has had zero turnovers in 13 of 30 games this season, including five of the last 10 contests. He made 19 consecutive free throws from Nov. 29 to Dec. 29, 2022, and has missed only seven attempts (45-of-52) from the charity stripe this season.
Perkins ranks third on the team in points per game (12.4), first in steals (43), second in assists per game (2.8) and tied for fourth in rebounds per outing (4.0). His 84 free throws made are second most on the team. He has reached double figures in scoring 19 times this season, including five of the last six games. He scored a career-best 32 points, bolstered by 15-of-16 makes from the free throw line, in Iowa's win over Illinois on Feb. 4. The Indianapolis native made his first 15 free throw attempts, tying the school record for most consecutive free throw makes in a single game (Andre Woolridge vs. Northwestern on March 8, 1997).
Sandfort becomes the fourth Hawkeye to earn Sixth Man of the Year accolades, joining Doug Thomas (2006), Gabriel Olaseni (2015) and Nicholas Baer (2017). Sandfort averages 10.2 points, 1.8 3-pointers, 4.0 rebounds, and 1.4 assists. He drained four or more triples in five games, including two of the last three contests. Sandfort has made a combined 13 treys over the last three games (Michigan State, Indiana, Nebraska). The native of Waukee, Iowa, has scored in double figures 13 times this year. Sandfort scored Iowa's final seven points, including a four-point play, to force overtime in a win over Michigan and netted 22 points, including a game-tying triple to force overtime, in the home victory over Michigan State.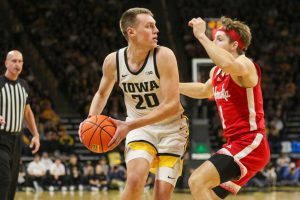 Patrick McCaffery is averaging 10.1 points and 3.6 rebounds in 25 games. McCaffery has tallied double figures in scoring 11 times this season, including reaching 20 points five times. His 1.4 3-pointers per game is third best on the team. He netted 23 points, bolstered by a personal-best 6-of-10 shooting from 3-point territory, in the regular season finale against Nebraska.
Joining Murray on the first team, by both coaches and media, were Zach Edey of Purdue, Indiana's Trayce Jackson-Davis and Jalen Pickett of Penn State. The coaches' fifth first-team selection went to Terrence Shannon of Illinois, while both Boo Buie of Northwestern and Michigan's Hunter Dickinson made the media's first team due to a tie. Murray, Edey, Jackson-Davis and Pickett were all unanimous picks by the media, while Edey and Jackson-Davis were unanimous by the coaches.
The All-Defensive Team consisted of Chase Audige (Northwestern), Zach Edey (Purdue), Trayce Jackson-Davis (Indiana), Caleb McConnell (Rutgers) and Clifford Omoruyi (Rutgers). The All-Freshman Team featured Jalen Hood-Schifino (Indiana), Jett Howard (Michigan), Brice Sensabaugh (Ohio State), Braden Smith (Purdue) and Connor Essegian (Wisconsin).
Both the media and coaches voted Chris Collins of Northwestern as the league's Coach of the Year. The coaches selected Chris Lowery of Northwestern as the Howard Moore Assistant Coach of the Year, and McConnell and Audige as Co-Defensive Players of the Year. Both groups named Hood-Schifino as Freshman of the Year.
Iowa (19-12) will open Big Ten Tournament play on Thursday in the second round versus Wisconsin or Ohio State. Tipoff is scheduled for approximately 1:30 p.m. (CT) at the United Center in Chicago.
Kris Murray
First-Team All-Big Ten (unanimous by media)
First-Team All-Big Ten (coaches)
Filip Rebraca
Third-Team All-Big Ten (media)
Honorable Mention All-Big Ten (coaches)
Connor McCaffery
Honorable Mention All-Big Ten (coaches and media)
Tony Perkins
Honorable Mention All-Big Ten (coaches and media)
Payton Sandfort
Sixth Man of the Year (coaches)