By Pat Harty
CHICAGO – Live by the three, die by the three.
If ever there were a phrase to describe the 2022-23 Iowa men's basketball team, that's it, with the latest example being Thursday's 73-69 loss to Ohio State in the Big Ten Tournament.
Iowa, which won the Big Ten Tournament last season, only made 4-of-17 shots from 3-point range, and that more than anything, led to the loss against the Buckeyes, who are seeded 13th in the tournament and below .500.
Over the last game-and-a-half, Iowa has combined to make just 7-of-34 shots from 3-point range, and both games, not surprisingly, ended in losses.
Iowa made just 3-of-17 shots from 3-point range in the second half of last Sunday's 81-77 loss to Nebraska on Senior Day at Carver-Hawkeye Arena after having made 9-of-20 threes in the first half.
And while every team is impacted by its ability to make 3-point shots, it seems to really dictate how Iowa's performs on offense.
Iowa prefers to play at a fast pace under Fran McCaffery and will take a lot threes in transition. That style works great when the threes are falling, but it becomes a major obstacle when they aren't falling.
Ohio State controlled the pace of the game for most of the first half on Thursday, and that was due mostly to Iowa missing 3-point shots.
Iowa led 28-26 at the break, but it was a struggle on offense as evidenced by the low scoring.
"We were trying to push it," Fran McCaffery said. "You know, they run sets. They're not going to go unless there's an opportunity, and that's just how they play.
"We shot fifty percent from two (in the first half), and didn't make many threes, didn't make many threes in the game. I thought we took good ones. It wasn't like I was saying, 'hey, that was a bad shot.' I want the guys to shoot threes. They just didn't go."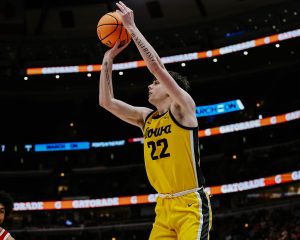 Fran McCaffery gives his players a lot freedom to take 3-point shots, and sometimes the results are incredible, like on Feb. 28 when Iowa made five threes in the final 38 seconds of regulation to erase an 11-point deficit against Michigan State.
Iowa would then go on to defeat the Spartans 112-106 in overtime at Carver-Hawkeye Arena. The Hawkeyes finished that game 17-for-36 from 3-point range.
Iowa led the Big Ten in scoring this season, averaging 80 points per game, and the combination of 3-point shooting and playing at a fast pace is mostly what fuels the high scoring.
The problem for Iowa is that it sometimes gets complacent and stagnant on offense when the threes aren't falling as was the case in Thursday's loss at the United Center in Chicago.
Iowa showed signs of making a surge when sophomore Payton Sandfort made a breakaway dunk following a Buckeye turnover to push the lead to 55-51 with less than nine minutes left to play.
However, the Buckeyes answered with a 3-point basket by Justice Sueing.
Every time Iowa would take the lead in the second half, Ohio State would have an answer.
The Buckeyes then secured the win by making four consecutive free throws in the final 33.4 seconds.
"I feel like we got open looks we wanted to get. They just weren't falling," said Iowa junior forward Kris Murray. "We were able to get stops too, so it was a close game going into halftime."
"Just making shots is the biggest thing, honestly, in the beginning. But both sides of the ball, I feel like we did pretty well."
There were some bright spots for Iowa on offense, including senior forward Filip Rebraca, who finished with 20 points and seven rebounds.
Kris Murray and junior guard Tony Perkins also scored in double figures for Iowa with 17 and 16 points, respectively.
The three combined for 53 of Iowa's 69 points.
There was a mad scramble for a loose ball in the closing seconds in which multiple players dove on the floor trying to gain possession.
The officials reviewed the play and ruled that it was Ohio State's ball.
"Just two teams going for the ball," Kris Murray said. "Tough game. I mean, I'm not sure about the call at the end, but it just didn't go our way, I guess, and they got the ball back.
"I couldn't tell you exactly what happened. There was a lot of chaos going on."
Perkins scored 11 of his 16 points in the second half, and was clearly more aggressive on offense in the final 20 minutes.
But he did, however, miss two free throws with Iowa trailing 67-64 with 2 minutes, 26 seconds left to play.
"I didn't want to lose the game," Perkins said. "So, I tried to do the best I can, bring the most energy I can. I had my teammates bring the best energy that they could for these last 20 minutes. That was pretty much it.
"I just told them lock in. We've got 20 minutes left. We're down by one at halftime."
Payton Sandfort, who is one of Iowa's best 3-point shooters, never really got on track in Thursday's game after being called for two touch fouls in the first half. Sandfort only played 15 minutes and didn't even attempt a shot from 3-point range.
"I really felt like he was really frustrated," Fran McCaffery said. "I think you saw that. I think everybody saw that. That was unfortunate for him."
The good news for this Iowa team, which has a 19-13 record, is that it will live to play in at least one more game in the NCAA Tournament.
Iowa also could have a week to prepare, unlike last season when Iowa won the Big Ten Tournament by winning four games in four days, but then had to play an NCAA first-round game on the following Thursday, and would go on to lose to Richmond.
"We're just going to move on to the next game," Fran McCaffery said. "I mean, that's the plan. Wait to see who we're going to play and get ready for that. We take a very business-like approach."