By Pat Harty
As somebody who has covered the Iowa Hawkeyes since the early 1990s, I get asked a lot of questions about multiple topics related to the Hawkeyes.
Especially this time of year as March Madness starts to heat up.
This column was written in response to a question that was asked recently.
Would Fran McCaffery be on the hot seat if Iowa loses to Auburn in the first round of the NCAA Tournament on Thursday in Birmingham, Alabama?
My answer without giving it any thought was an emphatic no.
Fran McCaffery's seat isn't anywhere close to even being warm, and to suggest otherwise is just being silly.
Is there room for improvement for an Iowa program that hasn't advanced to the NCAA Sweet 16 since 1999?
Without question.
Is Fran McCaffery sometimes his own worst enemy because of his temper?
Without question.
But to suggest that he might be on the hot seat as Iowa prepares for its third straight appearance in the NCAA Tournament makes absolutely no sense.
The Hawkeyes would be playing in a fifth consecutive NCAA Tournament if the Covid-19 global pandemic hadn't canceled the tournament in 2020.
Five straight appearances would tie the program record set under Lute Olson.
Iowa also won the Big Ten Tournament last season, and 26 games overall.
Iowa has finished fifth place or better in the Big Ten standings seven of the last nine years, and has had seven players make first team All-Big Ten in eight of the last 10 seasons.
Iowa (19-13) is one win from its fifth consecutive 20-win season and ninth overall under Fran McCaffery. The last time the Hawkeyes posted five straight 20-win seasons was 1995-99 under Tom Davis.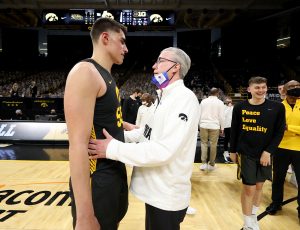 Fran McCaffery has lifted the Iowa program back to where Tom Davis had it when he was unfairly and unjustifiably forced out by then athletic director Bob Bowlsby in 1999.
Bowlsby was determined to lift the program to a new level when he hired Steve Alford to replace Davis as head coach.
And while forcing Davis out did lift the program to a new level under Alford, it wasn't what Bowlsby had envisioned as the program took a step backwards under Alford, on and off the court.
Iowa only made three NCAA Tournament appearances in eight seasons under Alford, and there was also the shame and embarrassment caused by the Pierre Pierce sexual assault scandal.
Alford bolted from Iowa to New Mexico shortly after the 2006-07 season because the pressure to win was starting build under new athletic director Gary Barta.
No disrespect to New Mexico, but it hardly compares to Iowa from a stature and prestige standpoint.
Alford was willing to go down a notch to stay one step ahead of the posse.
Barta then hired Todd Lickliter to replace Alford, and that would prove to be a colossal mistake as Iowa suffered through three consecutive losing seasons, and had an alarming number of player defections before Barta finally said enough and fired Lickliter.
The Iowa program was in shambles when Fran McCaffery left Siena in 2010 to start cleaning up Lickliter's mess.
Success didn't come right away as Iowa finished 11-20 in Fran McCaffery's first season as head coach.
Iowa then won 18 games in McCaffery's second season and 25 in his third season, and Iowa also played in the National Invitation Tournament in both of those seasons, advancing to the title game in his third season.
The program is now at the level where NCAA Tournament appearances are the rule rather than the exception.
Some fans say they are suffering from Fran Fantigue with this being his 13th season as head coach.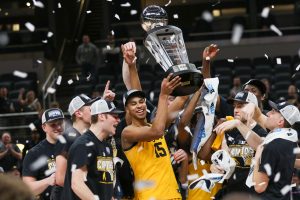 And fair enough because 13 seasons is a long time for a head coach to stay in one place.
But that still doesn't make Fran McCaffery's seat hot, or even warm.
And that wouldn't change should Iowa lose to Auburn on Thursday.
Fran McCaffery's temper, unfortunately, sometimes overshadows his success, on and off the court.
In addition to making Iowa an NCAA caliber team on a regular basis, Fran McCaffery also recruits players with high character.
It's hard to even think of the last time an Iowa player was in serious trouble with the law or did something to embarrass the program.
Former Iowa center Luka Garza thrived under Fran McCaffery's leadership and left Iowa in 2021 as the program's all-time leading scorer, as a two-time consensus All-American, and as the 2021 the National Player of the Year.
Former Iowa forward Keegan Murray was also a consensus All-American last season, and would go on to be the fourth player selected in the 2022 NBA draft, while his twin brother, Kris Murray, earned All-America accolades this season, and also projects as first-round pick in the 2023 NBA draft.
Fran McCaffery and his wife, Margaret, also have made it their life's mission to raise money and awareness to fight cancer.
Fran McCaffery lost both of his parents to cancer, while his son, Iowa junior forward Patrick McCaffery, had a malignant tumor removed from his thyroid in 2014.
Those suffering from Fran Fatigue should be careful what you wish for, because as Iowa fans are fully aware, it only takes one or two bad hires to turn a good program into a bad one.
The only way Fran McCaffery isn't the Iowa coach next season is if he would choose to leave under his terms.