By Pat Harty
As Iowa and Auburn prepare to meet in Thursday's NCAA Tournament first-round game, there is a strong possibility that 3-point shooting will impact the outcome of the game perhaps more than anything else.
While every team relies on 3-point shooting to a certain extent, Iowa's dependance on the long ball usually has a huge effect on whether it wins or loses.
Iowa will enter Thursday's game in Birmingham, Alabama with a 19-13 record, and as a No. 8 seed.
In its 19 wins, Iowa is shooting 41.5 percent (183-of-441) from 3-point range, while in its 13 losses, Iowa is shooting just 24.1 percent (75-of-311) from behind the arc.
Iowa will be matched against a Bruce Pearl-led Auburn team that is much better at defending the three than shooting the three.
Auburn (20-12) locks down the perimeter on defense, allowing opponents 28.8 percent three-point shooting, which ranks fifth nationally.
But Auburn only shoots 31.4 percent from three, which ranks 311th nationally.
"They really fly at shooters, so we're going to definitely need to deal with that and kind of adjust throughout the game," Iowa senior guard Connor McCaffery said of Auburn. "They really get up in your space. They're athletic. They're fast, obviously, we've all seen that.
"So, we're just going to need it to be a disciplined game and try not to let them speed us up."
Iowa prefers to play at a fast pace and takes a lot of 3-point shots in transition, while No. 9 seed Auburn would prefer to make it a half-court game in which it hopes to grind out a win.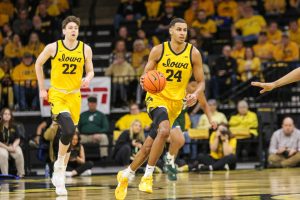 Both contrasting styles have worked at times this season, but also have failed at times this season as shown by each team's overall record.
Iowa and Auburn have combined for 25 losses, and the outcome of Thursday's game could depend on which Iowa team shows up; the one that crushed Indiana 90-68 on Feb. 28 in Bloomington, Indiana, or the one that lost to Nebraska 81-77 less than a week after on Senior Day at Carver-Hawkeye Arena.
"They run really good stuff and they execute well in the half-court level," Fran McCaffery said of Auburn. "They can play fast. They can grind in half court if they want to.
"But I think ultimately, they defend and put pressure on the ball. They're going to challenge you on your actions and they will also challenge you on the glass."
Fran McCaffery believes that rebounding could be the biggest factor in Thursday's game.
"A lot of times when you get to this point in the season, everything that happens, a lot of times it come down to rebounding the ball, and they're really good at it," Fran McCaffery said. "So that'll be a challenge for us."
Auburn has four players averaging double figures in points, led by 6-foot-10 Morehead State transfer Johni Broome at 14.0 points per game. He also averages 8.4 rebounds, and his 2.32 blocks per game rank 11th nationally.
This will be the first game between Iowa and Auburn in men's basketball, but the two head coaches are very familiar with each other.
Fran McCaffery and Bruce Pearl have a friendship dating back to when Pearl was an Iowa assistant coach from 1986-92 under Tom Davis, and McCaffery was a Notre Dame assistant coach.
"I got to know Bruce actually when he was at Iowa and I was at Notre Dame," Fran McCaffery said. "I've been friends with Bruce ever since. He's done a spectacular job everywhere he's been."
Pearl also spoke highly of Fran McCaffery at Wednesday's press conference.
"He does a great job of utilizing his personnel and putting his personnel in a position to be successful," Pearl said. "They play unselfishly and they don't turn the ball over. They will get a shot off before they turn it over.
"He's been doing it a long time. He knows what works."
Fran McCaffery and Pearl are both highly emotional as head coaches, and sometimes that can lead to technical fouls.
A reporter asked Pearl at Wednesday's press conference if he should take the over or the under at 1 ½ in regard to how many technical fouls would be called in Thursday's game.
"I've got a couple grand kids and love their energy and I love their passion and every now and then, they throw a fit," Pearl said. "I still love them.
"I think it's one of the best matchups because of the quality of the teams, and how competitive the game could be. We're going to have to play well for it to be competitive, I can tell you that. Fran wears it on his sleeve also, but we respect the game. I'll take the under on the technical fouls."
Pearl also spoke highly of 6-8 Iowa junior forward Kris Murray, who was named third-team All-America by the Associated Press and first-team All-Big Ten.
Pearl compared Murray to Alabama freshman All-American Brandon Miller, who is 6-9 shooting guard.
"We played against Brandon Miller, who is also a tough matchup," Pearl said. "Kris has got a little more ability inside. We'll have our hands full because he can do things inside and out."
Auburn is expected to have an advantage in fan support with Birmingham only being about two hours from the Auburn campus.
However, Iowa could gain some new fans with No. 1 seed Alabama also playing in Birmingham because it's no secret that Auburn and Alabama fans despise each other. The hope is that Alabama fans will stick around to cheer for the Hawkeyes.
Whatever should happen in the stands, Fran McCaffery doesn't think it will impact his team's performance.
"I don't think anybody is going to think much about that," Fran McCaffery said. "Obviously, from a fan perspective, fans want their team closer. So, for them, I'm sure they're excited about it.
"But as far as how we look at this game, and how we prepare will be the same. We see a lot of hostile environments in our league."
Iowa (19-13) vs. Auburn (20-12)
When: Thursday, 5:50 p.m.
Where: Birmingham, Alabama (Legacy Arena)
What: NCAA Tournament first-round game
TV: TNT
Radio: Hawkeye Radio Network
Series: This will be the first meeting between the two teams.