By Susan Harman
IOWA CITY, Iowa – Iowa fans were treated to exactly the kind of game they hoped for Friday afternoon, as the second-seeded Iowa women's basketball team ran away from 15-seed Southeastern Louisiana, 95-43, in a first-round NCAA Tournament game.
Stalwarts Caitlin Clark and Monika Czinano were excellent. Clark started the game with a rush, making her first four shots from various lengths and sinking two free throws. She had 12 of Iowa's first 15 points to set the tone.
"I thought it felt really good to come out and start like that; it's huge, especially when you've had time off not playing games," Clark said.
"I'll be honest, we haven't seen anything like Caitlin Clark, Southeastern coach Ayla Guzzardo said. "What she can do with the ball from a scoring (vantage) to her passing.
"LSU has more bigs with Angel Reese and same with Utah and their bigs, but as far as the guard spot we haven't seen anything like that."
Czinano didn't get going right away, but that's only because she wasn't getting the ball. She worked hard to gain position in the post and was money the rest of the game, making 10-of-12 shots and finishing with 22 points.
Southeastern came in with impressive defensive credentials, holding opponents to 54.5 points per game and 38 percent shooting. But Iowa scored those 54 points by halftime in taking a 22-point lead. Up and down the court the Hawkeyes ran, and after making 20-of-33 first-half shots they were well on their way. Iowa finished shooting 60 percent from the field.
"It's tough to guard Iowa," Guzzardo said. "It's going to be tough for anybody in the tournament to guard Iowa. They have some pieces that are very different than a lot of schools."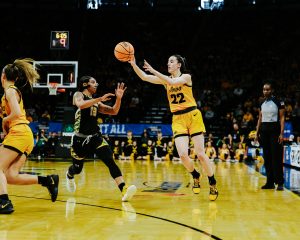 Every Hawkeye got to play. Bluder had subs in with 7 minutes left in the game. Hannah Stuelke and Addie O'Grady, both reserve posts, combined to make 8-of-8 shots, which made Iowa's posts 18-of-20 for the game.
Just as importantly, everybody got a chance to rest up for Sunday's 2 p.m. second-round game against Georgia. The Bulldogs (22-11) defeated Florida State 66-54.
Iowa was sort of moseying through the second quarter with an 11-point lead when the Hawkeyes blew the game open. Stuelke scored inside after her offensive rebound kept the possession alive. Clark drove the lane in transition for a bucket and then Molly Davis took center stage.
Clark  stole the ball at the other end and started a fastbreak.
"Caitlin was coming down on the fastbreak, and my girl kind of left to go to Caitlin," Davis said. "Caitlin threw that pass ,and I went up for the layup. I didn't even realize I made it until I hit the ground and heard the crowd go wild."
Davis had been leveled by the considerably larger Taylor Bell.
"I didn't feel so good," Davis said. "It was a forearm to the head. She was trying to go for the block."
Davis said she had a bit of a headache as she got to her feet. The Lions were about to inherit that headache. Bell was called for an intentional foul after officials reviewed the play.
Davis's bucket was good and Iowa coach Lisa Bluder had the option of having anyone take the two foul shots for the intentional foul. Kate Martin came running off the bench to make both. Iowa had possession and Stuelke added points five and six with a layup.
"I think there was a little momentum shift for us," Davis said. "I think the crowd actually plays a role in that too."
"I think that was the loudest I heard our crowd all day," Clark said. "They were screaming. That was a huge possession."
 Offense is the display window of basketball, but in the back racks the Hawkeye defense was stifling. The zone defense. Southeastern kind of hung around until Iowa switched defenses, and then the Lions just collapsed.
"They started going zone, so it's like we had to punch more gaps and attack more when we go in there with the bigs," Southeastern point guard Jen Pierre said. "It's like a challenge. They are forcing us to shoot the outside shots. The zone really, really helped them."
 "They spread us out more," Hailey Giaratano said. "We are trying to drive more because we're not a great 3-point shooting team."
 The Lions made three baskets in the second half. They made just 3-of-32 shots. It was extraordinary.
"I think they really wanted to drive, and you know whenever you're in a zone that kind of takes away drives or makes them force threes," Martin said.
The 43 points allowed was the second-best performance by Iowa's defense. Iowa held Southern University to 34 in the season opener.
Eleven players scored for Iowa, and the Hawks delivered 27 assists on 36 baskets. Clark had 12 assists to go with her game-high 26 points and nine rebounds. This was not the game to leave her in to wrap up a triple double.
"I thought we really picked up right where we left off," Bluder said. "I don't think we got any rust in us over the last two weeks. If anything we got a little sharper."
Name a better duo 😎 @CaitlinClark22 x @MCzinano

— Iowa Women's Basketball (@IowaWBB) March 17, 2023