By Pat Harty
IOWA CITY, Iowa – The NCAA Tournament is a wonderful event, maybe the best of all sporting events.
It is where the improbable suddenly becomes probable and where underdogs sometimes prevail on the biggest stage, and where some head coaches and players go from obscurity to basking in the national spotlight.
The only problem with the NCAA Tournament is that it has too much weight and influence in regard to how teams, seasons and head coaches are evaluated.
The Iowa men's basketball team has made three straight NCAA Tournament appearances, and it would've been five straight if the 2020 NCAA Tournament hadn't been canceled due to the outbreak of the Covid-19 global pandemic.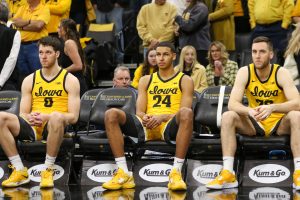 Five straight NCAA Tournament appearances would tie the program record under the same head coach, which was set by Lute Olson from 1978-83, and yet, there are fans that want Fran McCaffery fired, or at least, on the hot seat because Iowa has failed to advance past the second round of the NCAA Tournament during his 13 seasons as head coach.
That is pretty much the only reason some fans want Fran McCaffery replaced.
Some will also try to support their narrative by saying that his temper and sideline antics are a bad look for the program, and that combined with his lack of success in the NCAA Tournament is enough to warrant a coaching change.
This narrative has gained a lot of momentum since Iowa lost to Auburn 83-75 in an NCAA Tournament first-round game this past Thursday in Birmingham, Alabama.
It was just a year ago that Iowa won the Big Ten Tournament, and 26 games overall, and yet, some fans still believe it's time for a coaching change, and this belief is based almost entirely on Fran McCaffery's lack of success in the NCAA Tournament.
Iowa hasn't been to the Sweet 16 since 1999, and now more than half of the drought has occurred under Fran McCaffery.
So, yes, that's a legitimate concern, and fans certainly have a right to be angry and frustrated.
But to say that Fran McCaffery should be fired under the current circumstances is an over-reaction to yet another early exit from the Big Dance.
Iowa could've struggled throughout the regular season, and then defied the odds by winning the Big Ten Tournament, and by making a run in the NCAA Tournament, and to some, that would've made what happened in the regular season irrelevant.
But to judge Fran McCaffery, or any head coach fairly, it requires looking at the entire body of work, and right now, Fran McCaffery's body of work passes the test.
He needs to work on his temper, and his lack of success in the NCAA Tournament is without question a problem that will have to be addressed.
But after 13 seasons as head coach, the good still outweighs the bad with Fran McCaffery.
He now enters the offseason with a roster that will look much different next season compared to this season.
The question is, how much different?
Sixth-year senior guard Connor McCaffery, who is Fran McCaffery's son, and fifth-year senior forward Filip Rebraca are leaving for sure, while fourth-year junior forward Kris Murray is almost certainly leaving, too, as an early entry in the 2023 NBA draft.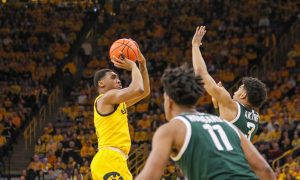 The loss of those three players is significant and will probably cause Fran McCaffery to rely on the transfer portal for help.
It wouldn't be a surprise if Fran McCaffery had to replace more than just Connor McCaffery, Rebraca and Kris Murray because rosters are so fluid in this age of the transfer portal.
Players continue to enter the transfer portal at an alarming rate, and there are no signs of that changing anytime soon.
So, it's really hard to evaluate next season's team, or to preview the 2023-24 season, because there is too much uncertainty from a personnel standpoint.
Iowa's current roster might look different in a month or two.
But assuming all the returning players stick with the Hawkeyes, the foundation would be built around 6-foot-9 senior forward Patrick McCaffery, who is also Fran McCaffery's son, 6-4 senior guard Tony Perkins and 6-7 junior forward Payton Sandfort.
Ahron Ulis started most of the games at point guard this season as a junior, so he would also likely be a key piece next season.
Patrick McCaffery is a talented scorer whose 2022-23 season was interrupted by his struggle with anxiety.
Patrick has to get stronger, and improve as a rebounder, but he could be Iowa's top-scoring option next season, assuming Kris Murray won't be on the roster.
Perkins is also a capable scorer, but he struggles with consistency on offense, mostly because he's an inconsistent perimeter shooter.
Sandfort also struggled with consistency on offense this season.
When he's playing well, Sandfort can score points in a hurry, and is a force from 3-point range.
The next step for Sandfort is to limit the amount of times when he doesn't play well on offense.
Sandfort suffered through a miserable shooting slump early in the season, but he eventually snapped out of it and made some big shots along the way, most notably the 3-pointer that forced overtime in the miraculous comeback against Michigan State.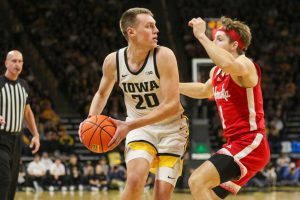 Sandfort has tendency to force some bad shots, but that is partly due to his confidence and you want him to be confident.
Ulis is a capable defender and ball handler, but his offensive game is limited.
He wasn't asked to be a primary scorer this season, and that would probably be the case again next season if he is the starting point guard.
Freshmen guards Josh Dix and Dasonte Bowen had their moments this season, especially Dix. But they were also inconsistent and struggled at times with the speed of the college game.
This offseason will be crucial for both of them as they try to show they deserve more playing time.
The loss of Rebraca will leave a huge void in the post, and right now, centers Josh Ogundele and Riley Mulvey haven't played enough to know if they can fill that void, and there is a reason for that.
So, it would make sense for Fran McCaffery to look in the transfer portal for a post player, and maybe for a guard.
Iowa will also add four incoming freshmen to next season's roster, including 6-7 Pryce Sandfort, who is Payton Sandfort's younger brother.
Pryce Sandfort is a talented scorer who can shoot threes and post up smaller players with his size.
He will be joined in the freshmen class by Illinois high school teammates Brock Harding, a 6-0 point guard, and Owen Freeman, a 6-10 forward, along with 6-8 New Jersey forward Ladji Dembele.
Harding and Freeman just finished leading Moline High School to a state title, so they will bring a winning mentality.
It seems likely that at least two of the incoming freshmen could play significant roles next season based on the current roster.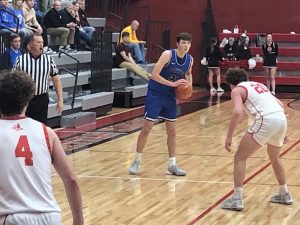 But again, the roster is subject to change, and frankly, it would be a surprise if it didn't change.
Fran McCaffery is known more as an offensive coach and his teams have led the Big Ten in scoring in each of the past five seasons.
Iowa plays at a fast pace under Fran McCaffery and is fun to watch when the shots are falling.
Iowa's biggest problem under Fran McCaffery is on defense, and the lack of defense was perhaps the biggest reason Iowa lost to Auburn on Thursday.
Auburn leaves much to be desired on offense, and yet, still scored 83 points against Iowa, which is 11 more than Auburn averaged during the regular season.
The fact that Iowa prefers to play at a fast pace under Fran McCaffery puts more pressure on the defense because it leads to more offensive possessions and fastbreak opportunities for the opponent.
Fran McCaffery has to address the problems on defense, becomes sometimes, shots don't fall, and the difference between winning and losing comes down to playing defense.
Iowa has a bad habit of allowing too many open shots from 3-point range, especially in transition, and that certainly was the case against Auburn, which made 8-of-22 threes despite only shooting 31 percent from three as a team.
The Iowa program has come a long way since Fran McCaffery took over the mess that was left behind by previous head coach Todd Lickliter in 2010.
Iowa now makes the NCAA Tournament on a regular basis, and has finished in the upper-half of the Big Ten in each of the past five seasons.
Iowa has also had an All-America player in each of the past four seasons, including center Luka Garza, who was the 2021 National Player of the Year.
So, it's ridiculous to think that Fran McCaffery's job should be in jeopardy.
But on the other hand, it's long overdue for Iowa to make a run in the NCAA Tournament, and the best way to address that problem is by fixing the problems on defense.