By Susan Harman
IOWA CITY, Iowa – On television, with cameras at the top of Carver-Hawkeye Arena, Georgia's players look pretty much  like a regular team with a post, two forwards and a couple guards. The team's most flamboyant player is guard Diamond Battles, and it was Battles that led the Bulldogs in scoring against Florida State in their first-round NCAA game Friday.
But up close, at court level, the Bulldogs look like the big, strong team that can run and jump and rebound and guard like an SEC team is supposed to.
This is Iowa's challenge Sunday. Somehow the Hawkeyes have to find a way to find room, inside and outside against a team that is bigger across the board and effectively shrinks the court.
"They're really long and physical," Monika Czinano said. "They're able to get their hands on a lot of balls in the passing lanes, a lot of tips on rebounds. But Hannah's (Stuelke) a great rebounder, and so is McKenna (Warnock). I think it'll be a very aggressive game through and through. I'm really looking forward to it."
Warnock agreed with Czinano in terms of having the right mindset against a team like Georgia.
"I honestly think it's being aggressive one way or the other," she said. "I think we actually are at somewhat of a disadvantage as far as height, but I love guarding bigger girls. Honestly that's my favorite. I'm really excited to be able to kind of play down low; I don't get to do that much."
Warnock, who defends players from guards to posts, was asked why she likes to defend bigger players.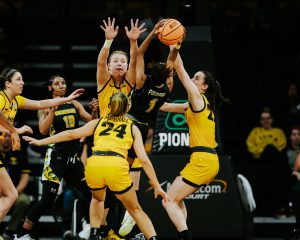 "I think it's just a battle, and I love doing that," she said. "And I think sometimes people don't think I'm as strong as I am. So I really like to get down there and (be) physical."
Offensively Georgia likes to pound the ball inside, and Battles and fellow guards Audrey Warren and Alisha Lewis will penetrate as well as shoot outside. The Bulldogs aren't a great 3-point shooting team but did make 5-of-12 against FSU. Their identity is defense and rebounding.
"They're a very physical team," Iowa coach Lisa Bluder said. "They're big and they kind of run that double-post offense, which we haven't seen a lot this year. We've see a lot of four-out, one-in type teams. Those are different things we have to prepare for. I mean, we can't grow overnight."
Georgia coach Katie Abrahamson-Henderson predicted Iowa would mix up its defenses and use some "junk" defenses as well.
"It's just going to depend on who we have in," she said. "It's going to be a chess match the whole game."
Defensively the Bulldogs' size makes their matchup zone very difficult to penetrate. And Georgia is a dominant rebounding team.
"They do a good job and their bigs run the floor very well, and they've got depth at the bigs position as well," Bluder said. "They can be physical with you because they have a lot of fouls to give. The more that we can shoot well from three the more they have to spread out that zone."
Abrahamson-Henderson said she expects Czinano to park on the block despite the traffic jam down low.
"She is a stud," she said. "They are going to move everybody around and get us to spread out as much as they can so they can throw it into her. So we have to be smart about not getting too spread out."
Perimeter shooting will be crucial for Iowa. FSU coach Brooke Wyckoff pointed out that Georgia stretched its zone to put pressure on the ball handlers and contest shots. The zone stretched but never cracked. Iowa leads the nation in shooting with a 50.8 percent rate and will need to be ready for a much bigger test than it had Friday.
"(Caitlin Clark) is a key focus for the team," Battles said. "So just locking in on the game plan that we have, just playing our defense and just tweaking a couple things is just what we have to focus on."
Abrahamson-Henderson called Gabbie Marshall a "sniper" with her outside shooting.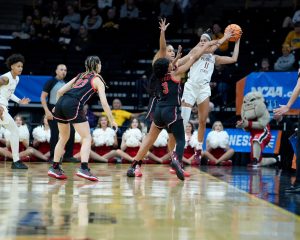 "Shooters will bring the defense," Warren said. "We will have to guard the perimeter more and open up a little more space."
Bluder said she thinks her team is better equipped to handle the expected physical play. She said the team has gotten used to it and sees it more in the Big Ten than in previous seasons. Teams like Ohio State, Maryland and Indiana are plenty physical.
"I think getting the ball inside and valuing the ball and using shot fakes and just being strong with the ball in general will help us," Marshall said.
While Iowa hopes to bank on its experience and sellout home crowd, Georgia is just as battle-tested. The Bulldogs are led by a couple fifth-year seniors at guard (Battles and Warren), and the rest of those who played in the opening round are either seniors or juniors.
Georgia is the kind of team that has given Iowa fits in past seasons under Bluder. But players said they are better positioned to compete.
"I think that we just had a better mental resolve this year as well, Warnock said.
"We've been in these situations before," Marshall said. "We've faced teams that are physical and tough, and I think just going in with that mindset that we won't probably get many calls, and we're just going to have to play through it and play through the toughness and be gritty on defense."
The game tips off at 2 p.m. with the winner headed to the Sweet 16 in Seattle.