By Pat Harty
IOWA CITY, Iowa – Kirk Ferentz will meet with the media on Wednesday afternoon to mark the start of spring practice, his 25th spring practice as the Iowa head coach dating back to 1999.
A lot has happened over the past quarter century under Kirk Ferentz, much of it good, and some not so good.
The good includes a level of consistency in which Iowa has been bowl eligible 21 times in the last 22 seasons.
Iowa finished 8-5 last season, capped by a 21-0 victory over Kentucky in the 2022 Music City Bowl as Ferentz tied Joe Paterno for most bowl wins (10) as a member of the Big Ten Conference.
Iowa has won 10 games in two of the past four seasons, and also won the Big Ten West Division in 2021.
Iowa has had 81 players selected in the NFL draft under Kirk Ferentz, including 11 in the first round, and the list will almost certainly grow from the 2023 NFL draft in which five former Iowa players could be selected.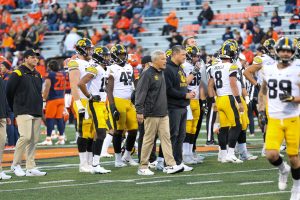 As for the bad, it includes having one of the worst offenses in program history over the past two seasons, and made even worse, or perhaps awkward is a better word, by the fact that Kirk Ferentz's son, Brian Ferentz, is the embattled offensive coordinator.
The Iowa offense, which only produced seven touchdown passes this past season, and that finished 130th out of 131 teams in total offense, has become a national laughingstock and a punchline, but help is on the way with former Michigan quarterback Cade McNamara having transferred to Iowa at the semester.
Off the field, the Iowa program has been under heavy scrutiny since the summer of 2020 when multiple former Iowa players accused the program of racial discrimination and bullying.
A key development recently occurred when the University of Iowa agreed to a $4.175 million settlement in response to a discrimination law suit that had been filed by 12 former players.
Kirk Ferentz released a statement in which he made it abundantly clear that he disagreed with the decision to settle the lawsuit.
But what's done is done, and the best way Kirk Ferentz could switch the narrative is to win games, and that process starts during the 15 spring practices.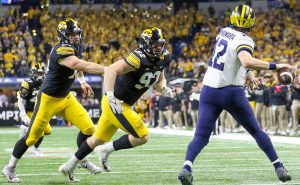 The addition of McNamara has provided a huge boost from a public relations standpoint, and has fans more optimistic about the offense performing better next season.
McNamara started every game for Michigan in 2021 and led the Wolverines to the Big Ten title, and to the college playoff.
But then he lost his starting position to J.J. McCarthy early in the 2022, and ultimately decided that he needed a change, and a place where he could be a starter again.
McNamara was given that opportunity at Iowa, and he has embraced the challenge of fixing a historically bad offense.
His friend and former Michigan teammate Erick All, who plays tight end, also has transferred to Iowa and should form a strong one-two punch at tight end with junior Luke Lachey.
There is certainly reason to be optimistic about McNamara being the new quarterback following three seasons in which Spencer Petras struggled in that role.
But McNamara also won't have the Michigan offensive line, or the Michigan skill players to help his cause.
The Iowa offensive line performed woefully for most of last season, partly due to youth and injuries, but also just because it wasn't very good at run blocking or pass blocking.
Iowa has landed two graduate transfer offensive linemen from the portal in Saginaw State transfer Daijon Parker and Miami (Ohio) transfer Rusty Feth.
So, at least the problems are being addressed, but it remains to be seen if the new additions will help on the field.
Iowa also added receiver Seth Anderson from the portal, but his addition alone won't change the fact that Iowa is thin at receiver.
McNamara seems to relish the challenge of silencing Iowa's many doubters.
"They can keep doubting all they want," McNamara said in February. "That's fine with me, honestly. And I think overall, not just me, but this program what I've grown to realize is this is a chip-on-the shoulder type of program.
"I think that was also very intriguing to me, just the culture that coach Ferentz has created here is awesome and I think I'm just so happy to be a part of it. And I think I jell into it nicely and I'm just going to continually try and do everything I can to prove myself to my teammates and to my coaches."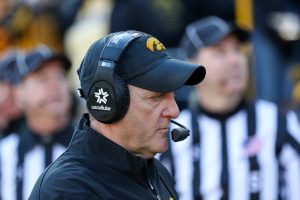 The good news is that McNamara and the offense could just be average and it would be a significant step forward, and perhaps enough to make Iowa a contender if the defense and special teams perform at a high level as they usually do.
Iowa lost some key pieces on defense, including starting linebackers Jack Campbell and Seth Benson, but the foundation still is strong under veteran coordinator Phil Parker, who has been a member of Kirk Ferentz's staff since the beginning in 1999, and the defensive coordinator since 2012.
A case could be made for Iowa having the best punter/kicker combination in the country in senior punter Tory Taylor and sophomore kicker Drew Stevens.
Taylor averaged over 45 yards per punt last season, and 32 of his punts were downed inside the 20-yard line during the 2022 regular season, while Stevens made 16-of-18 field-goal attempts last season, and he also handled kickoffs.
Kirk Ferentz will be 68 years old when the 2023 season starts against Utah State on Sept. 2 at Kinnick Stadium.
But he shows no signs of slowing down, and has given no hints about retiring, so it's full steam ahead this spring for Kirk Ferentz.
He never would say it, but Iowa's 2023 schedule could be a lot worse because Michigan and Ohio State aren't on it.
There isn't a game on the schedule, except for maybe the game at Penn State on Sept. 23, in which Iowa would be considered an obvious underdog.
Whatever becomes of the 2023 Iowa football team will have a lot to do with the progress made this spring.
And while quarterback gets most of the attention in good times and bad times, the performance of the offensive line probably will have the biggest impact next season.
McNamara has shown what he can do behind a rock-solid offensive line, while Iowa running backs Kaleb Johnson and Leshon Williams have shown what they can do with some adequate blocking.
George Barnett is entering his third season as the Iowa offensive line coach, so this spring is also critical for him.
But the buck stops with Kirk Ferentz, and the offensive line is Kirk Ferentz's area of expertise as he spent nine seasons as Hayden Fry's offensive line coach at Iowa from 1981-89, and six seasons as an NFL offensive line coach from 1993 to 1998.
So, the best way Kirk Ferentz could help his son, and help George Barnett improve on the job, is to help build a sturdy and reliable offensive line, and that challenge starts this week in spring practice